Cool new treatment centre opens in Shrewsbury
A racing driver has launched his own treatment centre in Shrewsbury after receiving medical treatment after a serious crash.
Award winning driver Lee Morgan, aged 28, of Leegomery in Telford was competing in a Superkart Championship in Germany in 2008 when he was involved in a massive pile-up just after the start of a packed grid, suffering many broken bones.
While recovering from the crash over the next twelve months, Lee and his father Steve researched a wide range of alternative therapies including Cryotherapy, which is the practice of using extreme cold, down to -85 C to stimulate the body's own mechanisms of recovery.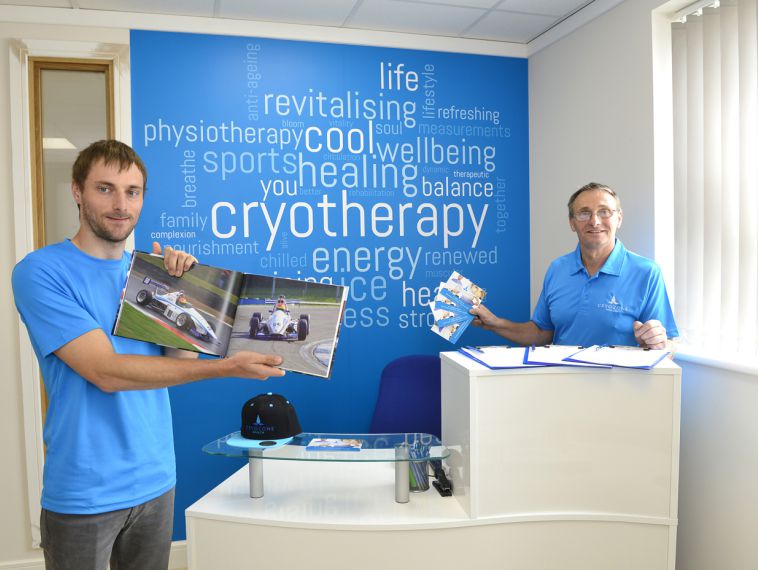 Lee,said: "I have been racing karts since being a toddler but this crash really knocked me about, several drivers were seriously injured in the incident and I had my pelvis broken in three places, together with several ribs and masses of bruising, resulting in me literally being 'bolted' back together.
"My recovery was accelerated by the immediate treatment I had in Germany and I am now back to driving even more powerful racing cars which I simply love, and have many trophies on display here to showcase my efforts!
"Having seen the beneficial results first hand, my father Steve and I have invested over £500k in creating the Cryozone Health centre in Shrewsbury, which we believe is the only one outside of London, one being in the Harvey Nicholls store and the other in Harrods.
"Besides the building itself and bespoke facilities created here at Longbow Close on Battlefield Enterprise Park, we have invested in a £120k state-of-the-art Cryotherapy machine which provides the temperature controlled environment for treatment.
"We officially opened on 1st August but to encourage people to come and see exactly what Cryotherapy treatment using sub-zero temperatures can do for injury recovery, weight loss, wellbeing and beauty, we are hosting an open day on Saturday 12th August where staff will be on hand to give guided tours of the centre."
Picture: Lee Morgan and his father Steve of Cryozone Health, in Shrewsbury.