Global recognition for IT firm
A Shropshire business is celebrating after two of its staff were awarded a coveted industry status held by only 21 specialists in the UK.
Purple Frog Systems develops and manages business intelligence solutions, which help organisations to become more efficient and effective through understanding and using their data.
The Telford-based company, which works with clients around the world, now boasts two specialists who have secured Microsoft Most Valuable Professional (MVP) status for their work with the Microsoft Data Platform.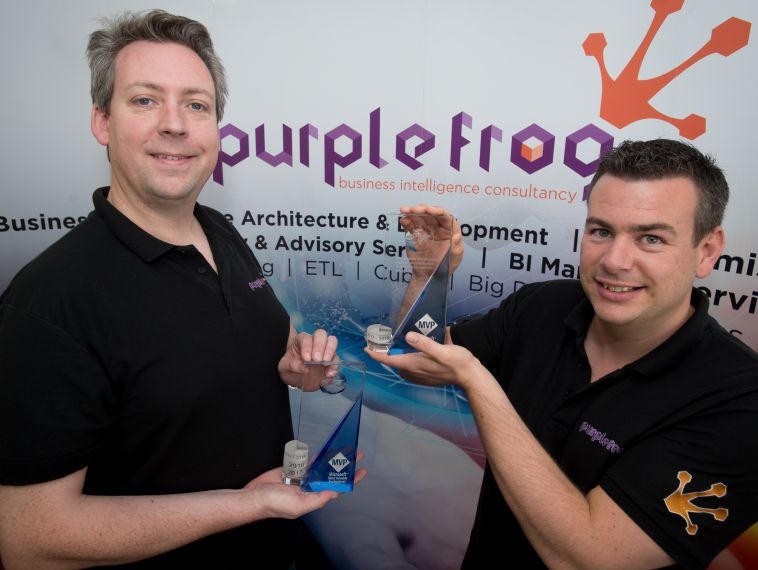 Company founder Alex Whittles first earned the MVP accolade in 2015 and has retained it since and consultant Paul Andrew joined the MVP ranks in the latest round of awards from Microsoft.
They are two of only 21 people in the UK who hold MVP status for their "Data Platform" specialism and there are just over 3,500 throughout the world across all eighteen Microsoft disciplines.
Most Valuable Professional status is only awarded to those with exceptional technical expertise who are working on the "bleeding edge" of the technologies they specialise in and who are exemplary at sharing their knowledge with the wider industry.
Alex said: "Being a Microsoft MVP does make you part of a pretty exclusive club and it's a huge testament to Paul's skill that he has been recognised as being so valuable to the industry and been invited to join these ranks.
"Having two MVPs in one organisation is still very rare, but to do so in a business as small and agile as ours, and Shropshire-based rather than in a major metropolitan area, is something that we're incredibly proud of."
Purple Frog helps to transform businesses through bringing together all of their data, often from many sources, into a single data warehouse, and processing it so that critical information can be properly interpreted by business decision makers, often in real time, and acted on to increase the effectiveness of the organisation.
Paul explained: "What we are able to do opens the eyes of business leaders when they realise the wealth of information that we can put in front of them. All businesses generate lots of varied data, but it only becomes useful if you can turn it into actionable intelligence and access it in timely and meaningful ways. That's what we help them to do.
"Historically this has taken the form of management reports and dashboards, but these days we can also integrate machine learning in order to generate prediction models that are more advanced than ever before."
Picture: Alex Whittles and Paul Andrew of Purple Frog Systems