A nose for business
By Henry Carpenter
Hencote has to be seen to be believed.
It is not just the fact that it is a glorious Georgian manor on the edge of Shrewsbury, standing in beautiful open countryside with the best panoramic view of the county town you could imagine.
It's the very fact that it's there. Thousands of motorists pass this 65-acre estate, which lies just off the Ellesmere Road only a mile or two north of Shrewsbury town centre, each day with surely only a tiny percentage knowing what lies over the crest of the hill up Hencote Lane.
And why would they? It is only recently that it has started receiving guests after being meticulously restored to provide a luxury wellbeing retreat for visitors. There are seven suites and bedrooms at Hencote, as well as therapies, treatments and top-level cooking tailored to guests' requirements.
To enjoy the views of the county town, the viewer first has to look over vines . . . lots of vines. There are 22,000 of them in total, carefully planted over curving acreage in perfect symmetry, not a single one out of place.
All this is explained by the owner Andy Stevens (pictured below), the man whose vision, drive and investment is responsible for the remarkable transformation of the estate.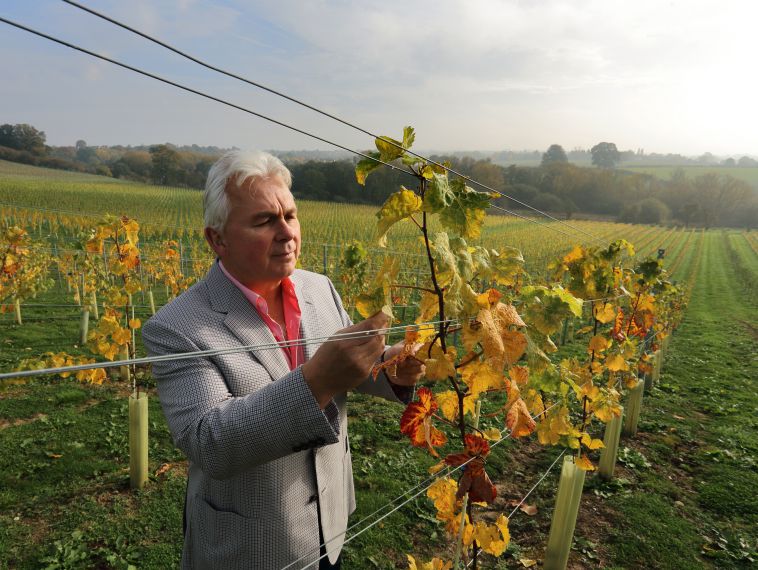 You can almost feel the pride Andy has in Hencote as he describes in detail the terrain, the grape varietals and the plans he has to bring the very best English sparkling wine to the market. He has put his heart and soul into his beloved estate, as well as a financial investment which to describe as significant is euphemistic in the extreme.
The business acumen, and deep pockets, which Andy acquired, came as a result of an unconventional and cosmopolitan professional path which led him to many far flung regions and culminated with him becoming the boss of one of the Middle East's largest banks.
Despite not having done a day's work in his life in the UK - at least until 2014 - Andy Stevens is surely towards the top of the premier league of Shropshire financial heavyweights.
Andy's story started in 1959 when he was born in Hong Kong to parents who worked for its government, and the family continued to live there for the next 25 years.
"I was brought up as a typical colonial child," recalls Andy. "My early prep schooling was in Hong Kong up to the age of seven and then I was sent to boarding school in my father's home town of Loughborough, where I spent the next 10 years.
"By the age of 12 I had set my sights on entering the world of finance. I was one of the first kids to do an O level in Economics, and I completed a degree in banking and finance at Birmingham University.
"My ambition at that time was to join HSBC. However, I ended up joining Standard Chartered which at that time was a bigger bank than HSBC, believe it or not. When I left university in 1980 Standard Chartered sent me to Dublin for six months of training and then on to Hong Kong.
"I spent two years in Hong Kong and during long leave was told I was being sent to the Falklands subject to a major review by the Thatcher government conducted by Lord Barber.
"To cut a long story short, I never made it to the Falklands but, in 1983, was sent instead to Bahrain which at the time was the major financial centre of the Middle East."
This was Andy's first foray into life in the Middle East, and he spent five very happy years there with Standard Chartered. The bank then decided to send him to Africa which is when the relationship started to sour.
He describes his role as "a generalist", relied upon to go in and manage the bank's operations.
"In Uganda I was director of administration, which meant I did everything other than the lending," he says.
"This was a typical colonial pattern deployed by the bank whereby the likes of myself were expected to hold the fort; this was clearly a fast-dying model."
Andy became so disillusioned with life with Standard Chartered that in 1990 he left the bank entirely, and joined a relatively small bank on Qatar, the Commercial Bank.
He continues: "Qatar at that time hadn't discovered its wealth, and was a very inward looking, conservative nation.
"The Commercial Bank was the sixth largest local bank and it didn't take long to come to the realisation that I might have taken quite a risk!
"But I resolved to make something out of my decision, and a couple of geopolitical events came to my assistance.
"Soon after I joined the bank, the first Gulf War in 1990/91 resulted in every economy in the region trying to stimulate change. Then, in 1995, there was a bloodless coup in Qatar. As is often the way in that part of the world the heir apparent overthrew his father and he proceeded to usher in massive, unprecedented change.
"Qatar had been sitting on known gas reserves for 40 years, and the new emir brought about monetising those underground assets. He instigated the massive industrialisation in Qatar which became the second largest exporting gas producing nation in the world.
"What had been a very small economy worth about 6 billion dollars became, within the space of about 15 years, one of the most modern, dynamic economies in the world. The value of the economy escalated to 200 billion dollars.
"And in this extraordinary period of change I was lucky enough to be there and the bank rode that wave."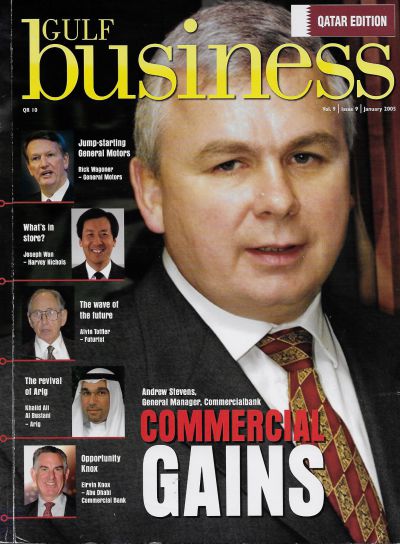 Andy's role with the bank evolved as time went on. In the early years he was assistant general manager looking after the retail bank but in 1998 he took the bank overseas into Egypt where it bought the franchise for Diner's Club.
That gave the bank a glimpse of the future and what could be achieved - and it also illustrated Andy's capabilities. He was promoted to general manager in 2001 with the clear brief to "wake the bank up".
It is probably easiest to look at statistics when judging Andy's time as general manager and then group CEO. When he took it on, the bank was the sixth largest in Qatar with a balance of about 1 billion dollars on a capital base of 600 million dollars - "we were very small and insignificant," says Andy.
By the time he stepped down at the end of 2013 the balance was up to 35 billion dollars. Commercial Bank sat second behind the Qatari National Bank, was highly rated by all the credit ratings agencies, and had taken majority stakes in banks in Oman, UAE and Turkey.
"We achieved stellar results," says Andy. "We delivered a return on equity of 25 per cent which were unheard of, and dividend yields which were unsurpassed in the market."
In 2013, largely as a result of a change in power in Qatar and being asked to take on an advisory role which he felt unsuited to, Andy stepped down and thoughts turned back to the UK and, specifically, Shropshire.
Andy recounts his story in his Hencote office, as immaculate and ordered as the vineyard outside. He looks content, as well he might. Married for 27 years to Dora and with four children who are now living independently, family life is good.
It also transpires that not only was he very, very successful, but Andy also learnt the importance of health and wellbeing through the stresses and strains of his career. This is why Hencote is fast becoming a destination as a five star wellness retreat - its owner understands the value of health.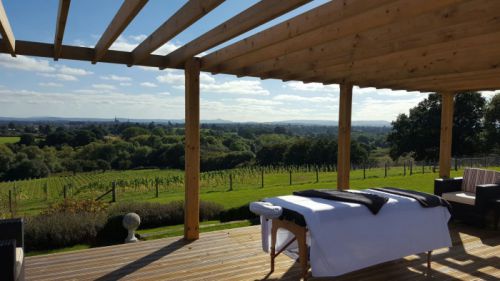 But conversation again returns to the vineyard and its evolution.
"I have my sister to thank for my getting to know Shropshire, as back in the 1970s she had worked at Hawkstone Park. I subsequently bought a property in Weston-under-Redcastle but on one occasion, when I was over from the Middle East, I realised I had inadvertently let it out to the RAF and had nowhere to stay.
"My wife and I stayed in a nearby country cottage, and then one day I followed my instinct up Hencote Lane and found my way to the farm buildings here which were derelict. I managed to persuade the vendors to sell the buildings, along with three acres, to me.
"Restoring the buildings has been a massive labour of love and over the years I have brought more than 60 further acres.
"When I returned from Qatar I loved the freedom of walking around the open spaces here. There were 164 vines here at the time and I watched the vineyard develop; that year we got a phenomenal crop of grapes which made 250 bottles of wine, over a bottle a vine which is enormously productive.
"I thought, is there something here? I asked a leading viticulturist to inspect the soil and the estate's potential and the feedback was that there was no reason to suggest this couldn't be a successful site for a vineyard.
"I was and am quite determined to compete with the very best, and this meant the production of sparkling wine. I made my decision early in 2014 and by the end of that year we had prepared the land."
Andy and his team have planted 22,000 vines over seven hectares on the most fertile eight-hectare plot on the estate - south facing on a nice gradient on glacial till overlaying Kinnerton Sandstone Formation.
They planted grape varieties - 12,000 pinot noir, 2,000 Pinot meunier, 2,000 chardonnay, 3,500 seyval blanc, 2,000 solaris, 1,000 pinot noir precoce to be exact - with, according to Andy, "the express intent of making the best possible English sparkling wines".
He makes particular mention of the unstinting support he has received from wife Dora. Not only has she moved around the world with him since they first met 33 years ago, but she has also had in invaluable input into the development of Hencote.
"Dora has been a role model in terms of creating the agricultural footprint on the domestic property," according to Andy.
In a good year, he estimates the vineyard has the capacity to make up to 70,000 bottles. However, he aims to nudge that figure up to 100,000 by augmenting what is grown at Hencote by buying in fruit from other grape growers.
Hencote, as he admits, is a work in progress. The wellbeing retreat is now set up and has started receiving visitors. Its reputation as a luxurious centre of excellence for cleansing mind and body is growing.
The vineyard still has a way to go - but it's a case of so far, so good.
"I am a very aspirational person and quite defiant," admits Andy. "However, I brought in very qualified people to ensure my gut instincts were valid.
"If we have an average growing year I would expect to be harvesting grapes in the autumn of 2017. We should bottle some of that wine by the late spring of 2018, but due to the slow fermentation process for sparkling wine it won't be on the shelves until 2020 at the earliest, though there will be a small amount of still wine which will be out before then."
It is some project. As he says: "I have put in my own equity into all this but the results will hopefully more than exceed the outlay."
If the vineyard even remotely follows the trajectory of Andy's commercial career, that won't be a concern; wine lovers and Shropshire in general will be toasting the success of a remarkable enterprise.
At work:
Current position: Chairman of Hencote and advisor to Investcorp Bank
Most career defining decision: Resigning from Standard Chartered Bank in 1989 to join Commercial Bank of Qatar - Goliath to David!
Advice to aspiring business people: Belief and instinct are powerful enablers
Three heroes with whom to share a boardroom table (alive or dead):
Margaret Thatcher
Alan Sugar
Richard Beaton (ideal if you could have your best friend around the table . . . it also helps that he has a great track record in business!)
At home:
Family: Wife Dora and children Charles, Mark, Vivienne and Suzanne
Desert island disc: Hotel California - The Eagles
Desert island book: How England made the English by Harry Mount
Desert island film: Phantom of the Opera
Favourite holiday destination: Europe
Three heroes with whom to share a dinner table (alive or dead):
Sir Clive Woodward, the visionary World Cup winning England rugby coach
Sir Richard Burton (the great Victorian explorer, not actor)
Charles Leonard Stevens, my father
Pictured from top: Andy Steven inspects the grapes on his vineyard; Andy was a regular in the commercial press as a banking chief in the Gulf; Hencote offers therapies, treatments and a glorious vista from its position on the edge of Shrewsbury