Bloodhound a roaring success in Telford
Risk. We Brits don't really like it. But unless we're prepared to change that cautious approach, we're in danger of being left behind on the hi-tech world engineering stage.
That's the view of Richard Noble, a man who certainly knows a thing or two about risk. He broke the world land speed record in 1983 when his Thrust SSC car topped 633mph – a title he held for 14 years.
Now aged 71, he's a director of the Bloodhound project which is seeking to up the stakes even further by blasting a car over the 1,000mph mark in 2018.
Bloodhound's project team is touring the country on a crusade to inspire budding young engineers, and rolled into Shropshire to spend a week at Telford College of Arts and Technology.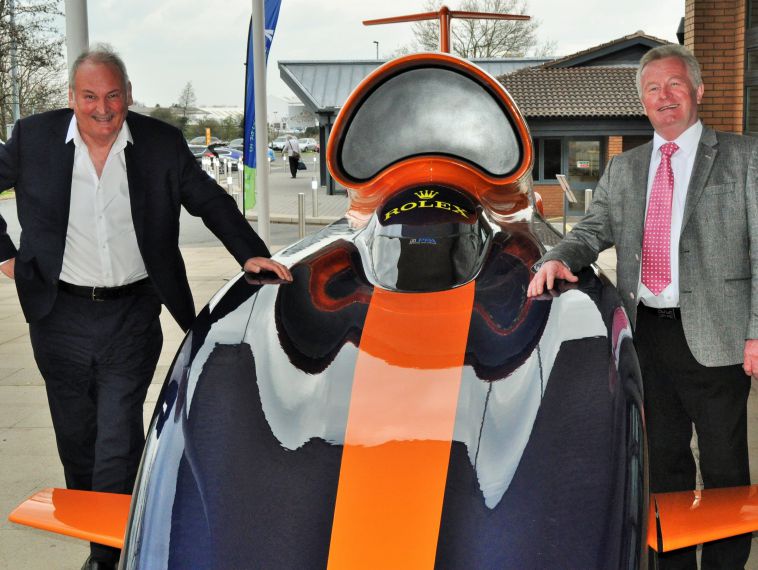 Richard told a VIP gathering during his whistle-stop visit: "We are in a fascinating time in life, as the procedure to sign us out of the EU begins, and our country has to change, big time.
"We hardly manufacture in our country at all now. Our manufacturing is just about 8% of gross domestic product, whereas it should be 20 or 25.
"This represents a fantastic opportunity for the next generation, because Britain is going to be on its own, and we've got to show the world what we can really do."
And as well as writing its name into the record books, that's what Bloodhound is seeking to help achieve.
Back in 2013, the business secretary was Vince Cable – who happened to be Richard Noble's next door neighbour.
Richard recalled: "He revealed that the need was for 830,000 working engineers by the year 2020; in other words, that was about 100,000 a year. And we were only getting around 30,000.
"Why? Because we only got 32,000 physics A levels a year. The fundamental problem was with schools just not firing the kids up and getting them excited.
"In terms of gender balance, Britain was absolutely the worst in Europe. Among our professional engineers, only 10% were women.
"And in 50% of state co-educational schools, there was not a single girl with a physics A level. Suddenly you realised what has happened – we'd just gone backwards, and it was an absolute nightmare."
How do you reverse that? Not easily. As Richard said: "We're not specialists in education, we are land speed record chasers."
But thanks in some small part to Bloodhound, and its focus on making STEM (science, technology, engineering and maths) relevant and exciting with the help of ambassadors from top brands such as Rolls-Royce, headway is being made.
The TCAT team were certainly delighted with the success of the Bloodhound week, which involved around 400 students – both from the college itself, and feeder schools in the area.
The college's engineering and technology students got chance to work on the Bloodhound Model Rocket Car Challenge, where they built and raced rocket-powered cars.
At full speed, the supersonic Bloodhound car will cover a mile in 3.6 seconds - that's the equivalent of 4.5 football pitches laid end-to-end, every second.
The Bloodhound team is targeting October this year for its first series of engine tests, in Cornwall. It has earmarked a desert site in South Africa for the 1,000mph attempt, in around 18 months.
Picture: Richard Noble with Telford College corporation chairman Paul Hinkins, and the Bloodhound car