Death knell of retail is exaggerated
Experts at commercial agents Halls Commercial say the death knell of retail has been "exaggerated" and that such claims are "far-fetched". Here members of their team take a closer look at the wider picture across the local area:
COVID-19 and the novelty of e-commerce brought with them the boom of online shopping and claims of the end of the High Street.
However, signs are that such claims are far-fetched, particularly in Shropshire. People continue to lose faith in the virtues of online shopping, as the wrong dress size or wrong colour sheets are delivered, or the item isn't delivered at all, meaning a search at the neighbour's in the hope that it will be found, or that they are not wearing it when they answer the door! Sound familiar?
Commercial agents, Halls Commercial, based in the West Midlands are experiencing an increase in demand for retail shop units across the West Midlands, with an increase in footfall as people seek 'physical retail therapy', particularly in the generally historical and picturesque market towns of Shropshire.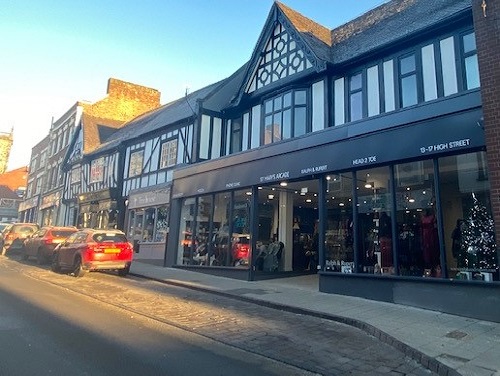 This general recovery is assisted by forward-thinking property owners who continue to try to reinvent the retail high street, generating more appealing ideas and filling gaps in the high street.
Halls Commercial have recently successfully acted as letting agents for the Whitchurch Shopping Arcade on the High Street. A significant gap was created when Poundstretcher decide to leave the town. The property was acquired by a property speculator, who has created an arcade within the floor space, offering a unique mix of retail occupiers in one retail environment.
The demand for the tastefully converted shop premises was incredible with Halls Commercial fully occupying the property within two months of the instruction. It certainly has the wow factor and is an experience not to miss in Whitchurch where the town centre continues to go from strength to strength.
The town's High Street is benefiting from demand for high quality dining and wine bars. Halls Commercial have hospitality opportunities on the market currently, and have recently let 35 Green End to Feral, who will be operating as a café/wine bar and serving small plates.
The town centres of Shropshire and the West Midlands continue their reinvention after the effects of COVID-19 and e-commerce. Offering a unique shopping environment with a backdrop of beautiful, historical buildings and in many cases, such as Ludlow, Shrewsbury and Bridgnorth, a river, Shropshire is a lovely place to shop. The regeneration of Shrewsbury's shopping centre is based around the aspect of the River Severn.
Harriet Shakeshaft, Halls Commercial surveyor, said: "The market town high street is bustling with places for coffee, lunch, and services, such as hair and beauty treatments. You can't buy these things online."
Increasingly, independent businesses are able to access well-located pitches in market towns with more affordable prime space becoming available to them. They are reclaiming the high streets and its identity. Halls Commercial describes continued growth in the retail property market, despite the challenges of the past few years and continued concerns of inflation.
The county's desirable town centres are benefitting from demand from retail and hospitality/leisure sectors. People want to shop and socialise, and there is genuine strong demand as footfall indicators have shown. There will continue to be challenges for retail, as we saw with the administration of Joules and M & Co, and Paperchase closely following. However, it is a telling sign that Joules decided to retain their Shrewsbury and Ludlow outlets.
National retailers will continue to reappraise their retail portfolio as the Co-op have with their convenience store in Dawley High Street. Halls Commercial, along with the owners of the property, Telford and Wrekin Council, were able to identify a creative 'break up' of the building into three units. One retail unit has led to an early letting to Tesco Express, the front unit is under offer to a local retailer, who is able to relocate, and the rear unit is ideal for community or leisure-based use as it is close to all local amenities.
Creativity with retail space will create an exciting new shopping environment, where retail and other uses trade and operate alongside each other. There is retail demand - it is identifying the need of the retailer that is key. Darwin's Kitchen, a prominent Shrewsbury town centre property, was sold to a private party, and it is now a successful optometry centre.
Increased construction prices, rising inflation and living costs, unease around the Ukraine and the aftermath of both the pandemic and Brexit continue to affect commercial property, as prices rise and disposable incomes drop. However, demand remains high, as well as investor and occupier appetite, in the retail and leisure/hospitality industries. Bars, cafés and restaurants are faring well with even greater resilience than retail. Many have learned key lessons from the pandemic and are adapting amid ongoing challenges.
Shropshire is a delightful county to visit with its history, diverse landscapes and pretty market towns. As a practice, Halls Commercial have let the Peach Tree and Severn Social in Shrewsbury Town Centre within three weeks each time and, at the time of writing, the Olde Bucks Head in Shrewsbury has gone under offer.
Whilst there may not be significant rental growth in the next few years, there are always opportunities to add value to properties by adapting a flexible approach. The example of the creative regeneration of the former Poundstretcher unit on High Street, now named St Mary's Arcade in Whitchurch, demonstrates how commercial buildings can be adapted to meet changing occupier and consumer requirements.
Head of Halls Commercial, James Evans, said: "St Mary's Arcade is an example of exactly the type of forward-thinking investor who will be key in the long-term survival of our high streets in smaller market towns in the future."
The high street in market towns will have its challenges, but innovation and regeneration mean that the future is encouraging for the area. Shropshire Council has exciting plans for Shrewsbury that will, if they go ahead, greatly enhance the town centre.
James added: "This movement in the market demonstrates the steady return of confidence to the retail high street and leisure sector post-COVID. It's wonderful to see the commercial property market so buoyant after such challenging times."
The message from Halls Commercial is to support local towns and businesses for great eating/drinking and shopping experiences. The future is bright on the market town high streets and Halls Commercial continue to be the beacon of light.