Apprentices scoop trio of awards
A trio of apprentices from Shropshire have beaten off tens of rivals to claim three of the main prizes at the In-Comm Training Awards.
Oswestry's Sam Marston has excelled in his time at home life technology specialist Aico to take the Engineering & Manufacturing Higher Telford title in front of 300 people in Birmingham.
A high-profile judging panel was impressed with his standout all-round performance and the positive impact he's having on the company.
He was joined on stage by William Thompson (Torus) and Isabelle Rowley (Churchill Integrated Services), who were named as Engineering & Manufacturing Foundation Telford and Business Support Learner of the Year respectively.
Bekki Phillips, chief operating officer at In-Comm Training, said: "It is fantastic to be able to shine the brightest possible spotlight on the vocational stars we have in our region, who are all doing amazing things on the shopfloor and across our offices.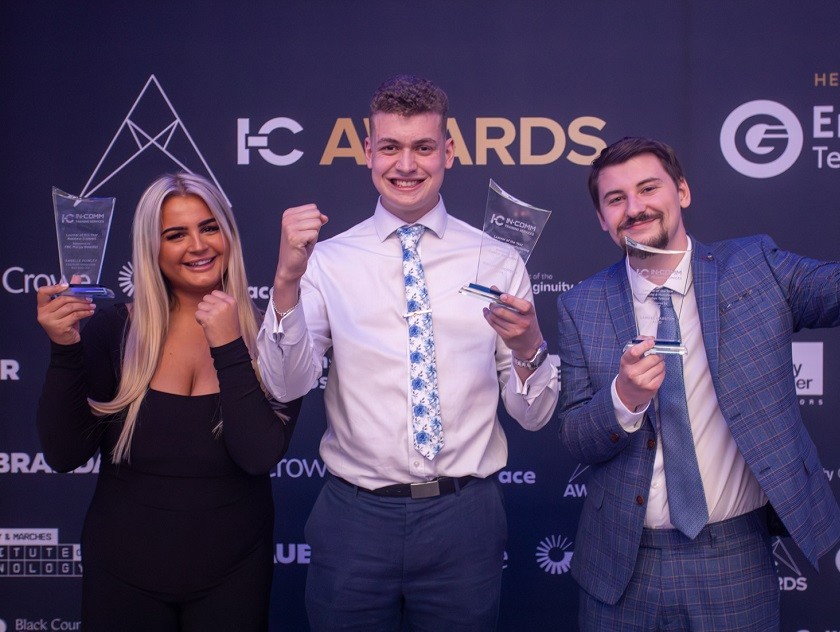 "The standard of the finalists was the best yet and underlines what can be achieved when you get the mix right of Shropshire companies, training providers and young people.
"We are finally seeing the perceptions of apprenticeships change since Covid-19 and events like these are crucial to achieving that level of equality…encouraging the next generation to choose engineering and manufacturing."
This was the twelfth year the In-Comm Training Awards have been held and gave over 55 finalists the opportunity to celebrate their achievements in front of their peers, mentors, and employers.
Other winners included:
Joshua Peace (Precision Technologies International) – Outstanding Learner of the Year and Engineering & Manufacturing Foundation Aldridge
Katie Mayo (PcP Gratings) – Most Improved Learner
Kirsty Locking (Cross & Morse) – Most Improved Learner and Engineering & Manufacturing Advanced Aldridge
Steve Giles (Metsec) - Ambassador of the Year
Bruno Trezeguet (Rotometrics) – Leadership & Management Learner of the Year
Gemma Osbourne (Leonardo) – Quality & Continuous Improvement Learner of the Year
Britney Biju (Collins Aerospace) – Engineering & Manufacturing Advanced Telford
Assa Abloy – Large Employer of the Year
Brandauer – SME Employer of the Year
Gareth Jones, managing director of In-Comm Training, said: "We are doing everything in our power to support the increased appetite for apprenticeship and skills by making sure we are offering companies and learners access to the best possible support, advice, courses, and training facilities.
"Events over the last twelve months have underlined this commitment. We have centralised our Shropshire facilities into a £3m state-of-the-art Technical Academy in Telford, providing 20,000 sq ft of manufacturing training space that is fitted out with new equipment and industry-leading technology.
"This will cater for 350 apprentices and upskill 2500 existing workers and we're already edging towards those figures after an unbelievably strong response from the local business community. Importantly, we have also delivered on our promise to launch the UK's first Precision Tooling Academy."
The In-Comm Training Awards were made possible by headline sponsor the Engineering Technology Group (ETG) and other sponsors, including Black Country Chamber of Commerce, the Black Country Institute of Technology, Collins Aerospace, Crowe LLP, EAL Awards, FBC Manby Bowdler, Gestamp and In-Comm TMG.
Pictured: from left, Isabelle Rowley (Churchill Integrated Services), William Thompson (Torus) and Sam Marston (Aico)