Artist and sculptor receives MBE
Shropshire sculptor Halima Cassell has received an MBE for Services to Art and Cultural Heritage in England.
She was appointed Member of the Order of the British Empire (MBE) in the 2021 New Year Honours for 'Services to Art and Cultural Heritage' in England, but due to Covid restrictions the award ceremony was delayed and Halima has now finally collected her award from Buckingham Palace.
"Visual Arts is so needed in our lives. From interaction with beautiful architecture and objects, to exploring our own creativity. In so many schools the development of art in children has been taken out, and I think it must be seen as an important part of supporting a child's creativity and wellbeing. I feel so honoured to help in some small way to give Visual Arts the attention it deserves," she said.
Halima is a British sculptor and ceramicist working in bronze, ceramics, glass, stone, and wood, but she has been known to use other materials such as wallpaper. She was born in Pakistan and brought up in Lancashire, England, and now lives in Shropshire.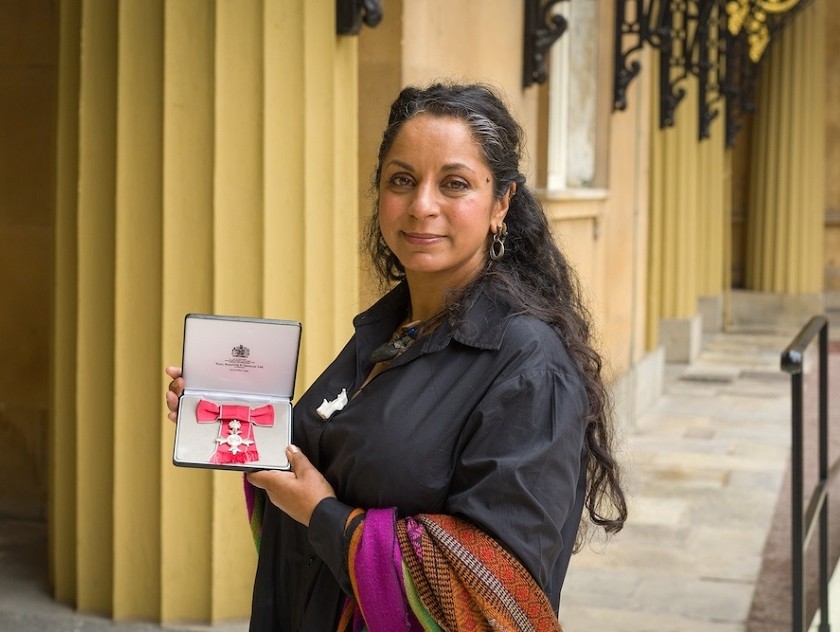 Her work fuses her Asian roots with a fascination for African pattern work and her deep passion for architectural geometry.
Halima has had many commissions from museums and public spaces, including cruise lines and ships. But she has also had some rather interesting private commissions, including a huge piece for the Queen of Jordan.
"I have been working so hard for 25 years, and have an extensive portfolio of collections and commissions around the world. I don't know which organisations nominated me, but I'm so grateful."
The Most Excellent Order of the British Empire is a British order of chivalry, rewarding contributions to the arts and sciences, work with charitable and welfare organisations, and public service outside the civil service.