Birthday celebrations for recruiters
A recruitment agency launched during the pandemic has celebrated its second birthday by winning a prestigious award.
Blue Orchid Recruitment, based in Shrewsbury but with a national client base, was started by Rob Griffiths after being made redundant from another recruitment company which closed because of pandemic-related pressures.
Two years on, and Blue Orchid Recruitment is celebrating winning the Best Emerging Recruitment Agency category at the Midlands Enterprise Awards 2022, hosted by the SME News Magazine and aimed at showcasing the very best of business in the Midlands.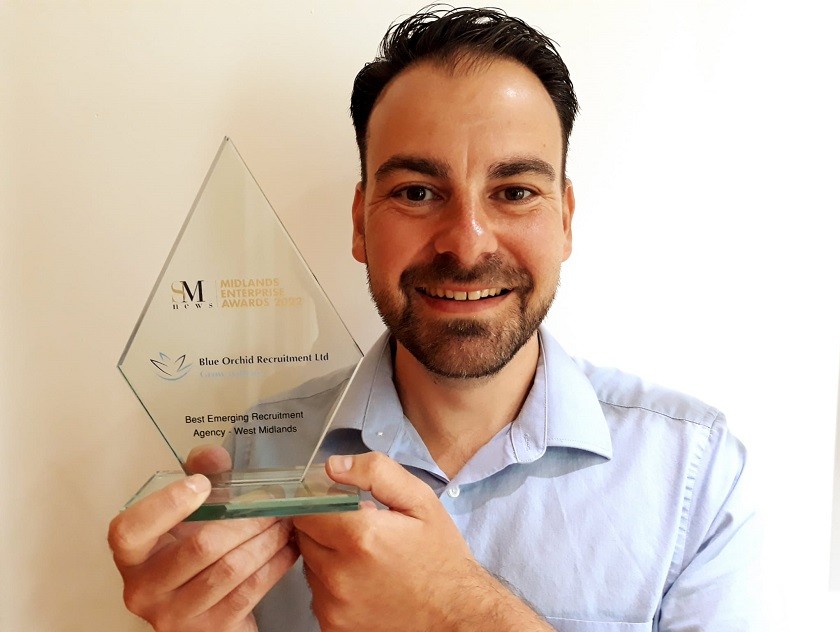 Mr Griffiths said: "We are delighted to have won and must admit to being pleasantly surprised because we are a small fish in a huge pond - but it just goes to show how far we have come in a short space of time.
"We knew it was going to be a challenge launching the business during Covid, but with lots of hard-work and dedication we are proud of how the business has grown. It's allowed us to demonstrate that when you push through difficult times you can build a successful business. Being a recruiter you have to be resilient so this mindset has come in very useful.
"We specialise in office and commercial opportunities but also provide career coaching and have a particular interest in helping disadvantaged people who can often get overlooked by other recruiters or struggle generally and need that extra support and confidence building."
Blue Orchid Recruitment predominantly works across Shropshire, Mid Wales and the West Midlands but also has a number of national clients.