Celebrations at Dyslexia Awards
A dyslexic Shropshire woman who goes "above and beyond" to help other learners has been celebrated at the 2023 Dyslexia Awards.
Victoria Thornton, from Shrewsbury Colleges Group, who also won the award in 2019, took the learning support award at the glittering presentation ceremony in Telford. The Dyslexia Awards are the brainchild of Telford-based dyslexia consultant Elizabeth Wilkinson.
The judges said they had read many wonderful supportive comments from both students and academic staff that emphasised Victoria's commitment to supporting students to achieve their goals.
They said: "She clearly champions her own dyslexia, which puts her students at ease and gives them confidence to do the same. She is obviously very supportive and non-judgmental, which opens the doors to successful learning and helps unlock potential.
"Victoria consistently goes above and beyond to provide the support needed, making a visible difference to the lives of the students she supports. Without her help and support, many students may not have completed their courses."
Awards founder Elizabeth said: "The Dyslexia Awards were created in Shropshire, so it is great to see such a supportive and inspirational winner from our home county.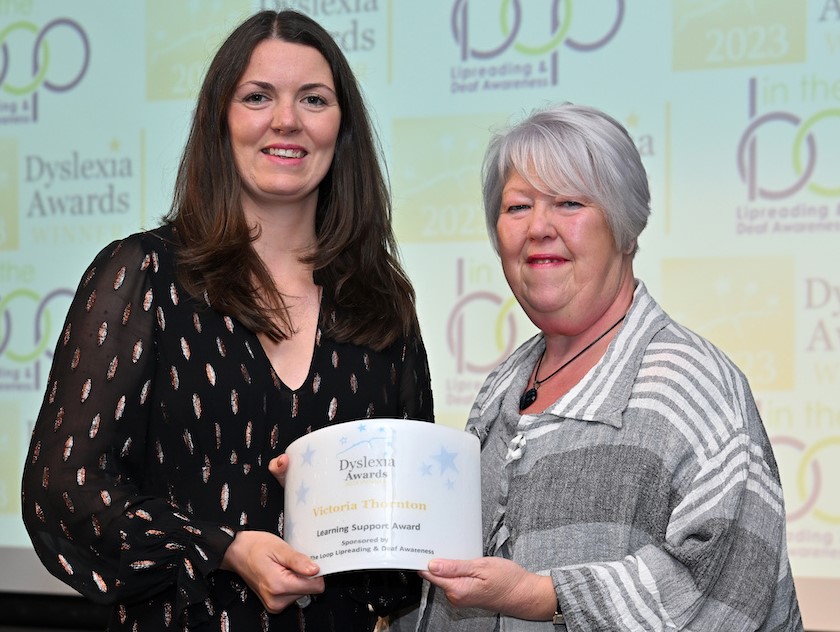 "Victoria continues to use her own experience of dyslexia to help staff and students in a positive way, helping staff to support their students in the classroom and giving students the tools to develop the strategies they need to succeed."
Victoria said it was an 'honour' to receive the award for the second time. "It's important to me because I'm dyslexic and I know the difference that greater support and understanding can make to individuals. It's an honour to be recognised by my colleagues and students for this award."
The 2023 Dyslexia Awards and celebration evening was held at the Mercure Telford Central hotel to showcase the achievements and talents of dyslexics nationwide. The annual event was attended by about 112 finalists and guests, who heard many inspiring stories about the achievements of amazing dyslexics.
It's the brainchild of Elizabeth, who is dyslexic herself and who has worked in the field of dyslexia in Telford for 24 years.
She said: "It was another amazing night, and everybody had a great time. I am so proud of all our finalists. Every year I am blown away by them but this year I was so very humbled to see how proud people were to be nominated. I love that people are being proud and are using this as a platform to highlight dyslexic talents and to make a positive difference.
"These awards are about celebrating dyslexic achievement and shining a light on the people and organisations who recognise dyslexic talents and skills, and who are smart enough to utilise and support them, and who create environments where those talents can flourish.
"It's all about raising positive awareness of dyslexia and showing that different thinking is a good thing – it brings with it an abundance of alternative solutions to problems, new inventions, creations, leaders and innovations.
"All this is made much easier if we are taught properly and supportive employers and educators get that we learn differently. It can make such a positive difference to people's futures. Research suggests that one person in every 10 is probably dyslexic so it's got to be in everyone's interest that the talents and skills of dyslexics are nurtured, encouraged and put to good use."
Other awards presented on the night included supportive employer, young and adult entrepreneur awards, adult and teenage community shining stars, innovation, excellent educator, and learning support.
The companies and organisations who sponsored an award were: MedatativeState.Com, Exclusive Solutions Ltd, the Federation of Small Businesses, Global Freight Services Ltd, The Dyslexic Dyslexia Consultant, CRG Business Solutions, Darwin Wealth Management Ltd, Vaikai Web Design, and In The Loop, Shrewsbury.
Pictured: from left, Victoria Thornton with category sponsor Sally Joyner from In The Loop