Cyclists support Pedal the Borders challenge
Keen cyclists from a Shropshire firm who took part in the inaugural Pedal the Borders challenge have so far helped to raise over £30,000.

The team from Aico in Oswestry hosted and supported the initiative organised by Adrenaline Sporting Events to raise funds for the Lingen Davies Cancer Fund, and 100 riders set off from the firm's headquarters to cycle 100km through the Shropshire countryside and into the Welsh hills.
Altogether 21 Aico colleagues took part in the ride and they raised over £4,500 for the charity, with more colleagues acting as volunteers on the day.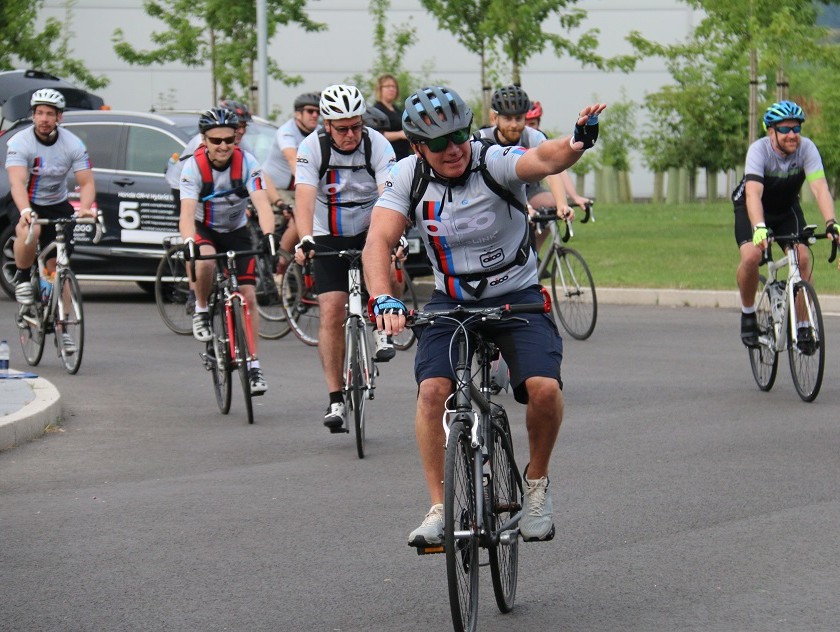 Aico's product development manager, Michael Wright, who is a keen cyclist was the fifth person to finish the event. He said: "It was fantastic to be part of the event and to raise money for Lingen Davies Cancer Fund. The route was brilliant with the scenery of Lake Vyrnwy being a welcome sight halfway round! It was great to see so many Aico and HomeLINK colleagues taking part and challenging themselves for such a good cause. I'm looking forward to next year's event already."

Matthew Hodgetts, a warehouse 0perative for Aico, said: "It was a tough route but enjoyable, though there were times when I wasn't sure I could go on but the support from my colleagues and knowing we were in it together for an incredible local charity spurred me on and made me determined. It was a fantastic day and I'm really pleased to have completed it."
Helen Knight, development manager for Lingen Davies, said: "We are absolutely delighted with the Pedal the Borders event. We had a wonderful turnout, and would like to thank our sponsors, with an extra big thank you to Aico, who not only supported the event as our main sponsor, but also supported with all of their staff having a role in the day, from volunteering, to actually cycling the 100km. The amount we have raised has completely blown our mind - we have currently received £32,000!
"We continue to raise money for the CT scanner and for the extension of the centre to create three new clinical rooms - this money will make a great impact on this work. We are excited to think that this appeal could be finished by March 2022 if we can continue to raise funds like those from Pedal the borders"
Adrenaline Sporting Events was established in 2015 to offer new and exciting sporting opportunities and bring together a community of people to raise money for local charities.
Lingen Davies Cancer Fund provides cancer support and services across Shropshire, Telford and Mid Wales, improving cancer treatment and care for over 75,000 people in the local area to date.