Former college student takes award
A former Telford College student is celebrating awards success, after being named the Midlands' beauty therapist of the year.
Laura Davies runs Enlightenment, based at MSF Fitness on the Stafford Park business estate, where she provides a wide range of beauty and holistic treatments.
She was crowned beauty therapist of the year at the Midlands finals of the English Beauty Industry Awards, held in Birmingham. The competition celebrates 'exceptional contributions of individuals, salons, spas, and beauty brands that have left an indelible mark on the industry'.
Judges said: "We were overwhelmed by the calibre of entries we received this year. The passion and dedication displayed by the finalists are truly inspiring and reflect the vibrant and ever-evolving beauty scene in Midlands."
Laura graduated from her level two beauty course at Telford College in 2006 – after what was her third educational experience with the college.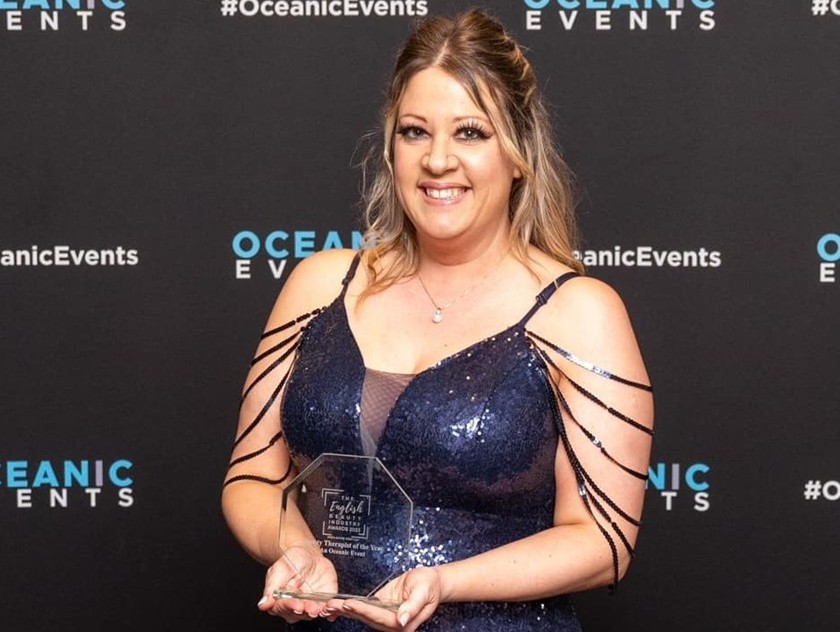 "When I left school I wasn't sure what I wanted to do, and initially signed up for an early years course. I'm not massively academic, and am dyslexic, then moved onto a public uniformed services course. But it's hard to know for certain what you want to do when you leave school. I really loved make-up from a young age, so I came back for a third time to Telford College, this time to study beauty.
"I remember the last year of that course being fantastic. Our tutor Charlotte was brilliant – she did everything she could to make sure we got the units we needed."
After qualifying, Laura started work at a salon at Rowton Castle near Shrewsbury, before an opportunity emerged to take on the Enlightenment business in April 2015.
In the Midlands final, Laura beat off competition from rival salons in Birmingham, Wolverhampton, Walsall, Nottingham, Kidderminster and Stourport.
She said: "I cannot quite believe I've won this award. I'm so lucky to have support from all my amazing clients who voted for me, and made it happen. The award was based on a combination of customer reviews, plus before and after pictures of treatments which I had to provide. There were 10 of us in the final of my category, and it was then down to who got the most votes."