Hotel retains its four-star status
A Shrewsbury hotel has retained its four-star status, with inspectors praising the standards of service, cleanliness and quality of food.
The Prince Rupert hotel, in Butcher Row, remains the only Shrewsbury town centre hotel with a four-star AA rating, and bosses say the accolade is a boost for the town as a whole.
Mike Matthews, owner of the Prince Rupert, said: "We are extremely pleased to have retained our four-star rating, which we have held since 2013. Having at least one four-star hotel is important for the town, especially as Shrewsbury is beginning to rival the likes of York, Stratford and Bath, so we are delighted with the outcome of our recent inspection.
"I would like to pay tribute to our staff who always work so hard to make our guests feel special, and it's clear that the inspector enjoyed their stay at the hotel and made numerous positive comments in the report. It was particularly pleasing for the restaurant to be awarded one rosette for culinary excellence and we look forward to continuing to grow our reputation for high quality food."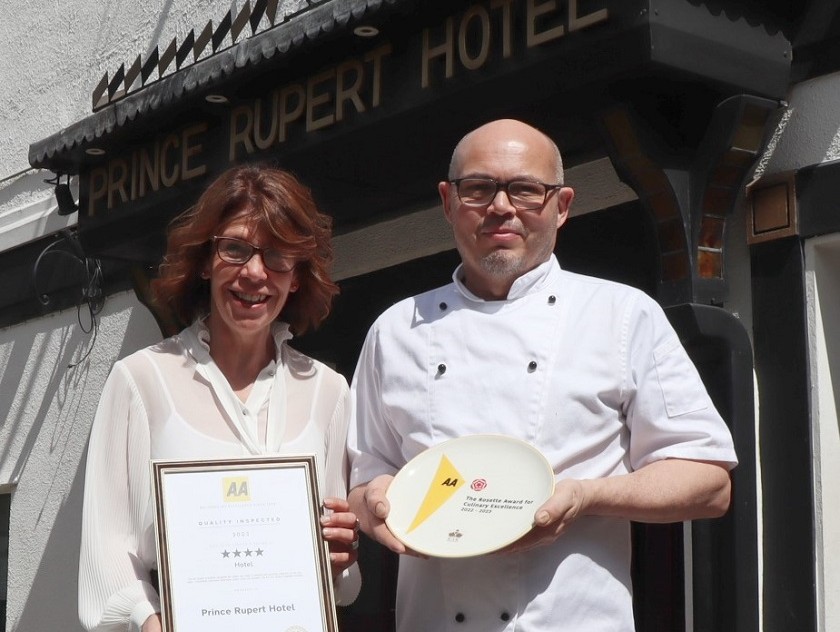 The report said: "Hospitality proved to be relaxed and welcoming throughout the course of the visit. Good welcome upon arrival created a positive first impression. Pleasant ambience created in the restaurant at both dinner and breakfast.
"Food quality and choice continues to be a strength of the accommodation. Dinner offered a very good selection of well-cooked and presented dishes utilising high quality ingredients. All chosen courses proved enjoyable. The well-decorated and furnished Royalist Restaurant provides an ideal location in which to relax and enjoy the carefully prepared dishes at both dinner and breakfast."
Pictured: Hotel manager Charlie Green and head chef Mark Walker