Housebuilder announces phase two
Shropshire housebuilder SJ Roberts Homes is to start work on phase two of its Allscott Meads development which, for 80 years, was home to a sugar beet factory.
Altogether 269 new homes will be built over the next three years bringing the total number of homes at the development to 470. Phase two will include four one-bed homes, 31 two-beds, 160 three-beds, 39 four-beds and seven five-bed properties. and 28 of the properties will be affordable homes.
The 64-acre Allscott site, located between Shrewsbury and Telford, stood empty following closure of the factory in 2007 until SJ Roberts began work on the multi-million-pound development in 2020. Phase one of Allscott Meads has proven incredibly popular with only eight of the original 201 homes now remaining for sale.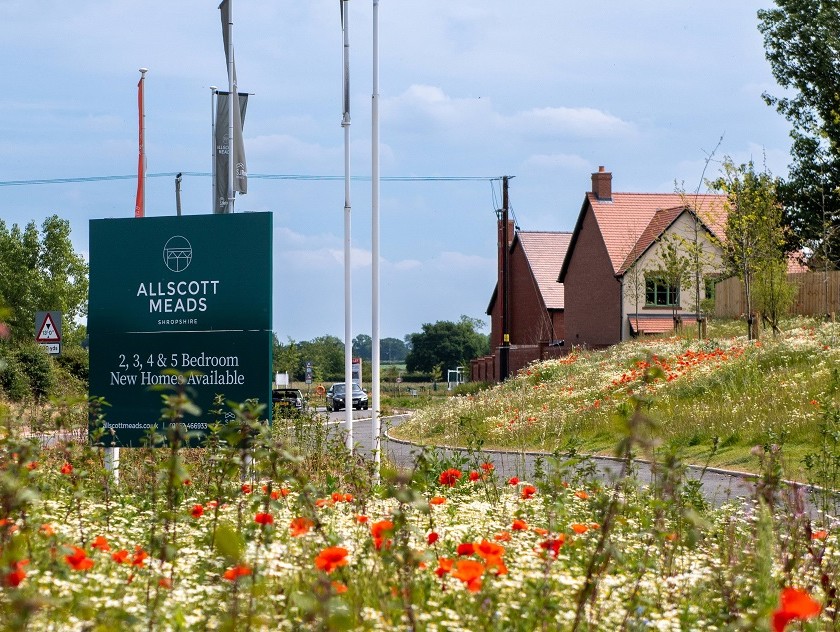 Mike Sambrook, MD at SJ Roberts Homes, said: "When developing an entirely new community it is vital to create impact and we're absolutely doing that at Allscott Meads.
"Our commitment to rewilding the site is another factor that has appealed to purchasers. Once completed, Allscott Meads will boast not only hundreds of new trees, shrubs, and hedgerows, but also a perimeter nature trail that will appeal to residents of all ages, as well as pupils of the new primary school. A pair of lagoon ponds with shingle beaches, will additionally provide a relaxing space for all residents.
"We are incredibly proud of what has already been achieved at Allscott Meads and look forward to seeing this ground-breaking development evolve further. Already this is proving to be a vibrant community and the opening of the new primary school later this year and commercial units in 2024 will no doubt further that vibrancy."