Innovation park's first phase complete
Morris Property has completed the first phase of development at the Newport Innovation Park which is being built for Telford & Wrekin Council's newest business park.
The £4 million scheme to create a world-leading agri-tech research and innovation hub is rapidly progressing.
Ni.PARK, in Newport, is a key element in the Newport Innovation and Enterprise Package, backed jointly by the Marches Local Enterprise Partnership and Telford & Wrekin Council.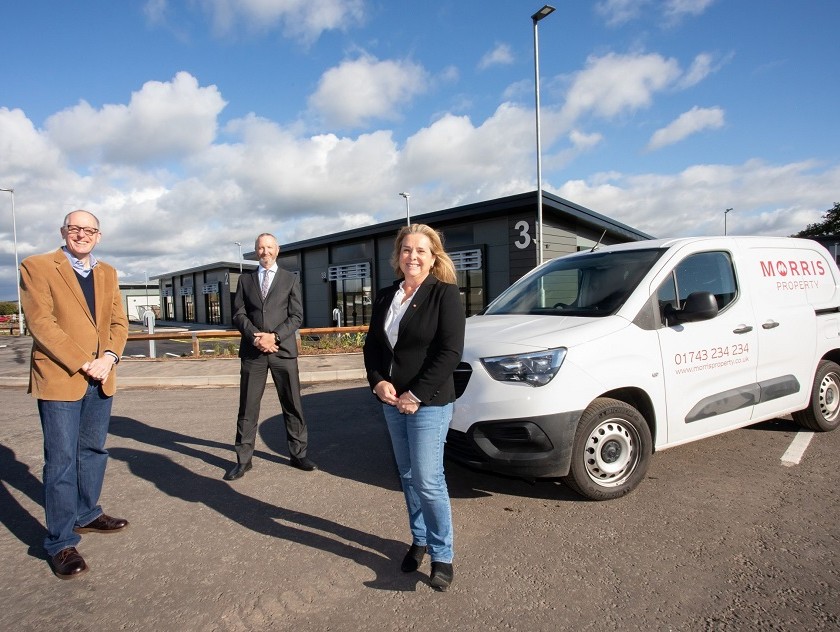 The council sees the project as part of its commitment to attract inward investment to the borough, delivered through its Growth Fund, which looks to ensure the right properties are delivered in the right location.
The first phase of development comprises 24 individual units ranging from 66sq m – 351sq m which are designed to suit a range of occupiers including start-ups, small businesses and larger occupiers in the agri-tech and enterprise sector.
The formal hand over of the first phase of Ni.PARK to Telford & Wrekin Council was completed over 42 weeks, on time and to budget.
Construction manager Steve Flavell said: "This was an important project for Telford & Wrekin Council and the community and was a prestigious tender to have won. As well as creating a high quality development, Ni.PARK has enviable green credentials, with electric vehicle charging points and PV solar panels, together with sustainable drainage systems (SUDS) and ecological enhancements."
Pictured: from left, Councillor David Wright, Morris Property construction manager Steve Flavell, and Mandy Thorn MBE