Milk round churns up charity cash
One of the UK's largest independent dairies has been given a cancer charity's 'business of the year' award after raising in excess of £3,500 from milk rounds.
Cotteswold Dairy, which has a branch in Shrewsbury and delivers to customers throughout the region, organised a collection during last year's Covid-hit Christmas. Envelopes were dispatched with orders on behalf of Lingen Davies Cancer Fund and donations totalling in excess of £2,500 were then collected. The dairy has repeated collections this year and £1,000 has already been donated.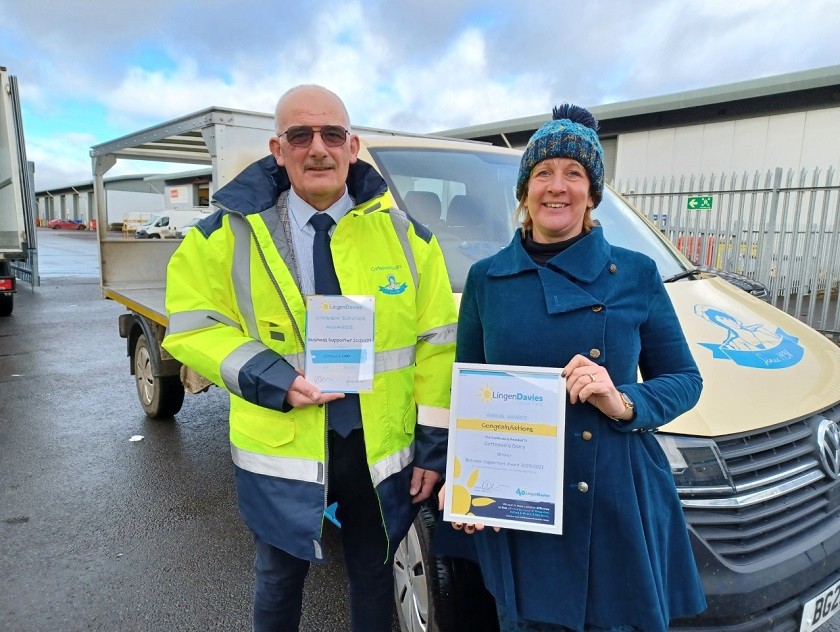 Helen Knight, from Lingen Davies, presented the award to Cotteswold's Leigh Raymar as part of the organisation's AGM and Awards Evening.
Leigh said: "We have a lot of rounds throughout the region and were happy to ask our drivers to take collection envelopes out with them. We're delighted we could support Lingen Davies in this way, and we're really proud to accept this award."
Helen said: "We have some fantastic supporters at Lingen Davies and on behalf of everyone at the charity I would like to say a huge thank you to Leigh and all his team at Cotteswold Dairy. The money will go towards funding services and improvements for those impacted by cancer in the community throughout Shropshire and Mid-Wales."
Pictured: Leigh Raymar accepts the award from Helen Knight of Lingen Davies