Poet with Punch inspires young people
An organisation committed to helping young people thrive is celebrating bringing on board its latest ambassador.
Matt Windle – known as the 'Poet with Punch' due to his dual passions of poetry and boxing – visited BrightStar's base in Shifnal to announce he'd be taking on the role, as well as sharing his inspiring story with a group of youngsters.
The Commonwealth boxing champion has been both Birmingham's Poet Laureate and the Young Poet Laureate, and works in schools, prisons, care homes and other organisations to inspire people to enjoy poetry and creative writing. He also combines his passions through Poetry with Punch sessions which combine poetry and boxercise to 'break stereotypes and give people a voice through written and physical expression'.
Matt said: "I've been working in schools with young people since 2007, including some of the more disengaged, hard-to-reach students, so it seemed a really good fit for me to take on the role of ambassador. It's fantastic to be able to signpost to BrightStar and let people know there are places they go where you've got that mix of boxing, academics and mentoring.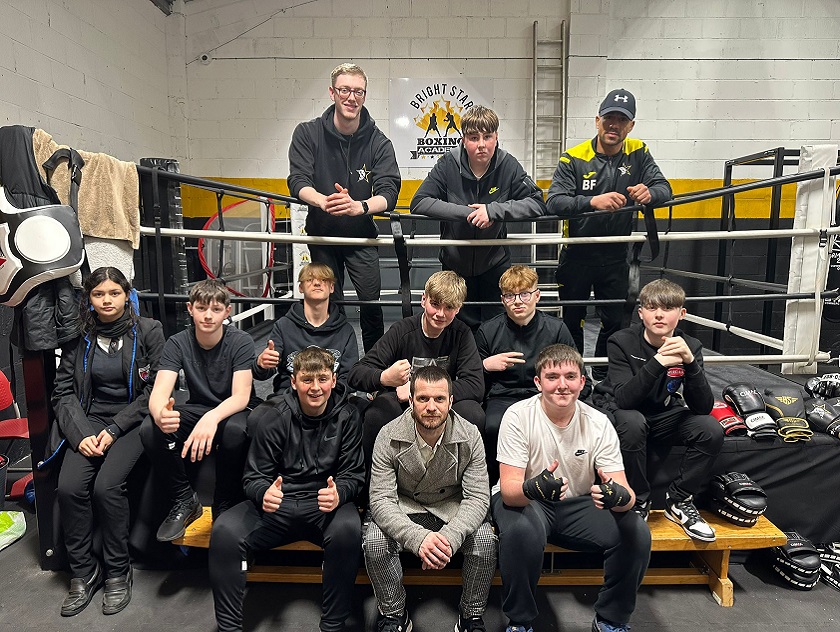 "It was great to work with some of the young people when I visited the Shifnal gym, and I think they got a lot out of the session. It's really important there are places out there that provide the same sort of structure as a school but for some of the more creative, energetic or sporty people who are struggling to engage with mainstream education.
"I feel very lucky and privileged to do what I do, and to be able to tell the young people that they don't need to feel their life is over - if they work hard and learn from their mistakes, they can turn things around."
BrightStar is a boxing academy with a difference, running programmes which combine sport with mentoring and the chance to gain qualifications. The team, headed by Joe Lockley and Kat Stanworth, partner with social workers, CAMHS, schools and organisations with the aim of reaching young people aged 11 to 16 who may be at risk of involvement in criminal activity, or at risk of mental ill health, as a result of trauma they have faced during their childhood.
Joe says: "It was fantastic to welcome Matt to our Shifnal gym, where he spoke openly about how boxing and poetry had turned his life around. For our young people, being able to meet someone who has achieved so much despite difficulties when he was at school gives them something to aspire to, and shows them anything is possible if you channel your energies into positive activities such as sport.
"We're proud to have built up a BrightStar family which we are extending across the Midlands, and we're thrilled that Matt is now part of that family."