Police receive acid attack response kits
Police forces in England and Wales are being supplied with Parabag equipment from a Shropshire medical suppliers to support them in providing an Initial response to victims of acid attacks and other incidents involving hazardous chemicals.
The initiative began with West Midlands Police, who worked with UK emergency medical supply specialists, SP Services, of Hortonwood, Telford, to put together the equipment to respond to an attack to minimise injury to members of the public.
The Parabag contains six 500ml bottles of water, two pairs of chemical gloves, two face masks, two pairs of safety goggles and a special Bottleshower with a spray adaptor to "shower" water over a victim's skin – a more effective way of diluting a corrosive liquid and delivering a continuous flow of water than simply tipping water straight from a bottle.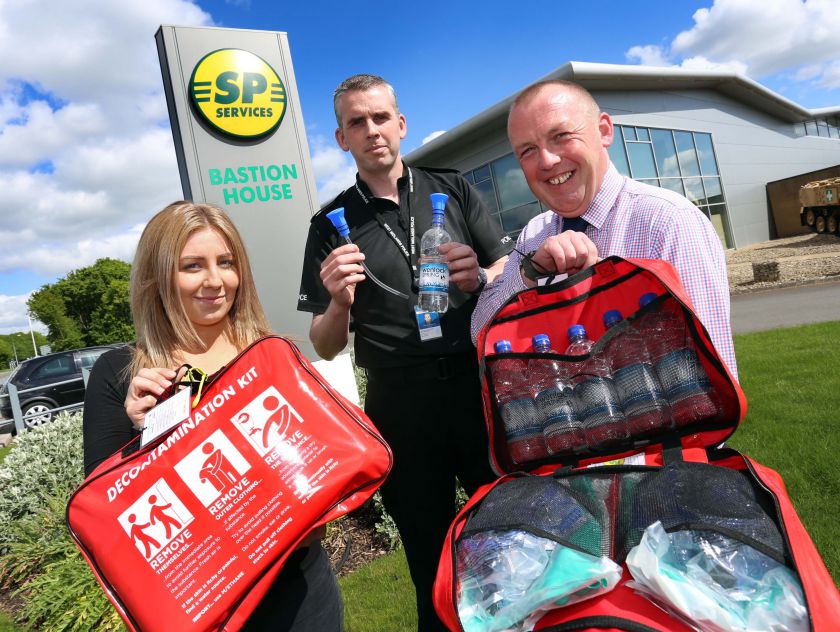 A prototype bag was initially developed by SP Services and demonstrated to officers at the National CBRN Centre in Coventry which provides guidance to the emergency services for resilience in chemical, biological, radiation and nuclear attacks.
The kitbags feature the national "Remove" campaign message highlighting the need to remove victims from the contaminated environment, remove outer clothing and directions on how to remove the contaminant from skin by rinsing continuously with water.
Sergeant Scott Howard from West Midlands Police said he searched for a suitable medical equipment supplier who could create a bespoke solution.
"We want to be prepared to respond effectively if we are called upon to reduce injury to the public. Other forces have created in-house solutions to an acid attack for some months which includes large bottles of water. Following evaluation we decided a flexible, agile and scalable kit was more suited to our needs, particularly when deployed by specialist teams where space is at a premium in vehicles.
"Officers will likely need to have a hand free to deal with whatever is happening in such a situation. SP Services already had an emergency burns kit so when I contacted them they said they could adapt that kit to just what we wanted."
A total of 200 kits have now been deployed to police forces across the UK after 320 were distributed across the West Midlands earlier in the year.
Paul Watts, business development manager at SP Services, based in Telford, Shropshire, said the kit was well received by all three emergency services with police, fire and ambulance chiefs attending the national CBRN conference.
"We supply Parabags containing all sorts of medical equipment for the emergency services to treat burns, bleeding and many other medical emergencies as well as supplying the NHS, army, Nato, businesses and even Premiership football clubs with equipment," said Paul, who worked with their development team to adapt the bag so the water bottles could be quickly and easily extracted with one hand.
"The bottle shower is such a simple but clever product. It turns a litre of water into having the effect of up to ten litres of liquid which can be dispersed efficiently and directly onto a victim. The volume of water is increased by the flow being reduced while effectively targeting the contaminated area and decreasing the injury risk."
The kits are the first of their kind containing not just water but Personal Protective Equipment for the emergency services. They were deployed operationally for the first time at Prince Harry's wedding in May by West Midlands Police providing tactical and logistical support to Thames Valley Police.
Pictured: Charlotte Crick from SP Services Business Development team with Sergeant Scott Howard and Paul Watts, head of International Business Development at SP Services with the "tailormade" decontamination kit