Rising star in the spotlight
It was double joy for The Shrewsbury Club at the LTA Tennis Awards in London as they celebrated winning two top national awards.

Amy Dannatt, a popular member of the club's coaching team, won the Rising Star Award, with The Shrewsbury Club claiming the Performance Competition of the Year award for hosting the ITF W100 tournament last November.

It's an outstanding success story for the club and for Shropshire tennis, with this year's national winners selected from more than 2,200 nominations in England, Scotland and Wales across a number of categories.

Amy and The Shrewsbury Club are the county's first-ever winners of national LTA Tennis Awards.

LTA president Sandi Procter hosted the ceremony at the National Tennis Centre at Roehampton, which was presented by Leon Smith, the captain of Great Britain's Davis Cup team.

The various awards were presented to the winners by Her Royal Highness, the Duchess of Gloucester, along with Judy Dalton, Natasha Kaplinsky, Mervyn King, Sir Trevor McDonald and Judy Murray. The award winners and those shortlisted then headed to nearby Wimbledon to spend an enjoyable day on Centre Court.

Dave Courteen, managing director of The Shrewsbury Club, collected the Performance Competition of the Year award on behalf of his team from Mervyn King, the former governor of the Bank of England.

He said it is wonderful recognition for the club and added he's delighted that Amy was deservedly chosen as a national winner.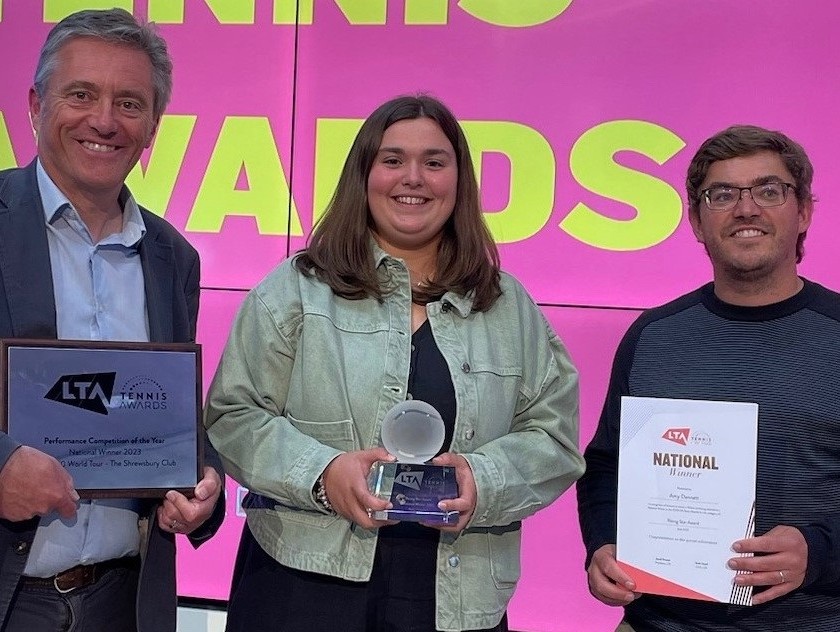 "We are so proud of Amy for all she has achieved. To see her presented with such a prestigious national award was an extremely special moment. Amy was a club member from a young age before she joined the team as a coach and she also runs our children's programme. She is very popular both with her colleagues and club members.

"She certainly is a rising star and does an excellent job as a tennis referee and official to help ensure that Tennis Shropshire's County Championships and Battle of Shropshire are such a success.

"I am also so pleased for our team and all the volunteers and sponsors who contributed to the success of last November's ITF World Tennis event. It was the biggest tournament we have staged at The Shrewsbury Club and the feedback we received from the LTA, officials, players and spectators was excellent.

"We are excited to be hosting the Budgen Motors W100 once again in October and want to make it an even bigger and better event this time. We were the only club in the country to be nominated for, and to win, two awards, so it is a real achievement."

Chair of Tennis Shropshire Fiona Jones said: "We have had Shropshire winners shortlisted for national awards before, but it's the first time we have had national winners.

"To have two of them announced on the same day is fabulous and I am absolutely delighted as they are both very deserving winners."

Shropshire's former LTA president Cathie Sabin was instrumental in the launch of the LTA Tennis Awards in 2015, which highlight and reward the achievements of people, clubs and schools around the country.

Pictured: Dave Courteen, Amy Dannatt and Simon Haddleton (The Shrewsbury Club's director of tennis)