Royal audience for apprentice's work
A special Royal audience has viewed work by an apprentice from Walsall's Leather Skills Centre, run by Performance Through People and the Worshipful Company of Saddlers.
Anne, Princess Royal watched apprentice Meg Jones taking part in the Saddlery Demonstration day at the Saddlers' Hall in London.
Meg has been on an apprentice programme with Fiona Cork Saddles of Meeson, near Telford, since January 2022, and attended the event with Richard Belton, a director at the company.
Her work was one of the winning entries from the National Saddlery Competition and formed part of the Saddlery Showcase, organised to shine a light on saddlery manufacture, training and fitting.
Meg (aged 18) from Gnosall said: "I was thrilled to showcase my skills to the princess, and that will go down as one of my career highlights forever!"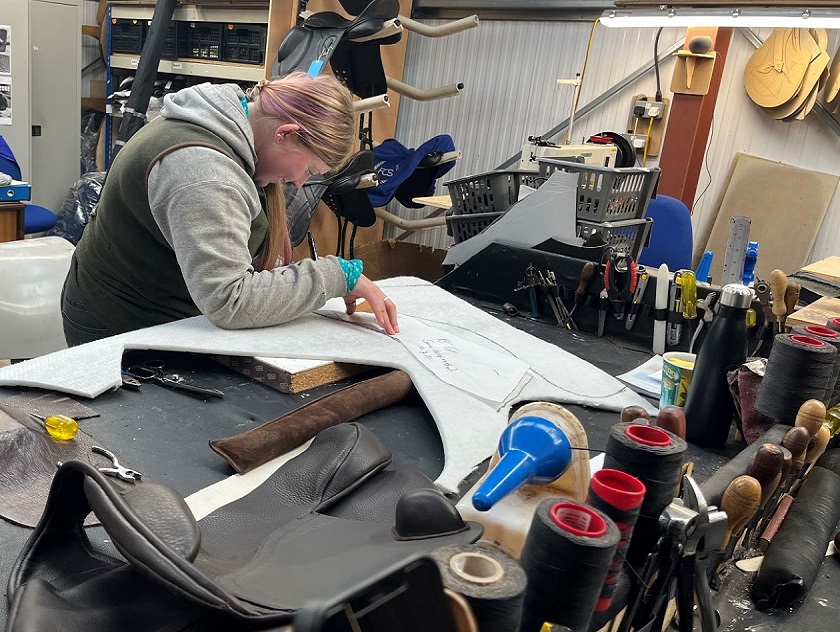 Rachel Willetts, learning and development tutor at PTP, explained that Meg has her own horses and equestrian experience.
She said: "Meg has grown in confidence since first starting after meeting and mixing with other students at Walsall Leather Skills Centre.
"She has also overcome a barrier she had for maths, and thanks to a private tutor arranged by her employer she has now achieved her functional skill maths. We have been told that she is continuing to grow and develop within the business and has changed enormously.
"She has been going out in the field learning saddle fitting with Fiona, and is due to complete the apprenticeship programme in July this year."
PTP is part of the BCTG training group, and has been helping the Worshipful Company of Saddlers to run the Leather Skills Centre since 2020.
Fiona Cork, of Fiona Cork Saddles Meeson, said: "Meg has grown in confidence since joining the team early in 2022. She has a natural aptitude for the role and we hope she will be with us for years to come."