Second phase of innovation park complete
Morris Property has completed the second phase of Telford & Wrekin Council's innovative 25-acre agricultural technology park, Ni.PARK, in Newport.
Phase two of the multi-million-pound scheme includes three energy efficient units each covering 10,000 sq ft in landscaped grounds.
The scheme has a focus on sustainability, incorporating electric vehicle charging points, solar panels on the roofs, sustainable drainage systems (SUDS) and ecological enhancements to reduce environmental impact.
Phase two was built over 36 weeks and sits adjacent to the initial 24 starter units, which were completed by the property developer in 2021.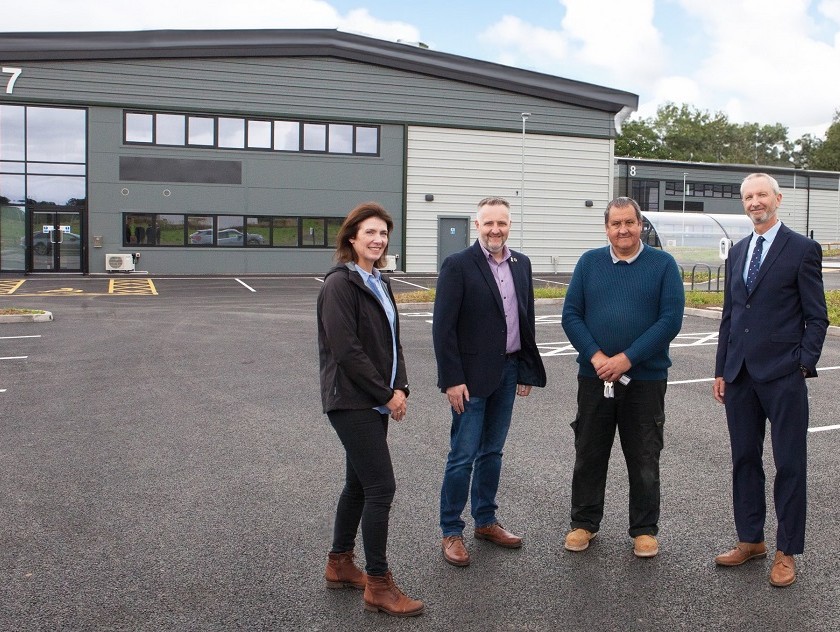 The phase two milestone was marked with a handover event attended by Councillor Nathan England (Telford & Wrekin Council's cabinet member for Finance, Customer Service and Governance), the council's senior surveyor Catherine Hawksworth, and Morris Property's construction manager Steve Flavell.
Keys are now ready for prospective tenants working in the fast-growing agri-tech sector with the units at Ni.PARK being retained within the council's Property Investment Portfolio.
Steve Flavell, construction manager at Morris Property, said: "We are delighted to reach completion of this innovative project and proud to have been selected to partner with Telford & Wrekin Council to deliver the first two phases of this major agricultural technology park."
Councillor Lee Carter (Telford & Wrekin Council's cabinet member for Place (the economy & neighbourhood services) said: "Ni.PARK has already become a strong agri-tech centre and these latest units are in a prime location in the UK and the perfect place for companies to do national and international business from.
"Larger units are now available to let on the site which we hope lead to significant business take-up and generate the same interest as those units which were delivered during phase one of the project."
Councillor England said: "This is great news for Newport and the completion of phase two paves the way for more agri-tech businesses to locate to the area.
"The latest units are being delivered using the council's Growth Fund and will be retained within our property investment portfolio, delivering jobs and generating business rates which can be reinvested back into business infrastructure and other vital Telford and Wrekin frontline services."
Pictured: from left, Catherine Hawksworth, Councillor Nathan England, and Dave Fletcher and Steve Flavell from Morris Property