Shrewsbury BID term is renewed
Shrewsbury BID is celebrating overwhelming backing from businesses for the renewal of its five-year term – with one of the best UK BID ballot results in recent years.
Altogether 94% of businesses voted in favour (97% by rateable value) to renew the BID's term, giving it an "exceptionally strong" mandate to continue with its work to promote and support the town centre on behalf of its members. Turnout in the ballot was 61% which was well above the national average.
Seb Slater, executive director of Shrewsbury BID, said the ballot showed an extremely strong level of support from town centre businesses.
"We are delighted with the result and would like to thank every business which took the time to vote. This huge vote of confidence puts us in a fantastic position to move forward. When we launched the business plan for our next five-year term, we outlined four main priorities: Original Shrewsbury, Safer Shrewsbury, Work In Shrewsbury and Future Shrewsbury.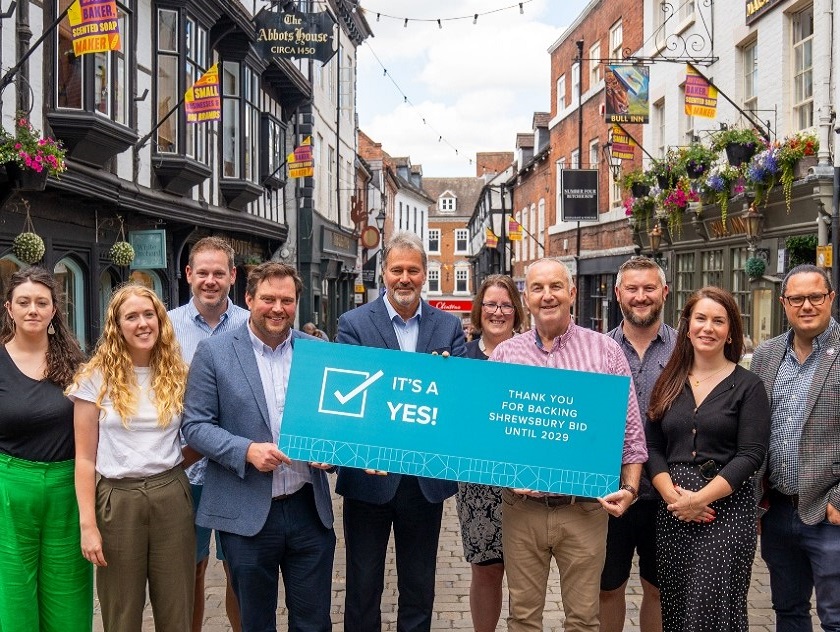 "The overall investment over the next five years will amount to over £3 million, which will enable us to build on our work to make Shrewsbury a great place to do business both now and in the future."
Mike Matthews, chair of the Shrewsbury BID board, said the overwhelming support from businesses was testament to the positive work achieved over the past 10 years.
"From activities that make the town more welcoming through town dressing, window displays and visitor campaigns, to crime prevention and the Shrewsbury Rangers, the BID team and its board have worked tirelessly to ensure maximum value for our levy payers.
"I am absolutely delighted that businesses have given us such an exceptionally strong mandate to build on our collective success and continue working together so effectively. I would like to thank everyone for voting, and we can now look to the future with strength and optimism."