Volunteers meet Royal British Legion Poppy Bear
Merrythought, the Ironbridge-based manufacturer of the classic British teddy bear, was honoured to welcome local ex-servicemen and Royal British Legion volunteers to its headquarters, home of the firm's new Royal British Legion Poppy Bear.
Lovingly hand-made by Merrythought's skilled team, the limited edition bear will help to raise vital funds for serving and ex-serving members of the British Armed Forces, as well as their families and dependents, during the charity's 100th year of the Poppy Appeal.
To mark the anniversary, fourth-generation managing director Sarah Holmes met with local volunteers and veterans.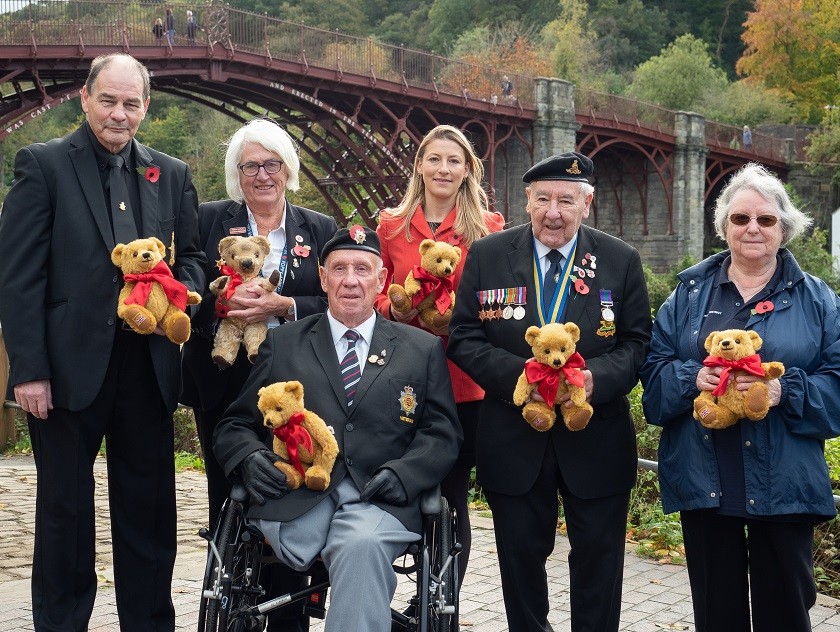 "Myself and the team here at Merrythought are honoured to be partnered with the Royal British Legion during such a milestone year. The Poppy Appeal is supported up and down the country and is hugely important to the British public, so we're immensely proud to be a part of it.
"It was a privilege to meet with local Poppy Appeal volunteers, most of whom are ex-forces themselves. Their stories are inspiring and remind us why we wanted to work with such an important charity."
Jeffrey Turley (84), is the current president of the Royal British Legion Oakengates branch. He said: "We've known about Merrythought and its famous bears for years as we live locally so we we're delighted to hear they had chosen to support the Poppy Appeal this year during the centenary. It was wonderful to meet Sarah Holmes and hear about the making of the special bear.
"We must never forget those who gave their lives for us, no matter how much time passes by. The Merrythought teddy bear is a great idea to help keep the Poppy Appeal in the minds of new audiences."
Jeffrey was joined by his wife of 60 years Glenys Turley (79), who also volunteers for the charity, and fellow volunteers and veterans Tony Lloyd (75), John Forster (65), and Moira Wallace (69).
The Poppy Bear is crafted from the finest, soft mohair plush in a rich, antique gold colour, and features chestnut brown pure wool felt paws. He is finished with a premium red satin bow, upon which two iconic poppies have been embroidered as symbols of remembrance and hope.
Merrythought has its own link to the forces and reasons to support the charity.
"My grandfather Trayton Holmes proudly served in the Royal Air Force during the Second World War before going on to become the Merrythought managing director in 1949," said Sarah.
"The factory also shut down production during World War II to support the war effort by making various textile items such as gas mask covers, kit bags and clothing.
"Whether a gift for someone special, or a memento to remember a loved one by, this bear not only celebrates the huge milestone in the charity's history, but I hope that it will be a much-loved member of people's families for generations to come."
The Poppy Bear, which is filled with 100 per cent recycled fibre, has been made to a limited edition of 1921 pieces to mark the year the Royal British Legion was founded.
Pictured: from left, John Forster, Moira Wallace, Tony Lloyd, Sarah Holmes, Jeffrey Turley and Glenys Turley