New premises for property firm
County property, business and planning firm Berrys is moving to a new, larger office building on Shrewsbury Business Park, it has been revealed.
Alaska Property Group, in partnership with Shropshire Council, is developing Shrewsbury Business Park and building has already started for Berrys' new office building on Phase 2 of the site.
Phase 2 is the latest phase of development in the Business Park with £1.5 million being invested in new infrastructure and a new access point from Wenlock Road. The recently finished Co-op Foodstore is due to open on the new phase on November 11.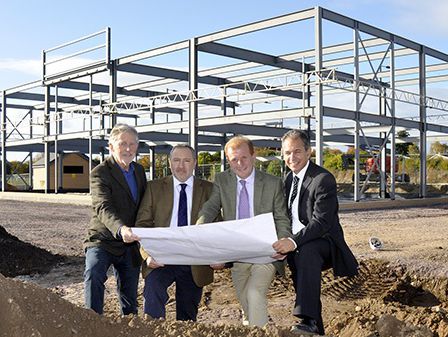 To date, total private sector investment in the park has been over £50 million delivering 250,000 sq ft of floor space and creating over 1,200 jobs.
Alan Hay, Managing Director of Alaska Property Group, said: "Berrys were already occupiers of a smaller building on the Park and there is no better vote of confidence than for them to expand in the same location."
Berrys will occupy about 10,000 sq ft in this £1.5m development, overlooking one of the ponds on the Park. It will house their valuation, planning, estate agency, professional services and architectural departments and includes break-out space for staff. It will hopefully be completed by March 2017.
Chris Jones, partner of Berrys said: "As Berrys' specialisms have broadened, so has the team. Staff numbers at the Shrewsbury office have been growing rapidly for a number of years and continue to do so. So it was time for us to find new premises which were more fitting to our staff and clients' needs.
"Alaska's development allowed us to do that within Shrewsbury Business Park, meaning that none of the benefits of our current office space were lost (parking, good accessibility from the motorway network), and we could also benefit from an office with more space for our growing team and a better quality of facilities for our visiting clients."
Steve Charmley, deputy leader of Shropshire Council, and cabinet member for business and economy, said: "This investment is a wonderful sign of the confidence people and businesses have in Shrewsbury and Shropshire as an excellent place to do business. We have worked with Alaska for many years, and we're pleased to see another project come to fruition after so much hard work has been undertaken behind the scenes."
Picture shows: from left: Alan Hay, Alaska Property Group; Matt Anwyl, Berrys; Chris Jones, Berrys; Chris Hill, Shropshire Council.