Disovery new fixture at Ludlow
Medical and veterinary staff attending events at Ludlow Racecourse have been provided with a brand new bespoke vehicle as they shadow riders alongside the inside of the course during races.
The latest Land Rover Discovery Sport model, with its high viewpoint, four-wheel-drive, off-road capability and complete with bespoke graphics, has been provided by local company Shukers Land Rover.
Assistant manager of Ludlow Racecourse, Di Thomas, said: "We are grateful to Shukers for their continued support and for this very practical 4x4 Discovery Sport, which, as well as being the perfect vehicle for our support team, will also raise the profile of the racecourse as we drive about the region sporting its bright livery.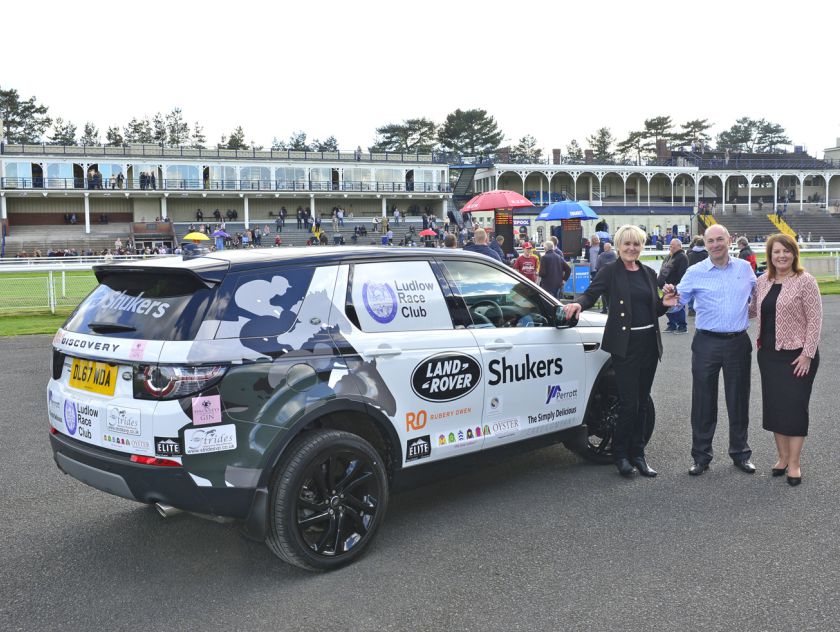 "We are currently making a concerted effort to promote the many conference facilities and rooms for all occasions we have on offer and the varied events that take place here ranging from weddings to cycle races and antique fairs.
"We are also delighted that Shukers have become tenants of the first of our new private boxes which have been created in the majestic grandstand overlooking the course, in which they will be able to entertain customers and guests in fine style in the wonderful surroundings of south Shropshire."
Keith Pyatt of Shukers Land Rover, added: "We have been involved with the racecourse for over 20 years and are absolutely delighted to be able to provide this rugged vehicle to help showcase yet another fine aspect and attraction of Ludlow and are also sponsoring one of the main viewing stands.
"We have recently received a prestigious national award for sales and customer service and naturally chose Ludlow Racecourse as the ideal venue to reward our staff and their guests with an evening of racing and fine hospitality."
Pictured with the new vehicle at Ludlow Racecourse are, Di Thomas, Shukers sales manager Keith Pyatt and Sam Haydon.