College and university bosses put pen to paper
The leaders of two top Shropshire educational institutions have signed a Memorandum of Understanding which will open up a closer working partnership.
Professor Anna Sutton, Provost of University Centre Shrewsbury, met James Staniforth, CEO and Principal of the newly formed Shrewsbury Colleges Group at the Guildhall. Senior staff members from both UCS and SCG were also in attendance.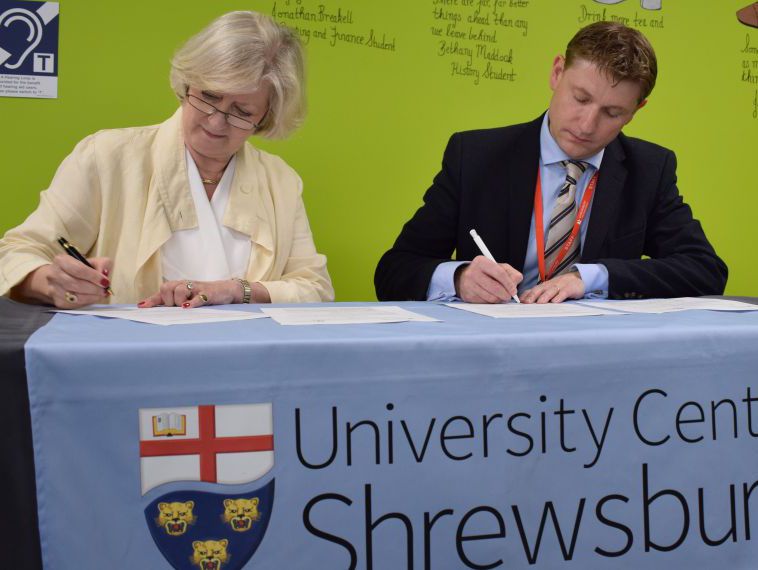 The document was signed by Professor Sutton and Mr Staniforth and will reinforce the relationship between UCS and SCG to dovetail the higher educational offer within the town and allow students to access a wider range of pedagogical facilities. The agreement will create a further emphasis on collaboration in terms of promotion, outreach, and international marketing.
Professor Sutton said: "In today's educational environment, providers face substantial challenges in terms of maximising student outcomes. This MoU will set the tone for an open collaboration between ourselves and our colleagues at SCG to ensure our students optimise their learning experience.
"It will allow both UCS and SCG students to draw the full benefit from studying in Shrewsbury, and will open up a new, wider range of teaching and learning resources that will see students leaving Higher Education having taken full advantage of all that both institutions have to offer."
Mr Staniforth said: "Shrewsbury College has been offering higher education (HE), university-level courses for over 20 years and has a proven track record of success across a huge range of subject areas. Now that the College has merged with the Sixth Form, we have a clear progression route for our young people and can take them from a Level One/Two vocational course to A Level or equivalent, and onto HE courses that act as a stepping stone to top-up at universities and even a few full BA degrees.
"The introduction of the University Centre to the town offers students of all ages an even greater choice of subjects. We review our offer every year and working alongside UCS; we aim to provide courses which complement their offer and allow the people of Shropshire, Telford & Wrekin and beyond to find a suitable route, which best suits their interests and needs. I am happy to have signed this memorandum which strengthens our working relationship and communication."