Law firm pledge
Two charities who play vital roles in supporting seriously ill young people and disabled adults in Shropshire have benefited from a double donation by a county law firm.
Over £1,000 of funding from mfg Solicitors has gone to Joel's Wish and Wellington Cottage Care after the popular charities were chosen by two of the company's local offices.
Staff at mfg's Ludlow office voted to support local charity Joel's Wish with their fundraising and have donated £659.87.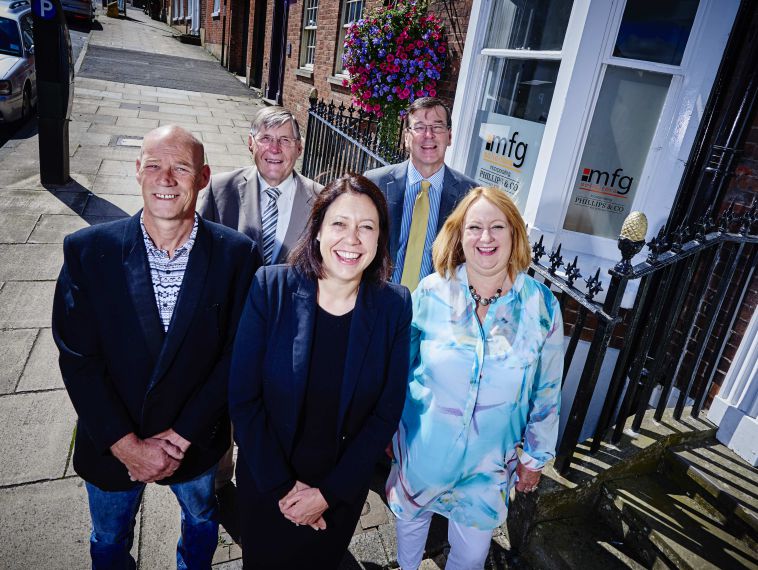 The charity was founded in memory of Joel Lawrence, who died of stomach cancer aged just 19. It provides grants to cover travel and accommodation for young cancer sufferers under the care of Severn Hospice in Shrewsbury.
Meanwhile, kind-hearted colleagues at mfg's Telford office chose to back Wellington Cottage Care, which received a further donation of £346.60. The charity, based at Wellington's Old Cottage Hospital, provides respite and day care to adults with disabilities and medical needs.
Janna Vigar, an Associate Solicitor at mfg Solicitors and a member of the firm's Corporate Social Responsibility committee , said: "Both these charities do vital work caring not just for ill and disabled people, but supporting their families and loved ones.
"We give our colleagues the choice of charities to support and the fact that Joel's Wish and Wellington Cottage Care were the ones they picked shows how much our employees care about local issues."
Picture: Front - John Lawrence (Joel's Wish), Janna Vigar and Sue Last (Wellington Cottage Care). Back - Bryan Benham (Wellington Cottage Care) and Richard Connolly (mfg)