£6m bottling line unveiled
A bottled water plant on the Shropshire and Mid Wales border is increasing capacity after unveiling a new £6 million bottling line.
Montgomery Waters, based at Churchstoke, said it will now be able to meet the demand for its spring and mineral waters under brand names such as Celtic Spring, AquaVit and Aquaroma.
The £6 million investment over the last 12 months, which has been supported by Barclays, will allow capacity to exceed 120 million litres per year, delivering state of the art robotic technology and increasing turnover to £24 million next year, the firm said.
Found in an area of outstanding natural beauty, Montgomery Waters sits beneath a small range of former volcanic hills. The spring and mineral water is infused with a host of essential minerals by virtue of its passage through ancient rock formations and as such providing the fine taste of the water.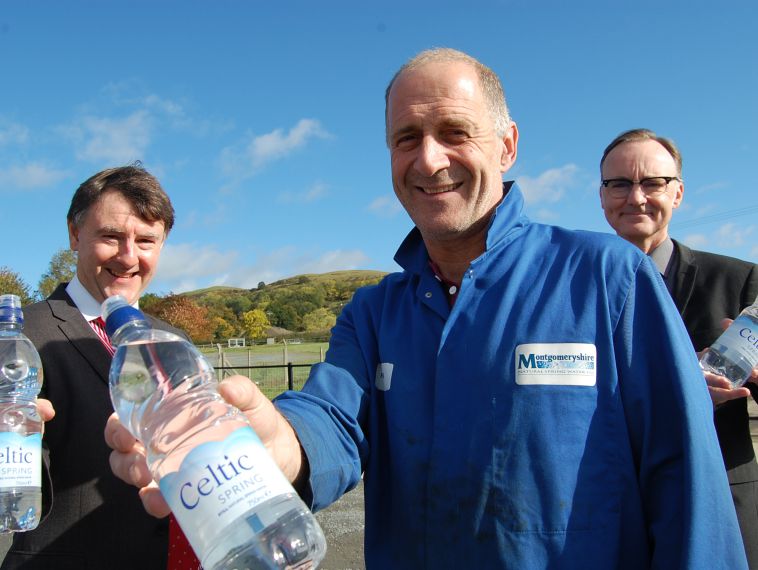 Although the catchment area is wide-reaching, the company has ownership of the critical areas of land around the customer dedicated sources to ensure the total protection to our water, our community and our consumers who enjoy it!
Paul Delves, managing director at Montgomery Waters, said: "The new investment now allows us to have five bottling lines to achieve our ambitious growth plans, to double turnover in five years.
"We are already one of the top five independently owned water suppliers in the UK and you will already see our product in many of the leading supermarket and convenience store groups as own brand labels, combined with our growing own product range of Celtic Spring, AquaVit and Aquaroma."
Mark North, Barclays corporate relationship manager said, "This is a significant investment in a highly competitive market and paints a very bright future for the business.
"By really understanding the business and the industry sector, Barclays has been able to deliver a funding package to support Montgomery Waters throughout this exciting development.
"A major investment like this demonstrates both Barclays and the management team's confidence in the success of the business. The investment has already secured employment for the 55 strong workforce and will ensure production targets can be achieved to meet growing demand for the entire product suite."
Picture l-r: Mark North, Barclays relationship director, Paul Delves, managing director of Montgomery Waters and Mark Winfield, also of Braclays.