Supplier to the stars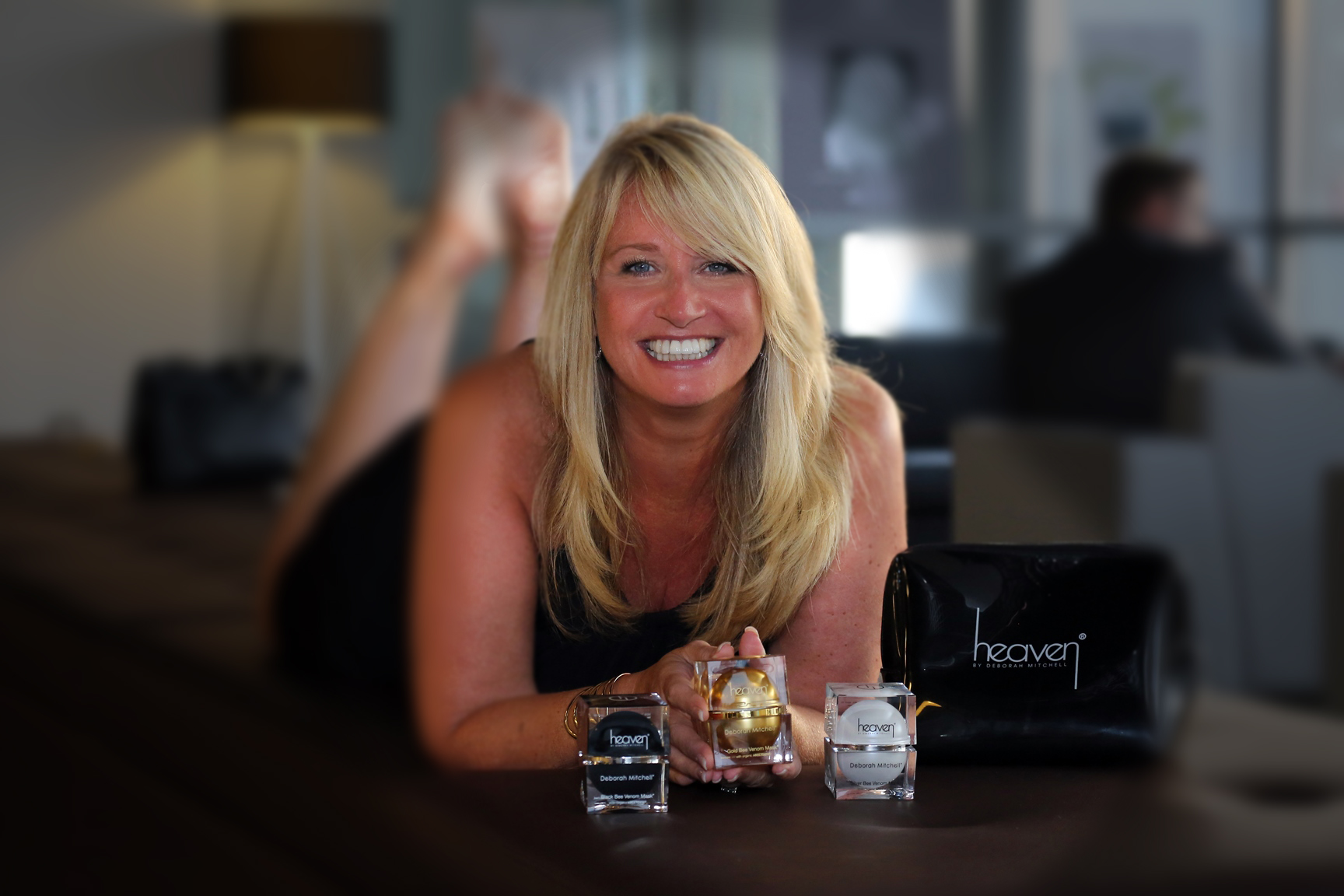 By Carl Jones
The first time I met Deborah Mitchell, she was selling beauty treatments from a converted downstairs toilet at the Holiday Inn, in Telford.
Today, she is the globe-trotting boss of a £33 million turnover luxury beauty treatment and skincare company, best known for her trailblazing Bee Venom range.
Her client list is a who's who of celebrity names, and she looks set to make it big in the United States this year after signing a deal to supply top hotels, salons and airport stores.
No wonder she's had to turn down an approach from the producers of BBC show Dragons' Den!
"I would have loved to do it, but I'm just too busy," she says. "For me, it's not just about giving money – I would want people to benefit from my time and attention as well, and at the moment, I'm just too busy to give it to them."
And yet, despite conquering the globe, winning multiple awards and having a brand and client list that's the envy of her competitors, the 52-year old former Miss Shropshire winner admits she still has many insecurities.
"I love what I do, but sometimes I will wake up one morning, look at my diary, and think – can I really do this? At heart, I'm a very shy person, and I am constantly doubting myself."
But let's not get ahead of ourselves. Back to that converted toilet in Telford.
"It's funny, because in 1994 I hadn't really got any business structure behind me. I just liked doing treatments, and it seems to just be fortuitous that everything I thought was a good idea turned out to be right.
"At the Holiday Inn, I was using treatments I had made up and developed, and at one stage I was turning over £12,000 a month and had four girls working from 8am to 10pm.
"People kept coming in and asking me to open in their hotel because they hadn't seen a beauty place like it. I didn't have enough products, so I started to make my own."
Eventually, she says she was effectively 'thrown out' of the Telford hotel after about six years, because while they wanted a slice of the pie, Deborah was determined to retain full control.
It's a battle which has recurred on several occasions along her business journey since.
She says: "The first thoughts I ever had about going into business were on my beauty course. I wasn't interested in what the teacher was talking about, so I looked out the window and daydreamed about what the future was going to be. I planned my future.
"I wanted to go mobile first of all, then go into hotel leisure club facilities, and then from there I wanted to make products, supply them to all my leisure club contacts, and eventually supply others all over the world.
"I sit here and look at my products now, look at the business I'm doing all over the world, and think – yes, I've actually gone and done it!
"My business has grown organically. This might not sound particularly businessy, but I've tended to wait for some sort of sign that makes me go off in a direction. It's an instinct really – every time I've tried researching and chasing or trying to force anything, it seems to fail."
When Deborah left the Holiday Inn, she was pregnant with her son Chris.
"That was a tough time. We found this salon in Shifnal, and I got all my savings together. I had to find £30,000 to spend on just the floor of the shop, and the money ran out when I got to the first floor staircase.
"But I did really well. A lot of customers followed me, and we gained many new ones. I remember it being really hard, though – having to bring up two young children, while running a business, and trying to sell my products."
By now, a new millennium was just around the corner. And Deborah had her first taste of international negotiation.
"I had a deal on offer from Hong Kong, and flew over when my son was born. But I was too frightened to take people up on it.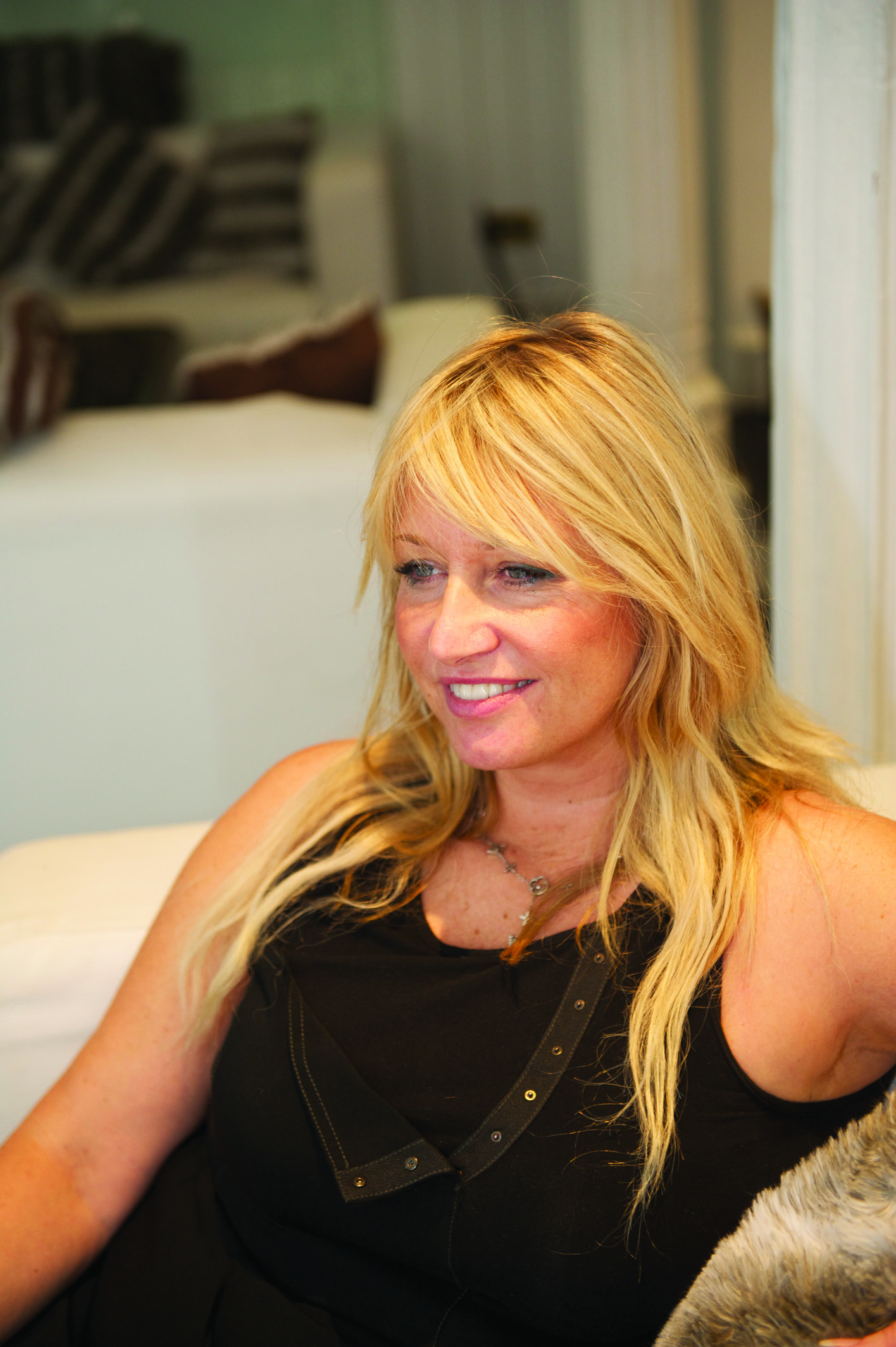 "My bottles were hand made, and as I flew over, the pressure of the cabin made a tiny hole in the side of them. Stupidly enough, I thought I must be the only person having problems like this, so I turned down all overseas offers and said no, I'm not selling them. And carried on in the UK."
But even selling products to domestic department stores was sometimes tough. Deborah remembers one occasion when a buyer tore into her packaging and pricing structure – only to then offer to help rescue her business by buying in.
"At the time, I was ready to cry. I hadn't realised that he was trashing me in such a negative way just to make me think I needed his help.
"Luckily for me, putting me down and trying to get control of half my business hadn't worked. I walked away."
When Beatties opened its new department store in Telford, Deborah took the plunge, and took her products into there.
Almost immediately, she was turning over £19,000 a week from that single store, and says she felt the 'big boys' looking on with worried expressions.
When Beatties was taken over by House of Fraser, Deborah was in 16 stores. But although sales were booming, her overdraft was growing, because the money she was forking out for products was taking, in her view, far too long to come back to her from the retailer.
"I remember talking to my mum and saying I've got to leave. The very next day, that's what I did. And I'd suddenly got much more time to concentrate on all the sales. People who heard I had left Beatties started to contact me on the website I'd set up.
"We were able to get into airports, and other retailers – although the business sort of went back a few steps, it was earning more money.
"The overdraft was starting to come down, and this was the time when I felt the business was finally starting to take off."
Among the people who had been in contact with Deborah by this time was a certain Victoria Beckham. "We'd had a phone conversation when I was at Beatties when she wanted some of my Age Defiance Cream," she recalled.
She had also been contacted by retail tycoon Theo Paphitis, in his pre-Dragons' Den days, to talk about some form of partnership. Deborah wanted to change her packaging, and knew this could be a way to raise the finance.
But again, she just had the nagging feeling that something wasn't quite right.
"Everyone was congratulating me about the fact that Theo wanted to buy part of the company and to help me, but the day after we talked, I didn't feel right about it."
So she turned it down . . . how was she going to raise the cash for her new packaging now?
She recalls a phone call she made to husband Chris, while he was driving: "I said, 'I've got something to tell you. I've bought something.' He thought I was going to tell him about a new pair of shoes or expensive dress, but no – I'd bought a house with a bit of a deposit I managed to get together, then remortgaged it to raise the money for the new packaging."
He managed to keep the car on the road…!
Changing the packaging gave Deborah the confidence she needed in her products, and released her nagging fears that she still wasn't good enough. Again, it was an instinctive move which reaped rich rewards.
"After leaving Beatties and getting my debts down, I put my head down and worked hard, selling products to salons. Gradually more and more money was coming in.
"I was more business savvy by now, and realised that time really is money.
"To anyone new to business, I'd urge them to take that message. Don't waste other people's time if you are starting off, because they won't be impressed if you work with them or need to ask their help later on."
Deborah remembers getting a phone call from Dubai from a would-be distributor on the back of growing word-of-mouth about the Heaven range.
"I flew over with a £5,000 order, but wasn't keen to be pushed around. I told them they would have to buy some products before I flew out, and give me a business class flight, so I knew they were serious. Time, as I say, is money.
"If any distributor wants any free samples, they are not going to be a distributor of mine. If they are prepared to buy something, then that's a different matter.
"I'd achieved quite a lot in England by that time, but during the week I was in Dubai, I was all over the area, seeing the media."
Celebrities were starting to talk about Deborah's products. There was Tracey Taylor, wife of Duran Duran guitarist Andy, plus Kylie and Dannii Minogue. Endorsements were coming from the world of film, TV and politics, through clients and fans as diverse as Simon Cowell, Kate Hudson, Tess Daly, Jack Nicholson, and Michelle Obama.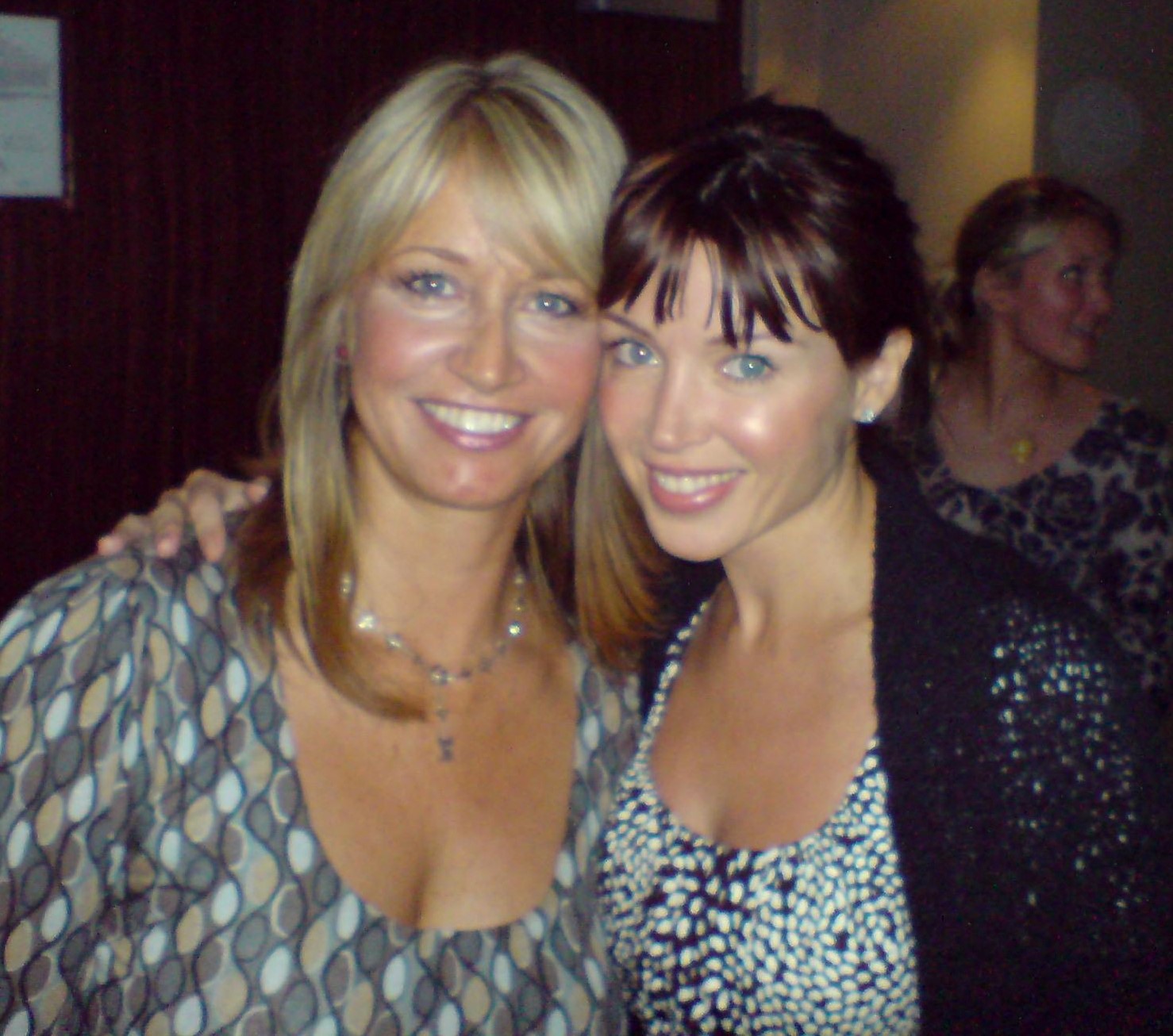 "These celebrities were speaking about using my products, and it was a fabulous way of raising the company's profile, and gaining publicity."
And then, there was the royal family. The Duchess of Cornwall is known to be a long-time fan of Heaven, and it's said that she introduced the range to Kate Middleton on the eve of her wedding.
Deborah, of course, is the soul of discretion.
"One of the royal family members bought one of my moisturisers, and they researched me and the bee sting facial. One thing led to another and I went to the palace, hoping I would get invited back. Years later, I'm delighted to say that I still go."
Deborah is probably best known for her Bee Venom range, which has been hailed as a natural alternative to Botox. It uses the clear, odourless liquid released from a honeybee when it stings, and contains more than 20 known compounds including powerful anti-bacterial, anti-inflammatory and anti-viral properties.
The patented ingredient, called Abeetoxin, is collected without harming the bee population.
"Historically, venom collection was lethal to bees, but the modern method has their wellbeing in mind. Beekeepers start with fabric-covered plates that have conductor wires stretched flat across them.
"When a bee lands on the plate, the wires deliver a mild electric current that agitates the bee just enough to make it sting, causing the venom to drop onto the plate. Since the fabric on the plate is very thin, it doesn't trap the stinger the way plastic or rubber used to do, leaving the bee free to fly away unharmed.
She adds: "The unusually high levels of hive loss reported by beekeepers over the past decade has been caused by a cocktail of diseases, parasites, poor nutrition, and environmental stressors like pesticides and limited water access.
"Bees that are stimulated for venom have been noted to yield more honey than their non-stimulated counterparts. So it's a win-win."
With high-profile clients, and a loyal following in the UK and Dubai, Deborah thought the next logical step would be to break America. But it was the east, not the west, which came calling next.
"I hadn't seriously considered China, because I thought it would be a difficult market, but I was contacted by a young girl from Taiwan who wanted to buy some products.
"How sweet, I thought; someone from China wants to help their skin. Then we had an order from this girl for £38,000! She wanted to be a distributor for Taiwan, so I gave that to her.
"Shortly after, I was talking with a company that wanted distribution rights in Taiwan and China, with a £1.5 million order on the table. I told them they could only have China, because this little girl had already got Taiwan. The deal fell through because they wanted both – but I had given that girl my word. I didn't mind turning down £1.5 million for a promise!"
Again, it was an instinctive decision that paid off. Deborah flew out to Taiwan to meet the 'little girl', and when she stepped off the plane, she was greeted by crowds of people with their faces painted with Heaven products, plus flowers, and film crews.
"I'd expected to have to go and find a taxi – I was mortified; I hadn't even re-applied my own make-up," Deborah recalled.
It turned out that this young girl's father was the man who founded, and then sold, skincare group Shiseido, and had decided that Heaven was the next big thing.
"We forged a deal for £100 million over the next 10 years, and we're about five years into that now. Growth is going steadily, and every order they place is pretty much doubling up."
Deborah also now holds a licence for her products in China, where typical orders are in the £500,000 bracket.
Heaven is now truly a global success story. In addition to China, Taiwan and Dubai, it's sold at spas and hotels in the Philippines, Japan, Australia, Slovenia, Slovakia, the Czech Republic, Holland, Belgium, Mexico, Saudi Arabia . . . . to name just a few.
But what about the USA? Well, Deborah believes this year is going to be the make-or-break time.
"I decided last year that 2017 was the year I wanted to do America very big, and after meeting groups connected with some of the biggest names, we have now signed a deal. They distribute my products in America, including airport duty-free stores, but it remains my company. We work alongside each other.
"At the moment, I do around £1 million worth of business with America. This deal is going to be an enormous jump, as the plan is to supply all these big stores at once.
"For me, I'm standing at ground zero. This deal is going to be the make-or-break of the company.
"I'll need a bigger factory, and have to up-scale everything to meet the supplies. And if it doesn't come off, I could be left with a massive over-capacity.
"That's why, in many ways, I still feel like I have achieved nothing. I feel like I'm still at first base. I'm a perfectionist with my business and can look at everything and think everyone has better packaging, and does this and that better than me. I'm never satisfied.
"In the past, I'm well aware that fear has stopped me expanding. Fear has been my enemy to the business.
"But I'm not looking ahead to what I might achieve in five years now. I'm concerned about what I can achieve tomorrow, or the next day.
"I have a goal, and I'm not prepared to wait for it. What I want is for Heaven to be known as much as Estee Lauder, but still be a niche market brand."
The personal touch has always been important to Deborah. She remembers one difficult time, some years ago, when she was persuaded to upgrade her company's telephone system.
"We installed one of these switchboards which asks you to press one for this and press two for that, and almost overnight the orders started to drop off.
"Our business had become really successful because it was personal, and this phone system didn't match my business culture. We quickly got rid of it – it was another important lesson learned."
Deborah admits she's not good at delegating; despite having well over 27,000 Twitter followers, and a huge rush of messages when she makes one of her regular TV appearances, she handles it all herself. And she's got the online side of the business tied up tightly, so that no-one else is allowed to create a website for Heaven products, other than her.
"I will admit that I need to be in control. But I do allow my staff the chance to grow in the business.
"I think I'm an amazing boss because I give everybody challenges to do so they can all improve. I'm very good at spoiling people, too. Sometimes, staff leave because they think life could be better, and then they want to come back."
So what's a typical week in the life of Deborah Mitchell?
She says: "Well, I'll probably fly off abroad somewhere, handle some through-the-night calls, keep an eye on the salon, check on stock, and do some work from home.
"I'll be in bed answering emails and dealing with social media, I will have to create presentations on products to be sent out to stockists, and there will probably be some media work to do too. It's a full-on lifestyle – not much work-life balance."
That downstairs loo in Telford must feel like a whole lifetime away now . . .