Julie celebrates milestone anniversary
A Shropshire carer enjoyed a surprise party to celebrate 20 years of service with one of the county's leading homecare companies.
Julie Brooks was joined by family, friends and colleagues at the headquarters of Anchorage Care, in Condover, for a party and an official presentation to mark her career milestone.
She originally joined the company as a care assistant in the community, and travelled between calls on her bicycle, before joining the office team as a Senior Care Organiser and a telephone supervisor.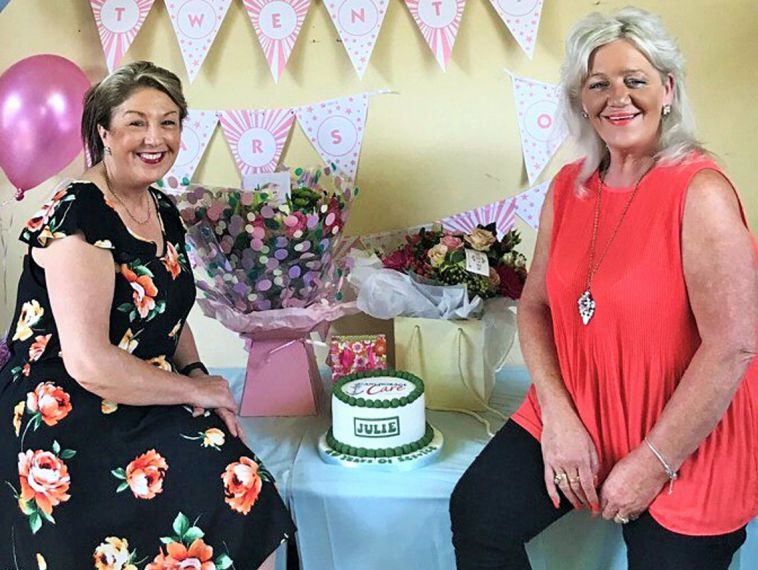 Anchorage Care Partner, John Rhodes, said the celebration had been a wonderful surprise for Julie, and an opportunity to thank her for two decades of hard work and commitment to the company and its clients.
"Julie is our longest-serving staff member, and she plays a crucial role in ensuring all our clients receive the care they need at the time they need it by co-ordinating our carers and the appointments they need to cover. We were thrilled to see so many friends, colleagues and family members at the party, and would like to officially thank Julie for the dedication she has shown to Anchorage Care over the years.
"Since she joined our team, there have been many changes in the care sector and in our company itself, and Julie has taken everything in her stride thanks to her positive approach and her great sense of humour!"
Julie said she was overwhelmed with the kindness shown to her by her colleagues, and particularly pleased that her mother, Margaret Brooks, was able to join her on the day.
"It was just such a fantastic surprise, and I really couldn't believe that so many people had taken the time and trouble to come along to the offices to join me on the day. I feel very privileged to have worked for such a great company for so many years, and to have such supportive colleagues in my team."
Anchorage Care Group employs a network of over 120 carers across the county, delivering homecare services to elderly people 24 hours a day, seven days a week. Renowned for setting exceptional standards, it has already achieved the highest quality rating from the Care Quality Commission, as well as being recognised as an Investor in People.
Picture: Anchorage Care Partner Alison Phillips and Julie Brooks