TSR welcomes first apprentice
Larissa Jones has become the first apprentice with Shropshire and West Midlands surveyors Towler Shaw Roberts.
The 19-year-old from Condover, near Shrewsbury, has secured an apprenticeship which will help in her quest to be a qualified chartered surveyor.

Toby Shaw, a partner at TSR, said the firm were delighted to welcome Larissa (pictured) to the team.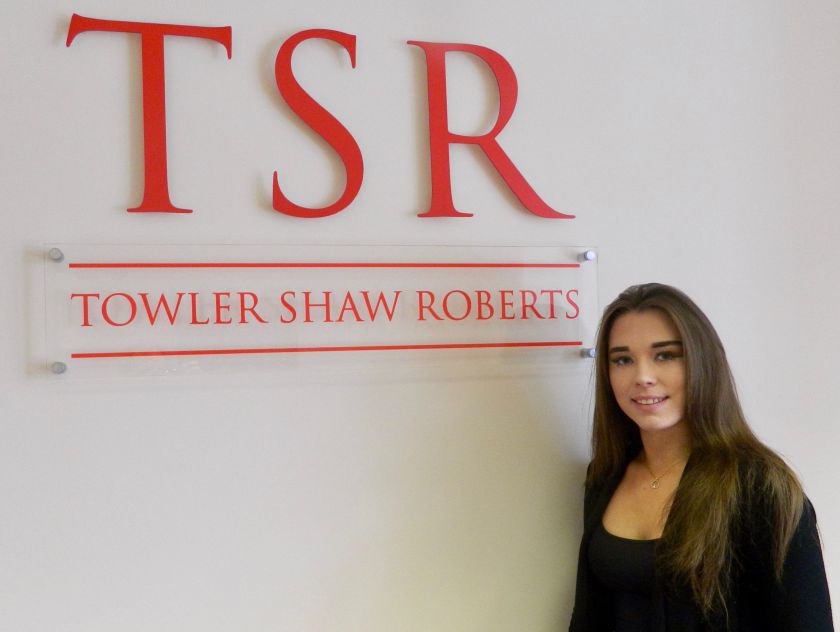 He added: "We've looked at different recruitment options as the firm has grown. We feel we're now at a stage with the multiple services we offer that we can give an opportunity to an ambitious young person.

"Larissa will be able to continue her studies while at the same time gaining a wealth of practical experience in an office environment."

Larissa, who gained A-levels in maths, psychology and science at Shrewsbury VI Form College, will also study for one day each week at Wolverhampton University.

"I'm enjoying it and everyone has been really welcoming," said Larissa, who joined TSR last month. "My mum and dad are interested in property, so that led me down this path.

"I wanted to combine furthering my education with joining a company and gaining experience, so I'm really excited to have this opportunity with TSR.

"I go to university every Thursday to study chartered surveying, a five-year course, which also includes property management in real estate. It also allows you to go off into lots of other avenues."

Martin Zaki, head of agency in TSR's Wolverhampton office, where Larissa is based, said she had settled in well.

"It's a good opportunity both for Larissa and ourselves," he added. "We are looking to give her experience throughout the whole surveying spectrum.

"As well as attending university, she will shadow the different members of the TSR team, including myself, the valuation team, professional services, the management team and building surveying to get a good insight into every aspect of surveying really.

"She is already picking up things well, starting from the base level of just understanding the basics of what we do. It all looks very promising."