Darwin celebrated in ground-breaking exhibition
Thought provoking images on the theme of evolution made a big impact when a ground-breaking photography exhibition opened in Shrewsbury earlier in the month.
'Evolution Explored, A Magnum Photos Exhibition' is a first for a UK town, displaying the work of international photographers from the renowned Magnum Photos Agency.
The 40 powerful images are expected to prove a major visitor attraction and challenge people's views of the wider world.
The free street exhibition, which runs until Sunday April 23 at The Square and St Mary's Church, celebrates Shrewsbury as the birthplace of Charles Darwin.
At its launch reception at St Mary's, Mike Matthews, Chairman of Shrewsbury Business Improvement District (BID), said: "This joint project is a significant 'first' for Shrewsbury which will really connect with people and set them thinking.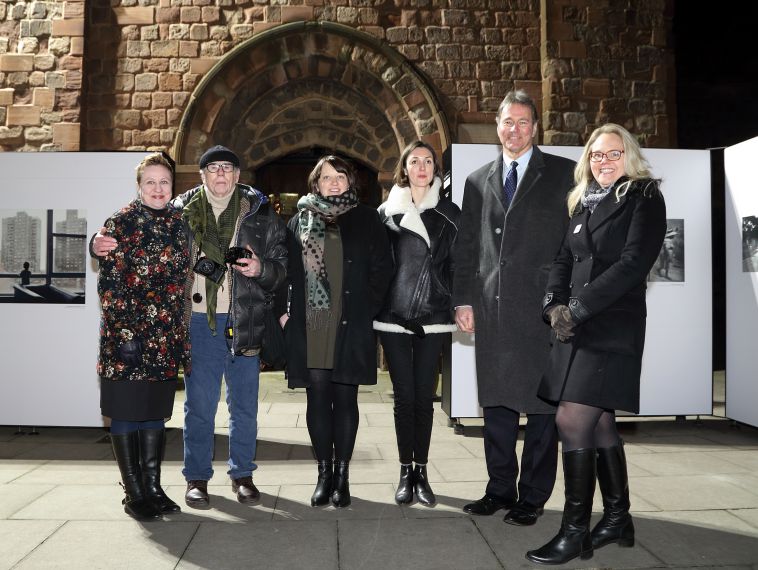 "It is hard not to have an emotional response when looking at these amazing images by internationally renowned photographers."
The exhibition is a collaboration between Shrewsbury BID, The HIve and GRAIN Photography Hub, and is supported by Arts Council England and partners.
Salla Virman CEO of The Hive, told guests: "We believe that everyone, not just people living in big cities like London or Manchester, have the right to access good quality arts and creative activities or events such as this exhibition.
"I hope it will be the first one in a series of flagship projects focusing on defining what makes Shrewsbury a great place. The legacy of Charles Darwin is something that should be celebrated."
To support 'Evolution Explored', David Hurn, one of Britain's most influential reportage photographers and an acclaimed member of Magnum Photos, will give a talk on Thursday 6th April at Wakeman College.
Other activities include photography workshops at local schools and a public 'Photo Safari' on Saturday 8th April, organised by the Hive. For more information visit www.evolutionexplored.org
The exhibition is also supported by Shrewsbury Shopping, Shrewsbury Colleges Group and Redrow Homes, plus associate partner Shrewsbury Film.
Picture: (L-R) Peta Murphy-Burke, relationship manager, Arts Council, David Hurn, Magnum photographer, Nicola Shipley, Grain, Emily Graham, Magnum, Mike Matthews, chairman of Shrewsbury BID/owner of Prince Rupert Hotel and Salla Virman, CEO of The Hive.