Budget 2017 - the Shropshire reaction
It was billed as a make-or-break budget, for all sorts of reasons.
So has Chancellor Philip Hammond managed to silence the doubters, delight his supporters, and get the business community on the Government's side?
Well, he's certainly provided a lot of giveaways – an extra £3 billion to prepare Britain for Brexit, another £2.8 billion for the NHS, and increases in both the basic and higher rate of income tax thresholds.
Plus, stamp duty removed for first-time buyers on any properties below £300,000 - which Telford & Wrekin Council leader Shaun Davies welcomed, but said was likely to put two per cent on their typical asking price.
Planning specialist Niall Blackie, head of town and country planning at FBC Manby Bowdler, welcomed the Chancellor's announcement on housing but warned that meeting a 300,00 new home target would be impossible if not accompanied by planning reform.
"This is not the first time that the Government has set ambitious housing targets, the problem is that it has often failed to meet those targets.
"There was no detail on how exactly he intended to free up the planning system, or how the measure to force developers to implement permissions are likely to work, other than to announce a review into the issue.
"The planning reform needs to ensure that councils actually grant permissions more quickly and on more land than they currently free up for development."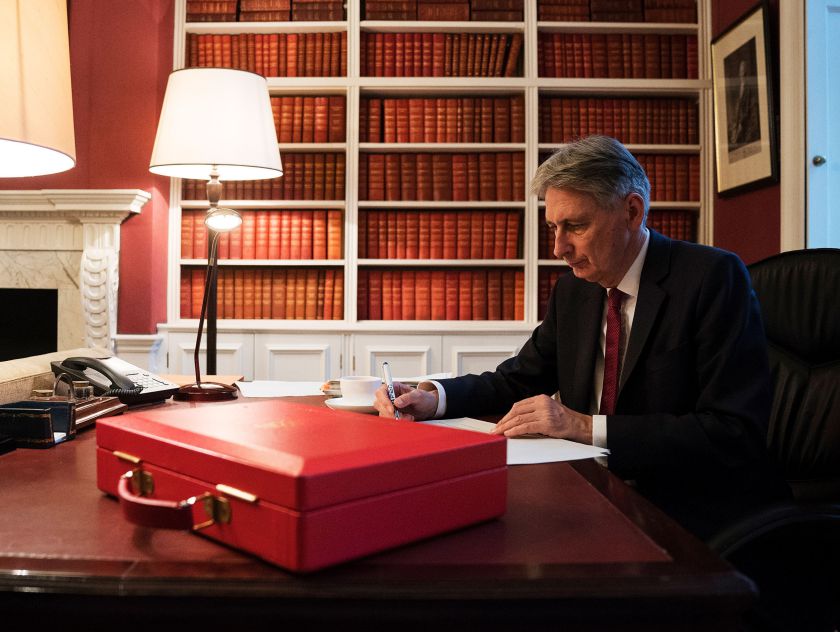 Rob Henn, director at Robert Nicholas Financial Advisors, based in Newport, said: "The move to scrap stamp duty for first-time buyers on the first £300,000 of a home purchase is certainly a significant step. That will instantly change the sums for many people who are saving towards that first rung on the ladder and some will now find they are ready to buy, rather than having to save a few thousand more pounds to cover the stamp duty.
"Measures to support housebuilding over the longer term, and to put real Government muscle behind that process if there are blockages, could also make a difference to the market, but that will take much more time to start taking effect and time will tell on that one."
Mr Hammond admitted that the UK's national debt is higher than the Government would like – so where is the money coming from to pay for these giveaways? Is the age of austerity being subtly brought to an end?
So, is it a 'spend now, pay later' approach? That's how some Shropshire businsses view it.
Mr Hammond announced a new tax on certain diesel cars – but insists no "white van man" or "white van woman" will be hit by it. Shropshire MEP Jill Seymour immediately attacked this move, pointing to the fact that many of these diesel car owners would have only bought their vehicles on the back of Government advice.
Car finance expert Graham Hill added: ""It's hard to see whether the Chancellor's further squeeze on diesel drivers is out of genuine concern for the environment or just a way to increase revenues from already overtaxed motorists.
"The announcement of a first year VED rate hike on new diesel cars from April next year is designed to sidestep headline-grabbing increases on other motor vehicles like vans, but it still adds to the negative narrative that is talking the automotive market down."
The Chancellor downgraded the UK's growth forecasts for the next few years, but also revealed that borrowing is forecast to be £49.9 billion this year- £8.4 billion lower than forecast at the Spring Budget.
He confirmed a further pay rise of £600 for full-time workers through an increase in the National Living Wage. It will rise 4.4% in April, from £7.50 an hour to £7.83.
And he also announced a drive to boost electric cars with a new £400 million charging infrastructure fund, an extra £100 million Plug-In-Car Grant, and £40 million in charging research and development.
There is also another £20 million to support Further Education colleges to teach T-Levels for those doing apprenticeships.
Nicole Gunter, managing director of Telford-based Global Freight, said the new guarantee to banks from UK Export Finance would help increase the liquidity in the supply chain.
"The Chancellor has introduced this to improve access to funding for companies looking to trade overseas and allow their supplies to fulfil new orders.
"The Budget also revealed that UKEF will launch a new targeted campaign to promote and support their offer, which will be welcomed as will the new proposed export strategy review coming from the Department of International Trade."
Paloma Cid, Transport Lead at the Institute of Engineering and Technology, said: "The Government's plan to bring driverless cars to our roads by 2021 is a bold and exciting target. Driverless vehicles have huge potential to transform the UK's transport network by improving road safety, reducing congestion and lowering emissions.
"As we move towards driverless cars appearing on our roads, the public's acceptance and trust will be crucial, so it will be imperative to win over everyone from car manufacturers to consumers to the benefits of driverless cars."
On the moves to improve the payment of universal credit, Shropshire Business columnist andf money saving expert Martin Lewis said: "Universal credit payout is to be sped up by getting rid of wait period. And by making advances available to those who need it and spreading repay over 12 months, not 6 months.
"I need to do some work to establish the exact impact of that. but it definitely looks an improvement so far."
Church Stretton-based financial adviser Philippa Gee said: "No major surprises announced for my sector. I feel equally disappointed that there are no interesting announcements for me and also very relieved. There is already more than enough to be dealing with."
The British Red Cross team in Shropshire said: "We are disappointed that the budget has not addressed funding for social care Adults of all ages should get the support they need to live independently."
Unison's West Midlands Regional Secretary, Ravi Subramanian said: "This deeply disappointing Budget has left public services gasping for air.
"All public sector workers needed a real pay rise today, not yet another let down. Healthcare assistants, care workers, school receptionists and other public servants struggling to get by can't survive on wages that bump along at the bottom while prices soar.
"The hopes of NHS staff may have been raised slightly, but there's no actual money on the table. This is still a long way from the across the board pay rise needed to save our public services. The NHS is important, and so is every other part of the public sector."
Chris Pallett, managing director of Bespoke Computing, said: "You certainly wouldn't call this a thrilling budget for the technological advancement of our nation. There were investment funds announced to back innovative businesses and those which need longer to develop their potential. That's important, but somewhat removed from most day-to-day IT and communications priorities.
"Perhaps the most significant, practical support for national infrastructure announced by the Chancellor is around funding for testbeds and trials of 5G networks, which will be the next generation of wireless data and promise to be a major step-change from what we have now.
"However, that amounted to only a £15m investment in development. There was £190m in a "Challenge Fund" to encourage industry to roll out full-fibre networks, the gold standard in connectivity, though that is also a drop in the ocean compared to what's really needed to take us to that next level as a country."