Battery specialists are charging ahead
A pioneering battery and renewable energy specialist is charging ahead after being awarded a £10,000 grant to help it buy new equipment.
The AceOn Group – a UK leader in designing and assembling custom-built battery packs and the distribution of industrial and consumer batteries – says it aims to employ two new members of staff and increase turnover by ten per cent after using the grant to help it buy specialised battery assembling machinery.
The Telford-based company secured the funding through the Small Equipment Grant scheme which is supported by the Marches Local Enterprise Partnership and its business support arm, the Marches Growth Hub, and receives European Regional Development Fund assistance.
AceOn managing director Mark Thompson said the specialised new welder would play a huge part in allowing the company to continue to grow after a record year in 2022.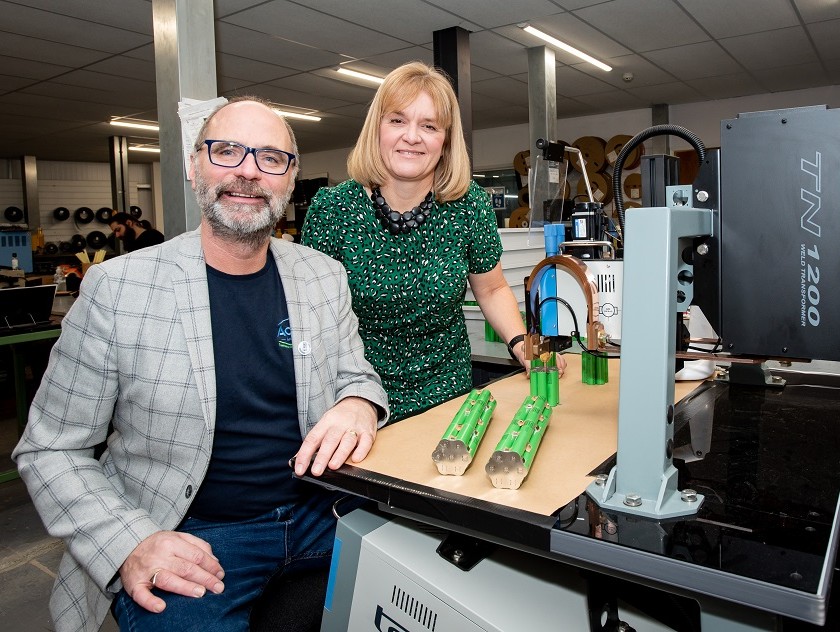 "This is a brilliant new piece of equipment which will help to increase our capacity output for specialised Li-ion battery packs and build on the tremendous success we have enjoyed over the past year.
"As a result of being able to purchase this new welder we should be able to double the capacity of our battery pack production and increase turnover by as much as ten per cent. That will allow us to win more contracts for high current battery packs within both the UK and Europe.
"Last year was our best ever, with a massive 60 per cent increase in turnover and a seven-figure increase in the value of our exports. This new welder will help us grow still further and ensure that 2023 truly is the year of the battery."
Rachel Laver, Marches LEP chief executive, said the Small Equipment Grant was just one of more than 30 funding programmes available to businesses across Herefordshire, Shropshire and Telford & Wrekin, all of which could be accessed through the Marches Growth Hub.
Small Equipment Grant programme manager Caroline Cattle said applications for funding under the scheme would close at the end of January and urged any interested companies to move quickly to apply for help.
Grants of between £1,000 and £10,000 are available under the programme. The grant is available as a contribution of up to 50 per cent and primarily covers B2B companies. Items purchased must exceed £500 in value and have a life expectancy of three years. Eligible projects must lead to the creation of at least one part-time job within six months or the creation of a new product or service to be used by other businesses.
Because of restrictions imposed by the ERDF, the scheme is not available to retail businesses, restaurants, drinking establishments and fast-food takeaways, online retail or rental businesses, farms involved in primary production, or local social welfare facilities.
Pictured: Mark Thompson from AceOn with Caroline Cattle