Kick-start for charity appeal
Accountants from a Shropshire firm have helped to kick-start a county charity appeal that's set to mark a milestone anniversary.
The team from Dyke Yaxley Chartered Accountants, in Old Potts Way, Shrewsbury, have donated £1,000 to the Lingen Davies Cancer Fund to boost the new Ruby Appeal.
The charity raises funds to support cancer services for the people of Shropshire, Telford and mid-Wales, and the new appeal aims to raise £1.25 million in time for its 40th birthday in June 2019.
Dyke Yaxley already has a long-standing relationship with Lingen Davies, and Helen Thomas and Francesca Hutcheson from the company are currently on the charity's Board of Trustees.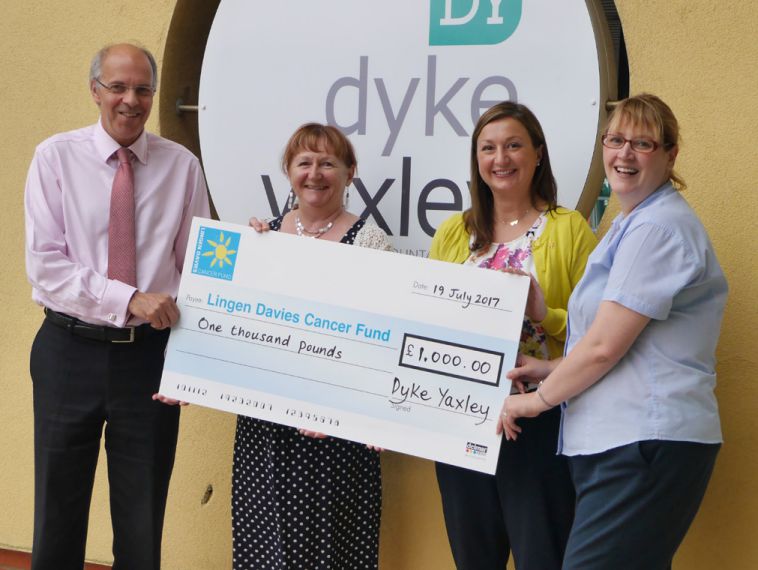 Mrs Hutcheson said: "We're delighted to have been able to help kick-start the new Ruby Appeal, and we're hoping other local companies will dig deep to boost the fund still further.
"As well as investing in specialist medical equipment and nursing staff, the appeal will focus on raising funds to support programmes of work specifically relating to recovery, survivorship, and well-being.
"It's a cause that's very close to our hearts here at Dyke Yaxley, and we're committed to helping to raise the profile of such a worthy and important organisation."
The latest Dyke Yaxley donation follows hot on the heels of the team's charity fund raising efforts over the last 12 months, when their annual campaign raised almost £3,500 which was split between the Lingen Davies Cancer Fund and Severn Hospice.
The Lingen Davies Cancer Fund has contributed around £18 million to improve cancer services in the local area and an estimated 75,000 people have had their cancer treatment and care improved through the impact of the fund.
Picture, from left, Dyke Yaxley managing director Laurie Riley, Helen Thomas, and Francesca Hutcheson hand over the cheque to Louise Dawson, fundraising manager of the Lingen Davies Cancer Fund