Exams add up for accounting students
A group of higher level accounting students at Shrewsbury Colleges Group have passed exams with a 100% pass rate. The Level 4 AAT students are a mix of apprentices, employer-sponsored and self-funding.
One group passed their budgeting exams with a 100% pass rate and previous to that, 91% of the students across two groups, passed their credit management and business tax exams – attaining a rate more than 30% higher than the national pass rate of 60%.
Accounting teacher, Nicola Perry, said: "We are so pleased with the progress of all our learners. These results reflect their hard work and commitment to their qualifications. These results are great news for anyone who is doing an apprenticeship and for their employer."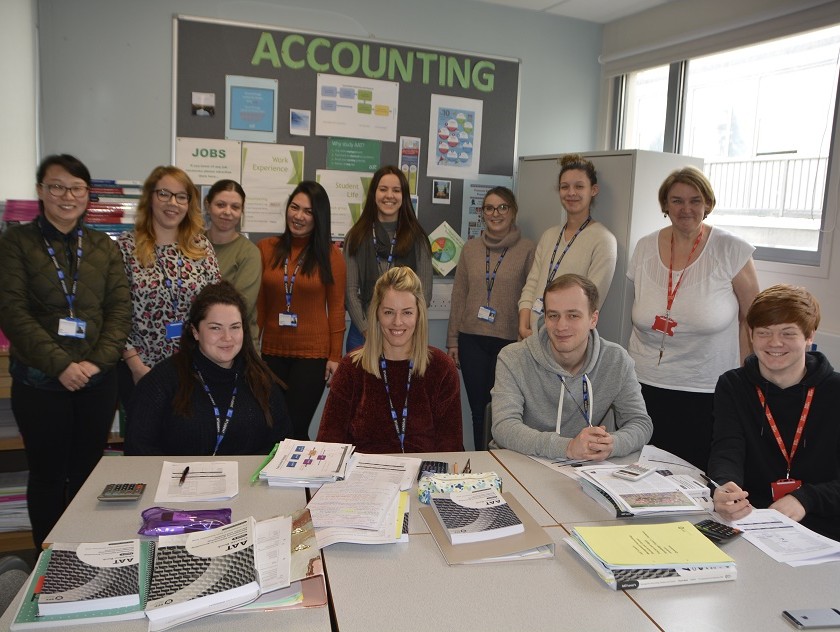 Accounting student Katie Prince, 21, from Shrewsbury, previously attended Corbet School before taking her A Levels at SCG.
She said: "I started as an apprentice with Caerwyn Jones Chartered Accountants in Shrewsbury doing my Level 2 and 3 AAT qualifications. I have continued to the Level 4 qualification working as a trainee accountant at the firm.
"I am permanently employed there and the qualification will help me to progress in my role. Then I will decide if I want to go on to Chartered Account level, which is up to Level 7. I am really enjoying the course. We get lots of support from the college and the college work and the qualifications work really well when accompanied with learning on the job. Nicola is always on the end of an email to help with any queries."
Pictured: One of the Level 4 AAT groups at Shrewsbury Colleges Group with accounting teacher Nicola Perry