HGV jobs fair is a success
An HGV jobs fair at Telford College to help local people on the road to exciting new careers has been declared a huge success.
Haulage companies from across the region brought demonstration vehicles onto the campus, and a wide range of employers were on hand with information on job opportunities in the HGV and logistics sector.
The event was held to coincide with National Lorry Week, the Road Haulage Association's annual campaign to raise awareness of the industry, and attracted visitors from as far afield as Birmingham.
Among the companies and training organisations attending were local haulage businesses AJ Maiden, Dulson, GTG, A1, Hawkins Logistics, Clive Cowern Transport and Dale Brothers, plus Kinaxia Logistics, Veolia, Serco, and PR Training.
Recruitment teams from Pertemps, Proactive Personnel and the National Careers Service were also on hand to offer advice, alongside the WMCA, and officials from Shropshire Council and the Road Haulage Association.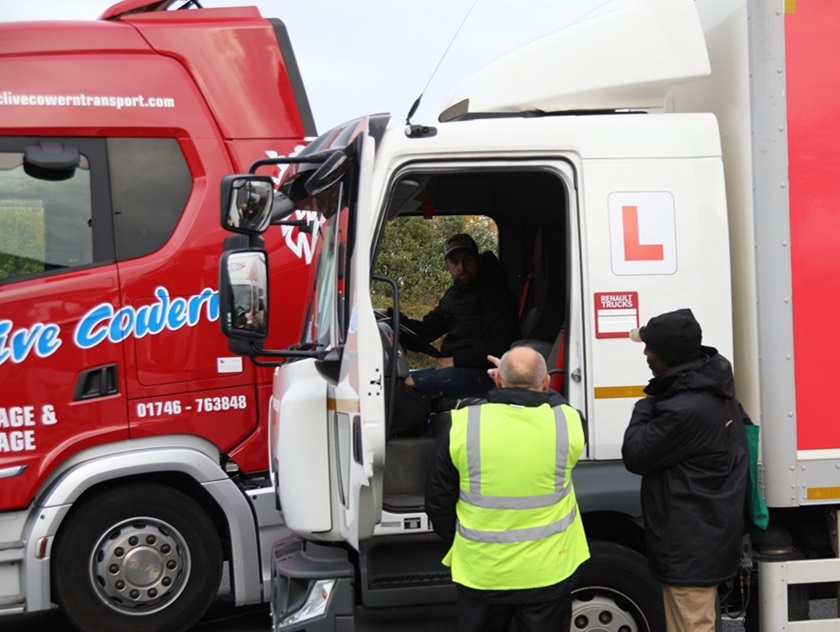 Former Telford College student Kayleigh Parsons was also there to raise awareness and recruit drivers for her newly-launched Oakengates specialist taxi business, Above & Beyond.
Simon Priest, West Midlands area manager for the Road Haulage Association, said: "Events like this are extremely important. Without a steady supply of truck drivers and new recruits in this sector, our standard of living drops.
"There is still a shortage of drivers, technicians and mechanics, and that's why we are here, to try to fill some vacancies. A driving job now averages around £40,000 a year, so it's a good career to step into – which is not going to disappear."
Aneeta Hazir, employer partnership manager at Telford College, said: "This unique and free networking event was open to both employers and individuals, and is perfect for anyone considering a career in the logistics industry.
"It has been a celebration of the logistics industry, but also a chance for our students – past and present – to come and talk to some of our providers, employers and partners to learn about employment opportunities and wrap-around support, advice and guidance.
"It's been really busy. Students have been able to step into cabs and get a real feel of what it is like to drive these vehicles; it's been a kick-start for them to get hands-on, speak to employers, and find out what it takes to get into employment."
Telford College works closely with employers and driver trainers through its 'employability' programmes, which are specifically designed to provide jobseekers with the skills required for driving goods vehicles.
Since the HGV programme was launched in 2018, an average of 650 learners have been put through the programme each year.