Reconomy steps up for festive donation
Telford-based Reconomy has once again followed a company-wide festive tradition to support 4 Steps to a Smile.
The charity is responsible for delivering Christmas presents to vulnerable children across the region, and this year, 4 Steps has captured the imaginations of the entire Reconomy Group, with all UK Group companies getting involved.
Across the Group, a total of 275 presents have been purchased for children living in care, including many bought by members of staff out of their own pockets.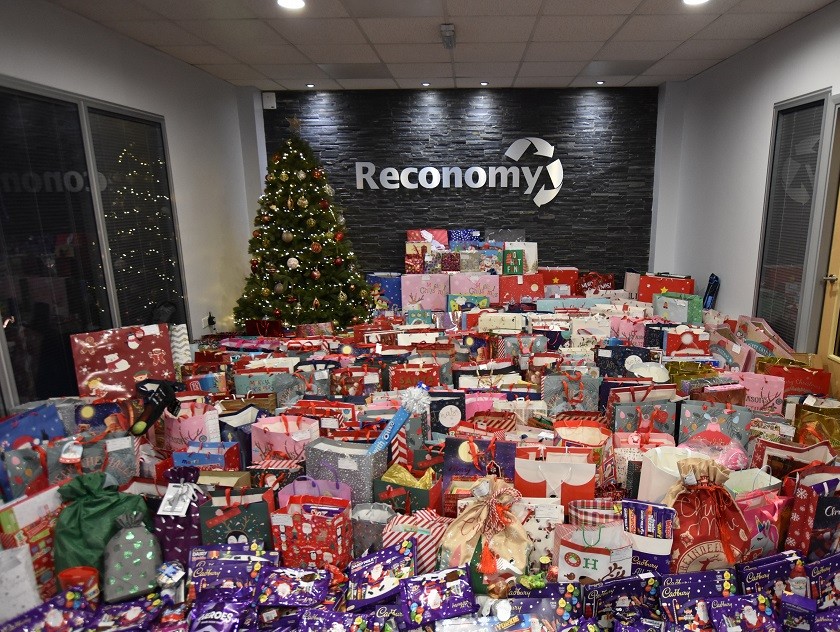 The Reconomy Group has offices located across the UK, including Telford-based Reconomy, Stratford-upon-Avon based Valpak, Eurokey Recycling, ACM, AWS, Nationwide Services, Waste Source, and ReBOUND Returns. Every company has donated presents towards this year's total.
Established in 2001 and awarded charitable status in 2015, 4 Steps to a Smile aims to change tears of sadness into tears of joy for children and women of the Midlands. The charity works closely with children's care homes, hospices, women's refuges and hospitals to identify vulnerable children that risk having nothing to open on Christmas morning. Reconomy has supported the charity every Christmas since 2018.
Reconomy accounts reconciler, Samantha Jones, who has once again co-ordinated all the donations from across The Reconomy Group, said: "Every year I'm blown away by the enthusiasm that 4 Steps generates right across Reconomy. None of this would be possible without the generosity of everyone that has donated such wonderful gifts. Thanks to their kindness, we will help create many smiles on Christmas morning."
Emily Cotterill, head of sustainability at Reconomy Group company, ReBOUND Returns, which contributed to the haul of gifts, said: "Every child should be able to experience the magic of Christmas, and to think that our efforts will bring just a little bit of joy, means so much to the whole team. It has been a fantastic turn out, and we look forward to continuing our contributions towards Reconomy's charitable efforts in 2022."
Paul Cox, chief executive of Reconomy, said: "Everyone at Reconomy has taken this charity to their hearts for the last four years, and it's wonderful to see it having the same impact across our wider group of companies."