Shropshire Hamper Company is taken over
The Shropshire Hamper Company is being taken over by fellow Shropshire business, The Host's Pantry.
The Shropshire Hamper Company was launched by the owners of Shropshire Festivals, Beth and Sid Heath, in September 2020 to diversify during the pandemic. The business bought products from local food and drink companies that were unable to exhibit at their festivals, which were on hold due to Covid restrictions.
Now the business has been bought by Jessica Beardmore and Scott Woodland from The Host's Pantry. They offer a stress-free solution to hosting at home by sourcing all the premium produce and ingredients needed for one of their recipes, which they deliver in a neat package straight to your door.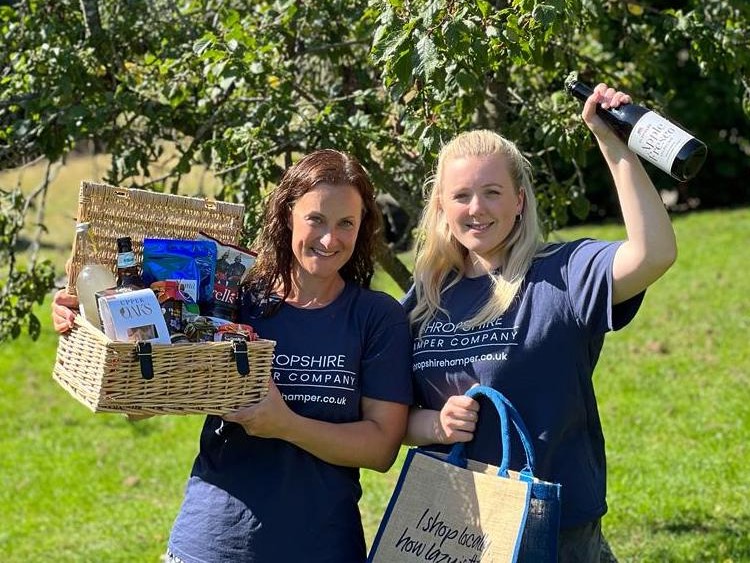 "The Hamper Company has grown into a fantastic corporate gifting solution," said Beth. "Over the last three years we've delivered thousands of Christmas hampers to some of Shropshire's leading businesses.
"The hampers we create are usually branded up in the business' logos and colours, and filled with a bespoke selection of handpicked products.
"The success of the business means it's ready to be taken to the next level, and The Host's Pantry is the perfect fit to continue that growth. They are experts at sourcing quality ingredients from local suppliers for their hosting solution boxes."
The Host's Pantry exhibited at the Shrewsbury Food Festival this year, run by Beth and her Shropshire Festivals team.
"After meeting Beth at the food festival, we began discussing the takeover of the hamper business, which fits really well with the services we already offer," said Jessica.
Pictured: Beth Heath and Jessica Beardmore