Monkey Motors take spoils in golf event
Teams of golfing beginners from a host of Shropshire companies took to the fairways for the third annual 'Swing For Bling Open'.
The competition, organised by county sports partnership Energize, was hosted once again this year by The Shropshire golf centre in Telford.
A total of seven teams took part – each made up of three beginners, and just one experienced golfer.
The Monkey Motors team from Telford, joined by Energize team member Ben Harper, won the title this year, ahead of Shrewsbury-based car leasing company E-Drive, led by Stuart Smallwood, in second place.
Completing the top three was Dechra Divot Diggers, from the veterinary products company based at Hadnall.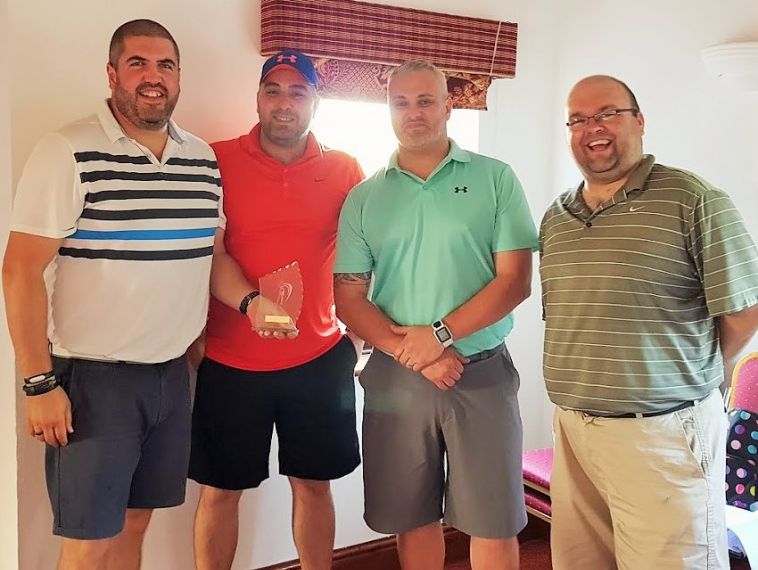 Louise Pugh of Dechra said: "We had a fantastic day. It was great to have a go at golf, but also to spend a day with workmates coming together as a team.
"It created a good atmosphere in the office, not just from those taking part but from the interest and support of other members of the team."
The beginners had each received four weeks of professional golf lessons in the run-up to the nine-hole competition, either at The Shropshire, Shrewsbury Golf Club, or Hawkstone Park.
"We launched Swing For Bling back in 2015 to give beginners the confidence and skills to get out of the course, and take part in their first friendly golf competition, and it has been a great success," said Helen White, business development officer at Energize.
"It is a leisurely way for people to try the sport, removing the barriers of cost, lack of equipment and knowledge of how to start. Everyone received a goodie bag, and there were some fantastic prizes up for grabs on the day.
"It was a fabulously sunny day, and the golfers described the whole experience as a great introduction to golf, and really enjoyable."
The 2017 Swing for Bling event was sponsored and supported by Wellington-based Associated Telecom Solutions (ATS), which provides tailored telecom packages for businesses.
Monkey Motors team member Andy Barnett had three reasons to celebrate – he also won the prizes for longest drive, and nearest the pin.
Energize's next 'active taster day' for local businesses is on June 14, when companies are invited to scale new heights at the Climbing The Walls centre in Shrewsbury. For more details, contact info@energizestw.org.uk or call 01743 297191.