Wellington welcomes another new business
Dozens of visitors, representing businesses in and around Wellington, attended a drinks reception and the official opening of the new Q Financial Services Ltd offices on Haygate Road.
Mitch Gough, one of six company directors, said he was thrilled that so many had taken the time to familiarise themselves with the refurbished former QA Kitchen and Bathroom site.
It is the latest in a series of new business investments in Wellington in recent months., and Sally Themans from Love Wellington enthused about the direction the town is taking,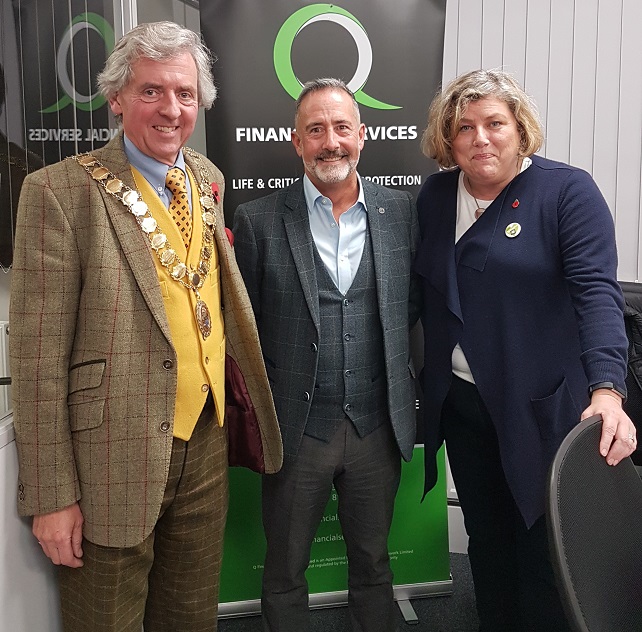 Sally, who has previous experience in promoting Bridgnorth – the town won the Great British High Street – was asked by Wellington and Telford & Wrekin Council to turn her attention to the traditional market town.
"We have a collective responsibility to talk the town up and play a role in improving its fortunes."
Wellington has been shortlisted as a finalist in the Rising Star category of this year's Great British High Street, with the winner announced in the coming weeks.
Mitch said: "When it was first mentioned about supporting Love Wellington, reaching out into the wider community, it really was a no-brainer. It's been a pleasure to host Sally and help to promote the campaign."
Q Financial Services Ltd, which provides pensions, wealth, mortgages and commercial finance, has moved to the town from Central Park on the outskirts of Telford Town Centre.
The official opening of the site was also attended by the mayor of Wellington, councillor Anthony Lowe. "Inward investment is what we need, so thank you Mitch for coming to Wellington," said the mayor. "Further grants are available to businesses looking to move into vacant units around the town."
Caption: Councillor Anthony Lowe, mayor of Wellington, pictured with Mitch Gough, a director of Q Financial Services Ltd, and Sally Themas of Love Wellington at the official opening