Family affair at Furrows
A Shropshire motor dealer is keeping it in the family after employing the fifth sister from the same family.
Furrows Group now has a full set of Banks siblings after Sophie joined her sisters at the Telford dealership in the sales administration department.
As well as Sophie, the motor dealer employs Charlotte, Emily, Jess, and Molly, and they're making a really positive contribution to the smooth operation of the Furrows Group.
Charlotte was the first sister to join the team, initially beginning her career as a part-time Saturday receptionist. Now, after working in sales admin and helping with the firm's social media presence, she now has a full-time position in the marketing team at the company's Shrewsbury dealership.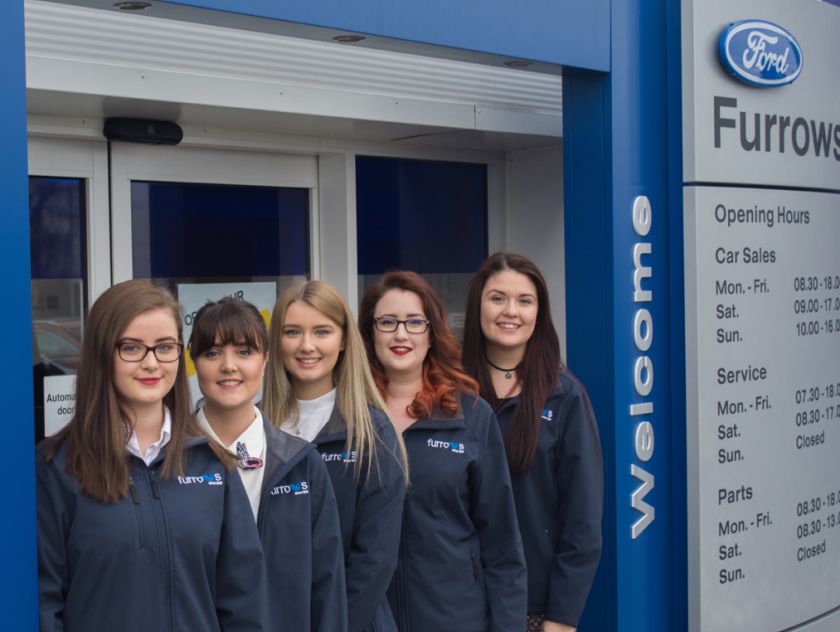 Emily was next and she works in the accident repair centre as a full-time co-ordinator. She's the sister with the longest continual service having worked for the firm for ten years.
Jess also began working for Furrows as a part-time receptionist, and she now works full-time in sales admin – in particular broadening her knowledge by specialising in sales administration for the Kia franchise.
Molly joined as an accounts apprentice in 2017, where she's working towards her Association of Accounting Technicians qualification, followed by her Chartered Institute of Management Accountants qualification.
Furrows Joint Managing Director, Dave Farthing, said: "It really is great that we have all five sisters now working for us in various departments across two of our dealerships.
"It's a fantastic compliment for Furrows that not just one sister, but all five, have chosen to work for us.
"The Banks sisters are all enthusiastic, hard-working employees who are a great asset to our company, and a credit to their family."
Picture: A family affair at Furrows – from left, Molly, Sophie, Jess, Emily and Charlotte Banks