Foreman clocks up two decades of service
Service foreman Richard Morris has clocked up 20 years' service with award-winning caravan and motorhome company Salop Leisure in Shrewsbury.
He says he can't believe how fast the 20 years have flown by and is looking forward to continuing to work for the Emstrey-based leisure business.
"Salop Leisure is a good employer that has looked after me since I joined the company and, more than anything else, they provide job security," said Richard, who was 24 when he moved from a Cannock business to become a service engineer.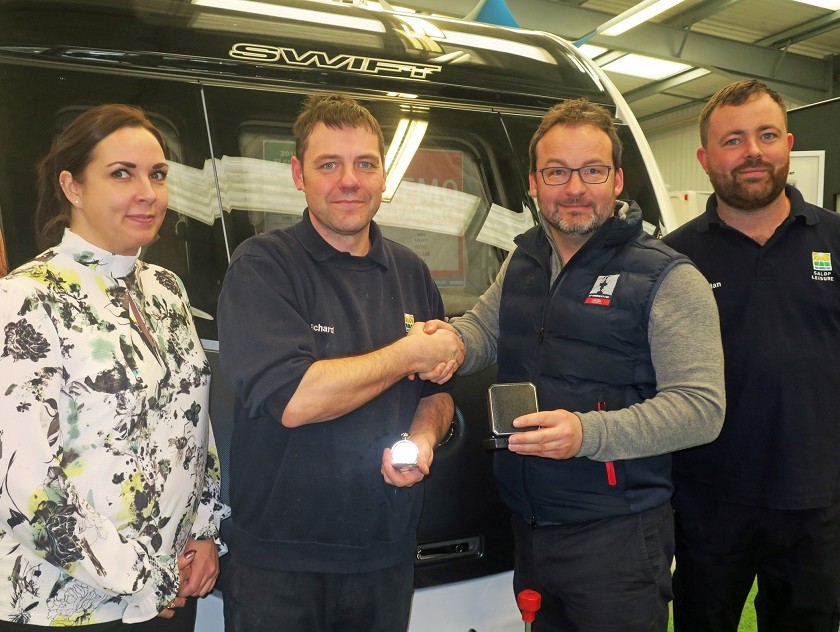 The company was based at Meole Brace in Shrewsbury at the time and he became the fourth member of the service team, which had a four-bay workshop. Fast forward 20 years and the business now has 14 staff and a modern, 15-bay workshop where Richard and his workmates service and repair touring caravans and motorhomes.
Richard is proud to have been part of Salop Leisure's successful growth story and says part of his job satisfaction is that no two days are the same. As for the biggest change in his job over the last 20 years, she said: "The introduction of digital technology within the industry which shows that we are moving with the times."
Pictured: Richard Morris receives a gold watch from Salop Leisure's managing director Mark Bebb to mark his 20 years' service, watched by Brooke Morgan and Jordan Smedley, touring aftersales manager and assistant manager respectively.