And the 2019 Shropshire Company of the Year is ...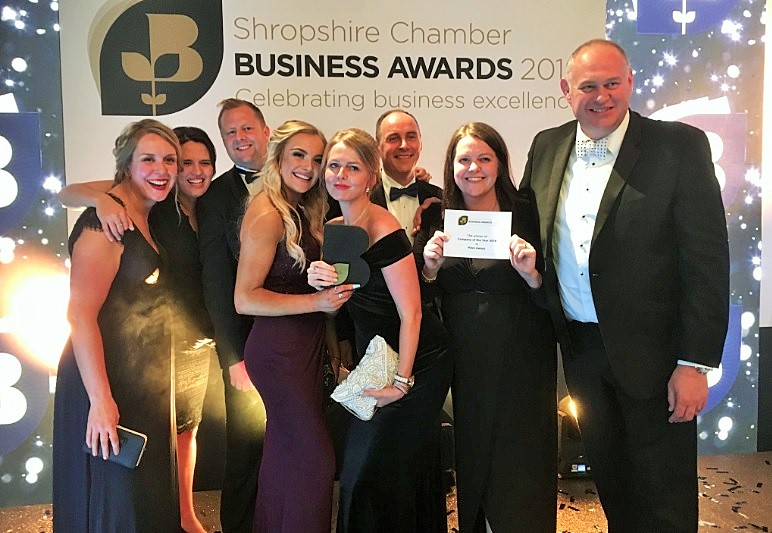 A new name was guaranteed to be added to the Company of the Year roll of honour this year after the shortlist was revealed for the 2019 Shropshire Chamber Business Awards.
The fight for the showpiece award was a four-way battle between two Telford firms - Pickstock and Northwood Hygiene Products - along with Shropshire Homes, and Pave-Aways of Knockin.
And the winner was . . . Pave-Aways.
The awards were handed out at Telford's International Centre on June 14 in front of a gathering of up to 700 business people. TV 'Secret Millionaire' Mo Chaudry, who was schooled and raised in Shropshire, was guest speaker.
Listen here to Carl Jones' interviews with some of the winners, and key players, during the evening...
Shropshire Chamber chief executive Richard Sheehan said: ""You will struggle to find any other business awards event quite like this which has such a profile, and such a history. You still today see people displaying award winner logos from the early 2000s on their websites. They wear it with pride, and so they should."
New categories for this year included Business And School Engagement awards, celebrating firms which foster strong links with the next generation of staff.
The John Clayton Award, named after a former chamber president, also returned this year to recognise a person, or group of people, who have made an outstanding contribution to the Shropshire business community - Tony Bywater MBE,, chairman of Salop Leisure, was this year's recipient
THE 2019 WINNERS AND FINALISTS

COMPANY OF THE YEAR
Pave-Aways Limited - WINNER

Shropshire Homes Limited
Northwood Hygiene Products
Pickstock Telford Ltd
BUSINESS IN THE COMMUNITY
Reconomy
Aico Ltd - WINNER

Nick Jones Wealth Planning
Pickstock Telford Ltd
BEST MANUFACTURER
Mail Solutions UK Ltd
Fitsco Industries Ltd
Bridgnorth Aluminium Ltd
Northwood Hygiene Products - WINNER

INTERNATIONAL TRADE THROUGH EXPORT
Fabdec - WINNER

Morris Lubricants
bizz buzz Cultural Intelligence Coaching and Training
BEST ONLINE
Sugar Crave Limited - WINNER

Teamson UK Ltd
GWR Fasteners Limited
The Gift Experience
OUTSTANDING CUSTOMER SERVICE
Pure Telecom
Galliers Homes - WINNER

SBM Digital Systems Limited
Eaton Manor Country Estate
TOURISM LEISURE & HOSPITALITY
The Shrewsbury Club
Morris Leisure
Shropshire Festivals Ltd
Love2stay, part of Salop Leisure Ltd - WINNER

TECHNOLOGY ENTERPRISE & INNOVATION
Network Telecom - WINNER

Reconomy
Derwen College
Six Ticks Limited
APPRENTICESHIPS
Furrows Group
Aico Ltd
Connexis Limited
McPhillips Wellington Limited - WINNER

BEST NEW BUSINESS 1-5
3d Printz Limited
XscapeNow! - WINNER

The HR Dept (Shropshire)
Sarah Belcher Events Ltd
BEST NEW BUSINESS 6 +
Bar Incognito
Planet Doughnut Ltd
Lower House Equine Clinic
Astar Homecare Services Ltd - WINNER

BEST SMALL BUSINESS 1-5
Purple Frog Systems Ltd
Gee 7 Wealth Management
invisiFRAME
Iron and Fire Ltd - WINNER

BEST SMALL BUSINESS 6-20
Pure Telecom
Hospital Direct - WINNER

Fitsco Industries Ltd
Classic Additions Ltd
ENVIRONMENTAL INNOVATION
Staysafe PPE Limited
Sirane Ltd
Bridgnorth Aluminium Ltd
Border Hardwood Ltd - WINNER

BUSINESS AND SCHOOL ENGAGEMENT 1-5
Shropshire 3D Print Ltd
Global Freight Services Ltd
J&PR - WINNER

Fraggleworks Ltd
BUSINESS AND SCHOOL ENGAGEMENT 6 +
Re-Assure Ltd - WINNER

Dyke Yaxley
Aico Ltd
Dodd Group