Dynamic duo make another shortlist
Hot on the heels of their successful nomination as finalists in the West Midlands FSB Small Business Awards, dynamic duo Alex Archibald and Bethany Tomlinson have been selected as Midlands finalists for the Great British Entrepreneur Awards.
The duo, who launched their healthy food eatery Lyfbar in Lawley under a year ago, are thrilled to be recognised for their entrepreneurial spirit in the awards which celebrate and champion enterprising minds across the county. The company provides healthy and convenient alternatives to traditional fast food.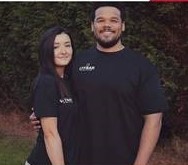 Lyfbar was originally helped with mentoring and funding from the Shropshire Youth Support Trust (SYST) charity and members of its ASYSTORS panel which nurtures entrepreneurial Shropshire talent.
Shropshire Youth Support Trust (SYST) as a charity has now supported 165 'Asysted' businesses, 54 of which have completed their two years support from SYST and are trading successfully.
Currently 99 businesses are being supported which vary in scale and ambition, and the charity is delighted that a good number of these are now moving forward to the ASYSTOR scheme.
The partners of the Asystor Programme for SYST are: Morris & Company, Brewin Dolphin, Marches Care Homes, Dyke Yaxley, Wynn Developments, Powell Gee & Co, British Iron Work Centre, LAF Holdings, Aaron & Partners, Hatchers, Hill Trading, and Shropshire Homes.
Pictured: Bethany Tomlinson and Alex Archibald - founders of Lyfbar Ltd