A true rural success story
By Henry Carpenter
To find a Shropshire success story created by accident, you could do worse than head to New Home Farm, a quiet rural backwater just north of Wem.
Here you will find the timber yard of Graham and Pat Reeves, the same site from which they have operated their business, GS and PA Reeves, for the last 37 years.
It is now one of the region's most successful timber merchants turning over in excess of £4.5 million, but turn the clock back nearly four decades and all of Graham and Pat's energies were concentrated solely on their cattle herd.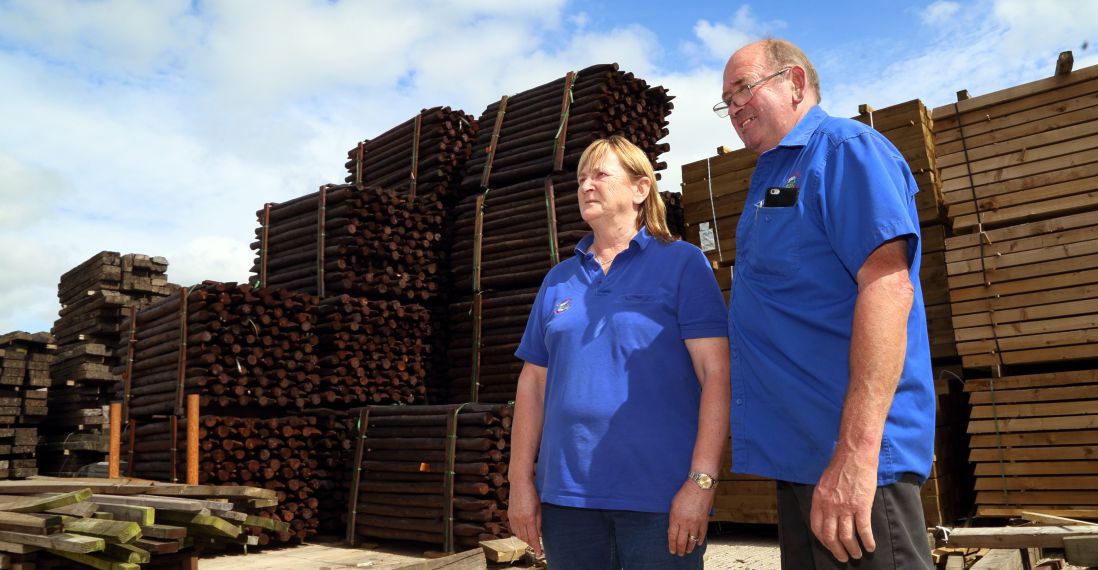 "Our current business started at Uttoxeter cattle market when I needed some railway sleepers for a silage pit," explains Graham.
"At the market I found someone who sold them for a decent price, but only in a certain quantity, more than I needed. We only needed 180 sleepers and so there was a surplus of about 40. I put an advert in the Shropshire Star and managed to shift them really quickly.
"This got me thinking, and so I bought another load and again, I sold these really easily. That is how it started."
Sleepers - which are enormously popular for all sorts of building uses - swiftly let to telegraph poles, crash barriers, fencing, gate posts, fencing . . . in fact, pretty much all timber products used for buildings and landscapes can be found at the New Home Farm.
There are enormous piles of firewood in various stores - both kiln dried and barn stored - as well has about 500 tonnes of wood pellets for boilers for the more environmentally conscious. "Wood pellets are our latest product - we probably shift about 1,000 tonnes a year," says Graham.
Business, it seems, is brisk. In fact it gets brisker by the year with Graham confirming that there is a year-on-year increase in turnover. Business is done both at the yard - several trailers come and go each day - and via the small fleet of trucks which deliver with a 100-mile radius.
There seem to be several reasons why the firm enjoys so much success but if there is a basic theme, it is that they have instilled good, old-fashioned values throughout all they do.
Take how hard they have worked, for instance. It was only 10 years ago that Graham and Pat decided to leave cattle farming to others (they have kept the 300 acres of land but now tenant it out).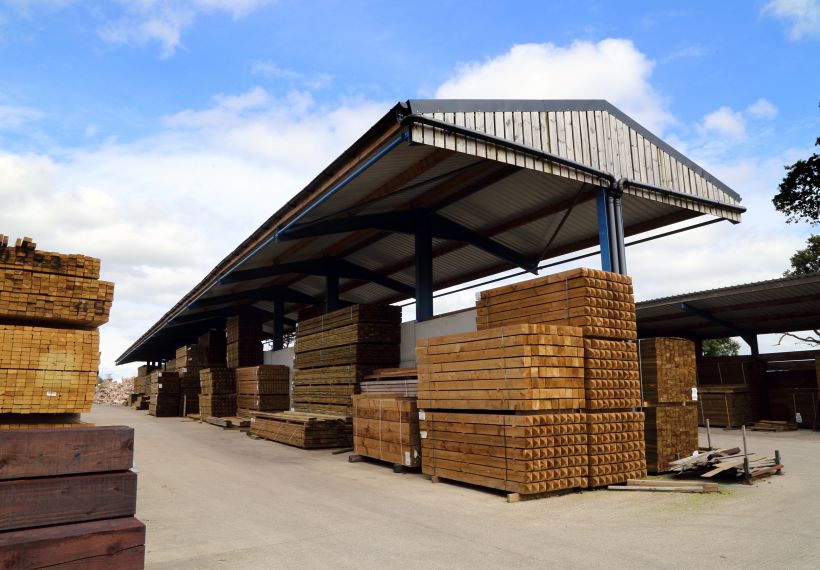 "For the last 37 years we have worked from 6 in the morning to 7 in the evening, six days a week," explains Pat. "We work on Sundays as well, and we even end up coming in on Boxing Day and New Year's Day. Operating the two businesses was very, very hard and so it was a relief to give up the cattle.
"Over the years we have built up a pretty accurate understanding of how builders and farmers operate, and their timings. That is why the early evening is such a busy time for us, as we are often the first port of call for builders after they've finished work so they have their materials for the following day - 5pm is rush hour here!"
The impression is also that the couple inspire real loyalty, both with their workers and also clients.
They may not employ many members of staff - there are five full-time staff, and one part-time, excluding Graham, Pat and son Will who joined the business a couple of years ago - but the sense is that there is a low turnover, a real two-way loyalty between employer and worker.
"The workers are given a full cooked breakfast every morning," says Pat. "They are all from the local area and seem to be happy with the way we do things."
They have clearly built up a strong customer base in the local farming and building community.
"We keep our prices very low but we never offer any further discount," says Pat. "You only need a couple of customers in the pub discussing what they bought, with one having paid more than the other, and your reputation will get questioned.
"And that's very important as word of mouth is the best advertising. That's why we keep it simple - everyone knows where they stand with us."
To some, the company office might seem incredibly outdated and disorganised. There are thick files of invoices packed in bulldog clips along the wall, the shelves are packed with well-marked box files and there is a display area housing a mass of OS maps.
But there is method here and it all runs like clockwork. From a glance, Pat can tell that 4,295 invoices have been sent out this year - already 400 more than last year's total - and they are on order book 65. Everything is organised neatly and methodically.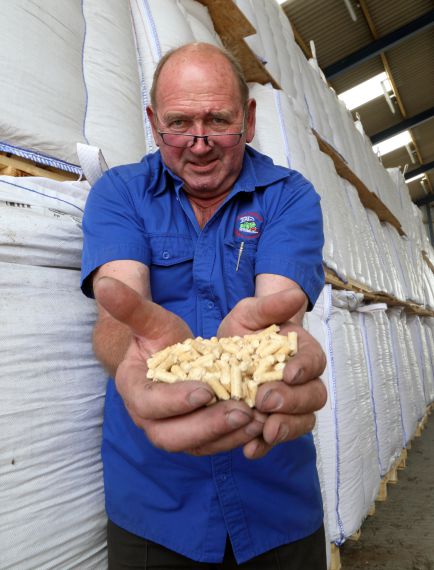 But why the maps when you can use satnav?
"Satnav is absolutely useless in some areas," explains Graham. "In parts of Mid Wales, for instance, it will only get you to within three miles of where the driver needs to be. Much better to use maps which are so much more precise." You can't argue with that.
The Reeves family business is now well established but it also feels like the future is bright, not least because the family legacy looks set to continue with son Will lined up to take over the business when his parents eventually retire.
"Will joined us two years ago having worked as a commercial diver in various spots around the world, both in the oil industry and also salvage," says Pat.
"We never put any pressure on him to work here, but I must say it is nice having him back. Neither Graham or I bother with computers but Will seems comfortable with technology which is probably no bad thing!"
The time Graham and Pat spent as cattle farmers has served the timber business well. They have an empathy with farmers and first-hand knowledge of what farmers need, and when.
In general, this tends to be of a positive nature but not in 2001, the year of the last big foot and mouth crisis which devastated the farming community.
It was a bumper year for the sale of sleepers, and Graham and Pat sold 110,000 of them, but they were for the most tragic of purposes: to fuel the fires to dispose of the livestock, particularly in Devon and the south west. This was, at best, a bittersweet time for Graham and Pat.
Now though is the time that farmers are looking ahead to winter, with many turning their attention to building and renovating sheds for their cattle.
And what of plans for the future?
"We haven't got any plans to expand but you never know what's round the corner," agree Pat and Graham, a couple who have seized their opportunities wisely and with a much more modern and forward-thinking attitude than their office might suggest.