Building work starts on innovation park
Building work is due to start on the Newport Innovation Park as the £4.32 million construction project gets under way.
Infrastructure work which started last year has now been completed, unlocking 25 acres (10 hectares) of employment land within Newport.
Shropshire company Morris Property has been chosen by Telford & Wrekin Council to build more than 41,000 sq ftof industrial units under Phase 1 of the project.
It is designed to deliver 24 individual units that will besuitable for a range of companies, with a focus on supporting the fast-growing agri-tech sector.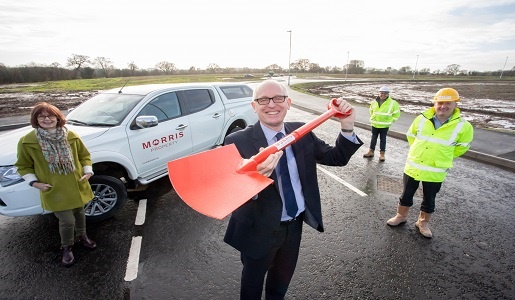 Ni.PARK is a key element in the Newport Innovation and Enterprise Package, backed jointly by the Marches Local Enterprise Partnership and Telford & Wrekin Council. The council sees the project as part of its commitment to attract inward investment to the borough, delivered through its Growth fund,which looks to ensure the right properties are delivered in the right location.
Councillor David Wright, cabinet member for economy, housing, transport and infrastructure, said: "We identified there was a need in the market for such a development.
"Ni.PARK will provide space for a range of potential occupiers including start-ups, smaller businesses and larger occupiers especially suited to the agricultural sector. Harper Adams University, a world class specialist university at the forefront of future food production, food processing,animal sciences, engineering, land management and sustainable business is the ideal partner to help deliver Ni.PARK. We are confident Ni.PARK will consolidate the borough's reputation as an investment hotspot".
"The initial groundworks have been completed on time and on budget, clearing the way for Morris Property to begin work on the construction of Phase 1."
The aim is to have Phase 1 completed by the autumn. The 24 units will range in size from 710 sq ft (66 sqm) to 3,778 sq ft (350 sqm), creating a total development of 41,319 sq ft (3,838 sqm).
As well as creating a high quality development the Ni.PARK scheme seeks to promote a positive 'green' environment. Phase 1 has been designed with electric vehicle charging points for each unit and solar panels on the roofs, together with sustainable drainage systems (SUDS) and ecological enhancements.
James West, chief operating officer at Morris Property, said: "We're delighted to secure the Phase 1 contract for the much-anticipated Newport Innovation Park. We have worked successfully with Telford and Wrekin Council on a number of design and build projects in recent years and aim to bring our experience in building high quality start-up units, such as those proposed, to deliver this project on time and on budget."
When completed the Ni.PARK, just off the A41 at Newport, will offer companies a range of units suitable for R&D, light industry, general industrial and storage, with planning use classes B1, B2 and B8. Ni.PARK is one of several national High Potential Opportunity sites identified by the Department for International Trade and the only one in the agri-tech sector.