Global reach for Olwen
By Gill Guest
When the hedges tower over the lane and a bristle of grass appears between your wheels like the dorsal stripe on a donkey, you know you're heading into deepest, darkest Shropshire.
To Neen Savage, to be precise, the south Shropshire home of successful holiday business 'In The Saddle'.
The lane plunges beneath an old railway arch, stone built and trailing ivy, and shudders over the River Rea on a bridge that looks as if it came out of a Meccano set. A large barn conversion, otherwise known as 'the office', appears on the far side of two pony paddocks.
Company founder, Olwen Law (pictured left), is in the barn's glass walled conference room. To one side of her, an entire wall is papered with an enormous map of the world. The map gives a clue to the scope of the company's current operations: 39 countries, 85 destinations, customers spread across the globe.
Olwen, just back from a family wedding in New Zealand, is looking tanned and relaxed. She started In The Saddle single-handedly, way back in the winter of 1996.
"I took a stand at the Adventure Travel Show," she recalls, and grimaces. It seems all did not go according to plan. The fledgling company's holiday brochures – then a simple four-page A4 leaflet – had been printed in Olwen's home country of Ireland and got stuck in the snow.
"So I had an expensive stand booked, and no brochures," she explains. A tense moment. Her new business venture might have met with a snowy end right there. However, she displayed the tenacious spirit necessary for any successful new business owner, battled to get the brochures out of the snowbound warehouse, and to the show. After handing out the brochures, she took 20 bookings. In The Saddle was up and running.
It had not been Olwen's lifelong ambition to run a riding holiday company. Raised on a farm outside Belfast, her first pony was a Dun Connemara called Seamus. That might seem idyllic, but she grew up at a time when Belfast was considered one of the most dangerous cities in the world, in the midst of the Troubles. After studying economics at the university there, she joined Arthur Andersen, then one of the premier accountancy firms in the UK, moving first to Dublin, then London. After a masters degree in organisational behaviour, in which she studied the psychology of why people work, she became responsible for career development and staff retention at Arthur Andersen. She loved this job. But . . .
"One of the courses I used to teach was a one-day programme on career development. We used to get people in to think about what it was they wanted to do with their lives. And they would draw pictures, and do lots of imaging, and try to imagine themselves in five years', 10 years' time. The idea being that if they could see where they wanted to go, and could make a plan for that, they would stay with the company for a couple more years.
"And the more I did that course, the more I realised that I wasn't doing what I really wanted to do.
"I would put some imaging together, and think about the things that I really liked, and it came down to three things. One was that I liked riding and horses. The second was that I liked to travel – I always did like to get on a plane and go somewhere – and the third thing was photography.
"I couldn't really see what I was going to do using those three things. And literally, one day, on a train I remember, in Manchester going somewhere, I just decided I would set up a travel business."
Olwen was pretty certain it would be a riding holiday business, but since this was in the days before the internet, researching this idea meant getting on a plane.
Her first research trip took her to Montana, a place that she'd always wanted to visit, and to a variety of ranches.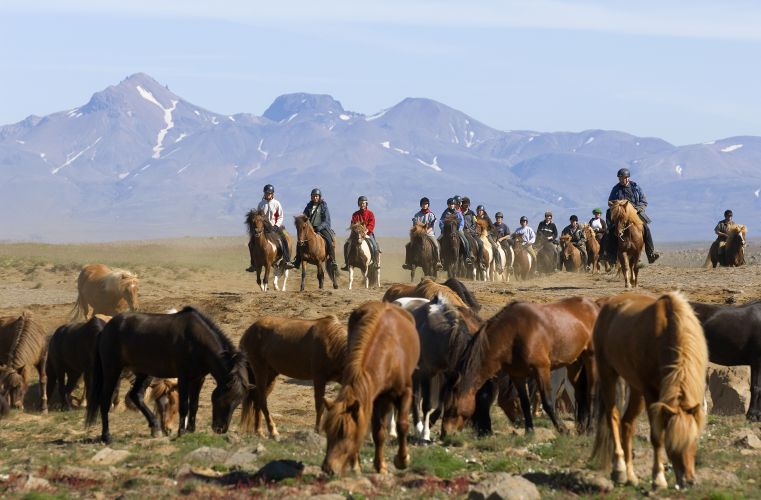 "They were extremely generous – I had my niece with me – and we stayed in quite a few places. Some of them, who we met that summer, we still work with now," she says, proud to have established back then what would turn out to be a long-term business relationship.
Ireland . . . Iceland (left) . . . Spain . . . destinations were added, thick and fast. After meeting and marrying her geologist husband James Sales, the pair spent an idyllic three weeks honeymooning in South Africa, Zimbabwe and Botswana.
"We visited Ant's Lodge, which was merely a concept at that time, and spent time at Macatoo in the Okavango Delta in Botswana. It was there that I really fell in love with horseback safaris," Olwen explains.
With the addition of James, the business now had four employees. It was rapidly growing out of the converted garage they were using at their home in Hampshire. They began to search for new premises.
"We had signed up with agents all over the country. We'd been looking from Devon to Staffordshire, and we'd come to Shropshire for the weekend to view a number of properties," Olwen says.
"This one was last on the list. It was after 6pm, it was quite dark, and we were tired, and we nearly didn't bother."
She laughs, horrified. They're so settled here now, with Reaside Farm home for three generations – Olwen and James, their two children and James's mother as well. The idea, that they might have 'not bothered', and missed such a gem, is unthinkable.
"We came up the drive and fell in love with the place immediately," Olwen says.
A large barn was converted to house the office. With more space, the business continued to grow. More destinations, and more employees. They now employ 14 staff.
"We were at 12 but we've just taken on two new people." They only advertised one vacancy but Olwen thought: "It's such a lot of work, interviewing, that if you get two good people, just go for two!
"We've probably taken on somebody every two years and we haven't lost many. We need a flow through, so that everyone can progress a little bit more."
Olwen is still applying the career development principles she learned back at Arthur Andersen. "It's the way we find it works best, for a couple of reasons really. One is that if you were doing the same job forever, you'd get very bored.
"And the other is, the senior consultants, who have more experience and more knowledge of a wide range of destinations – I want them talking to the client who's doing a very complicated itinerary, or who's maybe taking a big group or organising a high profile holiday.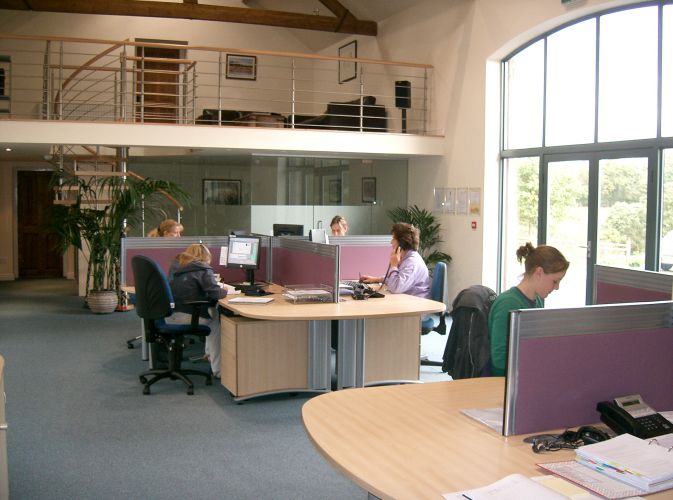 "But the only way they can do that is if their time is freed up in other ways. So I need new people coming in, learning the ropes and doing the straightforward bookings, which they do with 10 times more enthusiasm because for them it's all new.
"We find that everyone stays more energetic and enthusiastic, when there is this range of responsibilities."
Every customer is given the opportunity to provide comprehensive feedback on their holiday experience. And many do, describing everything from how much they valued talking to staff who had experienced the rides and destinations they were considering, to the standard of the food on the trip, the instructors, the horses … or the state of their backside after their riding experience! All this, sore bottoms included, is uploaded to the website.
Webdata reveals that it's this 'reviews' section which is the most visited area of the website. Prospective clients, it seems, are enormously keen to read about the thoughts and experiences of previous clients, especially returning clients, and almost certainly use that data to inform their choice.
These days, they can choose all manner of riding experiences with In The Saddle, from beginner weeks in the Azores, to riding Arabian Stallions across the Namib Desert. They can join the Icelandic horse round up, ride across Rajasthan, or trek the silk route through Kyrgyzstan.
The company still offers those original cowboy ranch experiences in Montana, and Olwen's beloved horseback safaris to Africa, where you can gallop alongside giraffes, but they've come a long way from those few sheets of snowbound A4. Now, they're a Shropshire company at the top of their game. And what's more, they're still growing.