Water works
Henry Carpenter speaks to the boss of a firm near Knighton now producing 400 million bottles of water and flavoured soft drinks a year
Will Watkins is in a particularly good mood.
As the man at the helm of Radnor Hills, the water and soft drinks firm on the south Shropshire border which has become one of the country's most successful in the sector, Will could barely wish for better news.
It is one of the hottest days of the year, there has been something of a drought and with orders for thirst-quenching drinks coming from all angles, news has just filtered through to Will that rain is forecast for a few days later.
Bottling lines are whirring, delivery vans are getting into position and overcoated workers exchange greetings as they pass each other between their posts. The operation is buzzing and to say that business appears brisk would be a gross understatement.
While the hustle and bustle of the operation, and the good humour running through the site, certainly do much to tell a story, the facts do even more to illustrate where Radnor Hills is at as a business.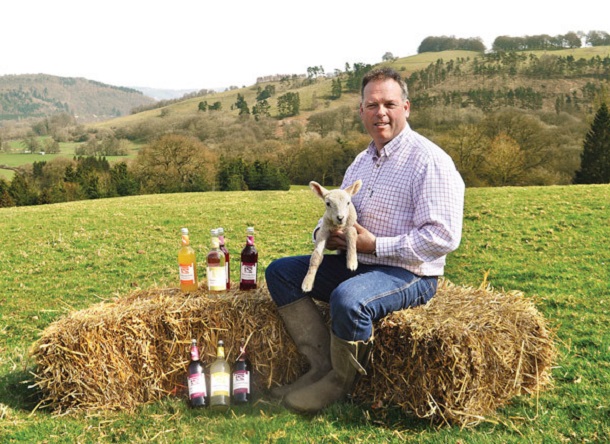 Will expects this year's figures to reveal a turnover of a shade over £40 million. Current staffing levels are at 190, with many of the workers making their daily trip from nearby Knighton. Following the introduction of its latest bottling line, Radnor Hills is currently producing 400 million bottles of water and flavoured drinks a year, half of which are for the notoriously tricky supermarket trade.
No wonder the mood at Radnor Hills is so good.
How times have changed since the mid 1980s. Back then the site was a 700-acre livestock farm run by Will's father.
Geographically, at the bottom of the Welsh hills and with a vast aquifer buried beneath the farm, there was a ready supply of that most precious of materials: water.
"My father installed the first bore hole in 1984, really for the livestock," explains Will. "When I returned from university, where I studied agriculture and food marketing, I really didn't know what to do as I didn't want to follow a conventional farming route, it just wasn't for me.
"My father suggested I try selling the water which, because I had done a dissertation on the mineral water market at university, wasn't such an alien concept for me. In many ways I had done the research.
"What was needed was some financial backing and that came in the form of a government grant which was available at the time which would match-fund up to £50,000 of any start-up business.
"So, we resolved to spend £25,000 converting an old farm building into a suitable working space, and the other half on equipment to produce small cups with lids of foil which could be peeled off."
Thus Radnor Hills as we know it now was born. The workforce amounted to precisely one - Will - who would pack the cups into boxes, load up his Vauxhall Cavalier, travel around cities and try and persuade business to buy them. Slowly the customer list started to swell and in its first year Will estimates that the business sold around 350,000 cups, resulting in a year one turnover of just under £50,000.
Then Will secured his first really big client - fast food giant McDonalds - after he approached them in the knowledge that they were looking to sell cupped water. By this time, the team was slowly expanding with two more members of staff helping will with packing and administration.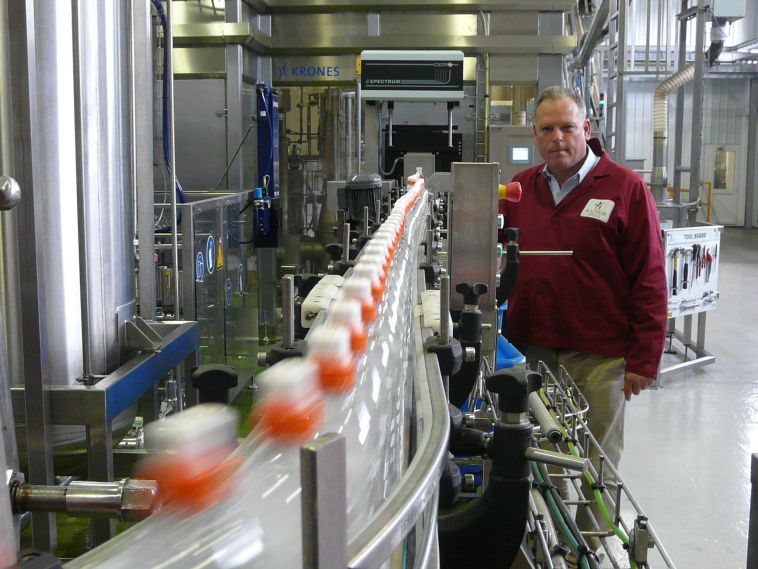 He recalls: "We kept this contract until the end of the year 2000 - it was a bit of a blow when it came to an end because it provided us with about 50 per cent of our turnover, and 70 per cent of our profit.
"However, in the mid 1990s we had installed a bottling line at a time which coincided with the advent of a market for clear flavoured drinks. So, we started to add ingredients to our water.
"When we lost the McDonalds contract we took a huge decision to throw all our resources at upscaling, adding further bottling lines - probably one every other year - which allowed for a much speedier operation and maximum economies of scale.
"The expansion of the operation after McDonalds saw us producing around 50 million bottles of water and flavoured water and seeing a turnover of about £5 million. Our main customers at this point were the supermarkets, Morrisons in particular, but we also supplied wholesale to the food and drink sector."
During the latter stages of the 2000s, Radnor Hills was able to take advantage of some external conditions which gave the company its next huge lift.
The first was the opportunity to get a really good supply of electricity from the grid which meant that they were able to make their own bottles on site.
The second, surprisingly, came in the form of the financial crisis in 2008. This meant that shoppers changed their habits and switched their allegiances from upmarket brands to own-label varieties . . . as Will admits, "we were in the right place at the right time".
The orders kept flooding in and Will kept on investing on plastic blowing machines and other hi-tech equipment to keep pace with the demand.
Then there was the Jamie Oliver effect. Following the chef's well-publicised campaign for schools to improve what they were providing children in terms of food and drink, Radnor Hills was able to take advantage of the fact that the vast majority of their products and brands are either low or zero calorie.
Parameters were put in place for school-compliant drinks and Radnor Hills was, again, able to respond the market. It is now the UK's largest supplier of drinks to secondary schools.
These external factors have resulted in Radnor Hills - which now has 12 boreholes in operation -more than tripling its turnover over the last 10 years and there is no doubt it is one of the major players in the soft drinks market nationwide. Supermarkets still account for 50 per cent of its business, with the other half sold under its own brands.
An astute businessman with the modesty to admit that he has benefited from a slice or two of luck, Will is also conscious that the business would not be where it is without an underlying quality of product.
"The water here, which we intercept after it has fallen on the Welsh hills, is genuinely delicious and almost always comes out top in a blind tasting," he says. "It is really consistent and a fabulous resource. It also provides a very good base to use for flavoured soft drinks - it is a good canvas to paint on."
Perhaps the most luxurious of the brands is the relatively new Heartsease, and it is here that we see Will's one concession to upping the sugar content of his drinks.
He explains: "Heartsease - a relatively small brand for us - is a really beautiful range of pressés, the whole point of which is indulgence. It is glass bottled, aimed at the older consumer and we are not going to reformulate it, even if it does have a relatively high sugar content compared to our other brands."
And what of the future? Time to slow down and perhaps consolidate? Not a bit of it.
"We have about 70 products lines right now and we are constantly looking to add to them," says Will. "Our latest big move has been into Tetra packs which are portion controlled and excellent for schools, airlines and so forth, and I can see us driving this forward as much as possible over the next year or two.
"In five years' time I would like to have completed developing this site as far as I can take it. We want to keep developing our brands, and also look at other areas, perhaps acquisitions."
Given the Radnor Hills story so far - a true, organically grown success story - nothing should surprise us when we hear the extent of its owner's ambitions and what it is capable of achieving.