Blooming lovely display for judges
A Shrewsbury leisure company is playing its part in ensuring that the town looks its best for the Britain in Bloom and Heart of England in Bloom judging this week.
Salop Leisure, which is headquartered at Emstrey, has been the proud sponsor of the prominent Weeping Cross traffic island in Shrewsbury since 2009 and company chairman Tony Bywater is a member of the Shrewsbury in Bloom Committee.
"Over many years, we have supported the efforts of Shrewsbury Town Council's parks department to maintain the high standards in our beautiful town," said Mr Bywater.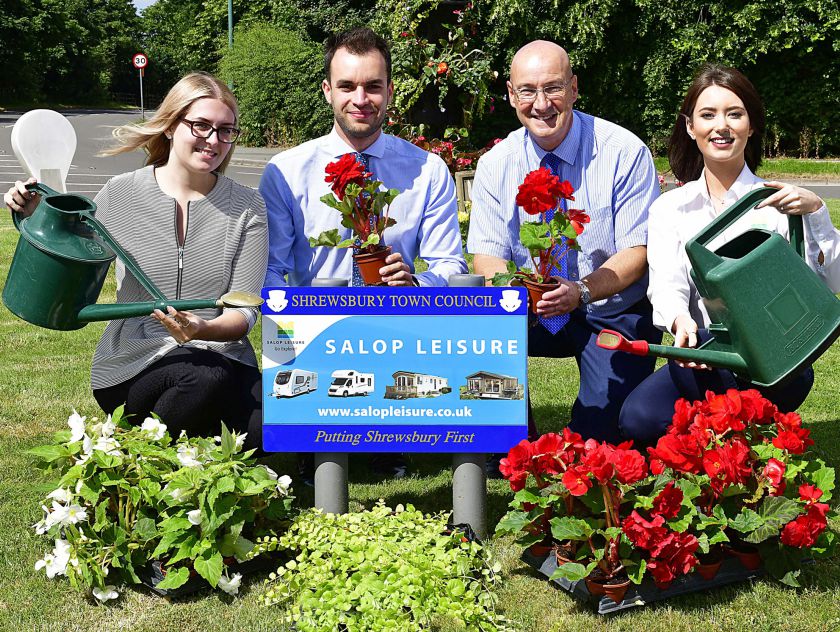 "I pass the Weeping Cross traffic island on my way to work every morning and the floral displays on it are absolutely superb and a great credit to the town. It's a big summer for Shrewsbury with the Britain in Bloom judges visiting, so we all need to make a special effort to ensure that our Town of Flowers is looking its best."
Judges from the Heart of England in Bloom competition will be visiting Shrewsbury on July 26 while the Britain in Bloom judges are scheduled to arrive on July 31. They will be welcomed to Shrewsbury at receptions held at Salop Leisure.
Pictured: Shrewsbury Town Council's operations manager Gary Farmer with Salop Leisure staff Ed Glover, Jenny Kier and Emily Buxton watering flowers on Weeping Cross traffic island