Judges head for enterprise finals
Three local business leaders who were selected as 'Dragons' to judge the regional heats of the Ryman National Enterprise Challenge in Market Drayton, will now go on to help judge the national finals.
The trio have been chosen to attend the National Enterprise Challenge Grand Final in partnership with Rymans and the University of Football Business (UCFB) at Wembley Stadium on July 10.
Eva Davé (owner of Mincher-Lockett & Co Opticians), Rebecca Greenhalgh (owner of Education @ Heart, an education consultant company) and Julia Roberts (director of Rocket Communications Ltd - who is also the founder of the Ginger and Spice Festival) will be heading to Wembley Stadium to join the Dragons judging panel.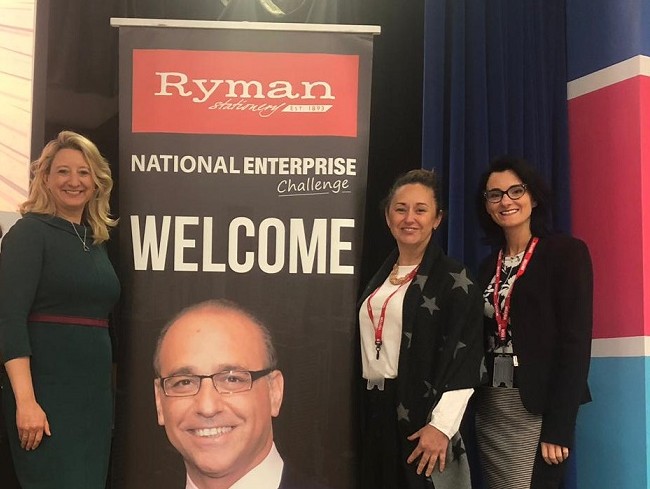 1,500 challenge finalists from Key Stage 3 (years 7&8) and Key Stage 4 (years 9 & 10) including the Grove School 'Team R' have been selected from 235 schools throughout England to make 'real life' business pitches to judging panels of Dragons on the day. They will present their ideas interpreted from a brief set in advance of the contest and already presented in the first stages by The National Enterprise Challenge and UCFB.
After the morning presentations, one team chosen from each judging section (10 in total), will go onto to present in front of Theo Paphitis and a VIP judging panel in the great hall Wembley from 1.30pm.
The overall winners will be selected from these finalists and crowned 2019 champions.
The all-female Grove School students 'Team R' who won the regional round in May will also be taking part at Wembley!, 'Team R' was chosen by the local dragons for their emphasis on brand storytelling, good presentation skills and obvious research and preparation.
Julia Roberts said: ''This is great opportunity for young people to experience the challenge of pitching to a live audience. I am very much looking forward to taking part as a judge and particularly looking forward to seeing the student' creativity in action."
Eva Davé said: " It takes great courage to enter a competition like this and present your unique ideas to a panel of experts. But it will most certainly help the students develop lifelong business, communication and creative skills enabling them to excel in their chosen careers in the future. I am a huge advocate for encouraging creativity and individuality which is why I am so keen to support projects like this in any way I can. "
Rebecca Greenhalgh said: "This is such an amazing opportunity and challenge for our students, particularly in this day and age where technology is a vital and fast-growing aspect of our futures. This will enable our students to master the art of communication skills and team work to thrive and I cannot wait to see their pitches."
Pictured: Julia Roberts, Rebecca Greenhalgh and Eva Davé